Product # CDW5695PIZZASERVINGSPATULA
Retail $23.00 and up
On Sale $10.99

This Pizza & Dessert Serving Spatula. The handle is made of indestructible white poly and the blade is 3 x 5 in. German stainless steel. Lifetime Warranty. It is perfectly balanced and a great choice for serving pizza and desserts.
Chef Notes: NSF certified and made to last a lifetime. If its great pizza, it has to have real grated parmesan cheese.

Click Here for Pots & Pans!
Chefs Butcher Blocks for your new kitchen!
---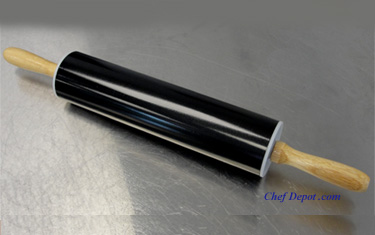 Product # CDHI-4876-NONSTICK-ROLLING-PIN-12x3-BLACK
Sale $

One of the keys to homemade pasta and dough is a thin, even surface. Using our black roller with a non stick surface will make the job easier. Non-stick roller surface will not stick to dough. Contoured rubber handles for a comfortable grip, sealed stainless steel bearings, Counter balanced, 12 in. Non stick surface is easy to clean, wipe off or hand wash! Overall length is aprox. 23 in.
Chefs Note: almost nothing sticks to this beauty, its a nice weight.
Tables Designed for Bakers! Add one to your kitchen today! Chefs Knives, we sell only the best!

---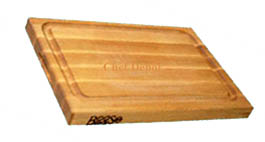 Product # CD18x12BOOSAUJUSMINI
List Price $96.00 and up
On Sale , add to cart

Our new mini Aujus Cuttingboard is perfect for the backyard BBQ or carving a small roast. This is the cutting board of choice for all the Chefs here at Chef Depot and many other famous Chefs! John Boos custom makes these exclusive cutting boards for us from first quality Solid Rock Maple, 18 inches by 12 inches and over 1 1/2 inches thick. This reversible board is NSF certified and will not dull your knife! With proper care, this Maple board can last for life! Oiling it with mystery oil, will keep it looking new (available below). This board is the perfect size for smaller counter tops. More Sizes are here... Did you know that maple cutting boards naturally kill bacteria?
New Kitchen Center Islands! Custom sizes are available! More Chef Blocks... Phone Orders (630) 739-5200

---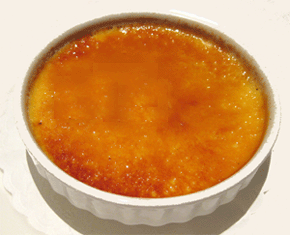 Click here for Mini Torches and dessert dishes, high quality at low prices!
Click here for Extracts & Vanilla Beans and Gourmet gifts. We sell only high quality at low prices!
---
Product # CDCHY-MET-OA36-EDGE-32B-V36x36
Promo Sale , call us
We like our John Boos Tables! More Styles Here!
Great Chefs Kitchen Islands!
---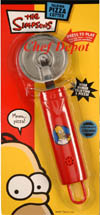 Product # CD05TALKINGPIZZACUTTER
Retail $14.95 and up
Clearance Sale Price $3.89

The Simpsons - Talking Pizza Cutter! Batteries not included. Having a pizza never sounded so good! When it touches the pizza - Homer says "The most beautiful word in the English language "Pizzaaaa" - "Pizza, if it tastes good, it must be good for you!" - "Pizza meets the requirements of the 4 food groups, it even counts as a pie" - "Music,.........When the moon hits your eye like a big pizza pie, thats Amore"
Durable hard plastic and metal construction, one year warranty, battery included.
More pizza making supplies are linked below! Our free pizza dough recipe is the best.
Order a wall mounted Coca Cola Bottle opener for your wet bar! Your boss will love one of these!

Stainless Steel Chef Tables! Click Here!
---



# 1 Pizza Seasonings - Great pizza begins with the crust, then the sauce with herbs and spices, topped with cheese! A great pizza seasoning blend passed on to us by Chef Giovanni's great grandmother. Packed in our airtight jar for optimum freshness!
Chefs Note: Pizza, if it tastes good, it must be good for you! This seasoning will add a new level of flavor to your pizza!

Pizza Seasonings - The Best! (3 oz) $5.99


Pizza Seasonings - 8 oz. $13.99 Click Here for the Chefs German Cutlery!

---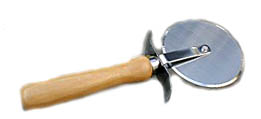 Product # CDPC4WDPIZZACUTTER
Retail $9.99 and up
Our Price $4 and up
This is a very good Pizza Cutter! It has a 4 in. sharp cutting wheel and a 5 in. long hardwood handle.
It is easy to clean and it has scored high on sanitation tests making it a safe design and a good pizza cutter for the price. Why not give 1 away ? Large quantity discounts are available!
Click Here for the Chefs Favorite Blocks!
---

Product # CDW5685WHITEOFFSETSPATULA
Retail $29.99 and up
On Sale , add to cart

This spatula is NSF & FDA approved and made from a durable copolymer with a stiff German stainless steel blade for long life. The size of the blade is 6 in. x 3 in. with a square end. This spatula is perfect for the grill and serving many different foods. Built in anti microbial properties kills germs.
Our products are used by Master Chefs, Chefs and pro Cooks!
---

---

Product # CDW5689MINISPATULA
Retail $18.00 and up
On Sale, add to cart

This is the Mini Spatula, perfect for Tira Misu and serving desserts. A nice choice for serving many different soft and delicate desserts. The handle is very comfortable and the blade is made from flexible stainless steel. Lifetime warranty!

Our products are used by Master Chefs, Chefs and pro Cooks!
---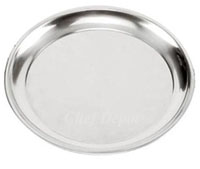 Product # CDNP5673-SS-PIZZA-PAN-16IN
Sold Out

This solid Stainless Steel Pizza Pan measures 16 in. dia. It has a heavy rolled edge around the top and with care will last you for decades. This is the ideal size pan for our 16 in. pizza stone, making you a perfect thin crust pizza!
Click Here for more Pizza Pans & Pizza Trays!
Click Here for Chefs blocks!

---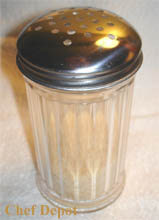 Product # CDROYCS12CHEESESHAKER12OZ
Retail $13.99
On Sale

Our 12 ounce cheese shaker is made with a solid stainless steel shaker top. It is perfect for parmesan cheese, crushed pepper or spices.
Chef Notes: We use one for grated parmesan cheese. We use another for Crushed Red Pepper and our Italian Spice blend! Restaurant and pizza parlor customers love these!

Click Here for Fish & Game Recipes!
---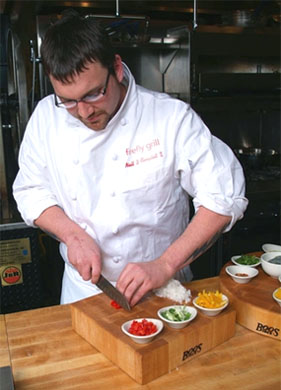 This Chef loves to use his John Boos Cutting Boards. The best ones made!
We have these in stock, with low prices! Click Below to order these!

Click Here for John Boos Cutting Boards! Simply The Best Made!
Click Here for High Heat Colored Rubber Spatulas! These are also Made in USA! Whips & Wisks too!

---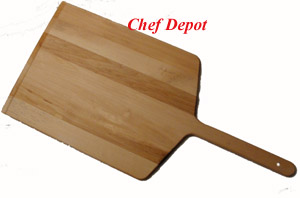 Product # CD44252013-14X18X30-BIG-PIZZA-PEEL
sold out
This is a special pizza peel that we created for wood fired ovens. Works equally as well on the BBQ grill or in a gas or electric oven. The long oversized peel is 14 in. wide x 18 in. long with an overall length of 30 in.! The peels are custom made from select basswood.
Chefs Note; Easy to modify to fit your needs. This nicely finished pizza peel makes it easy to slide the pizza into the oven, turn and remove pizza from the oven! With proper care, these last for many years. Made in the USA!
Click Here for Breakfast Bar Island Tables!

---
Product # CDFK110WH+CP09-KYOCERA-SET
Retail $69.95 and up
Temporary Sale Price Reduction $26.95
This is the new 4.5 in. Kyocera Revolution Ceramic Utility Knife & Ceramic Peeler Gift Set. These hold an edge for years, without sharpening. The Revolution series feature an extra hefty black handle and a perfect balance. This is a great ceramic knife, it's very comfortable and easy to use.
The weight is about half of steel knives making it comfortable for extended use.
The ultra sharp ceramic blade cuts with precision and accuracy every time maintaining a razor-sharp edge for many years.
These knives are made of an advanced, high-tech ceramic, second in hardness only to diamond,
it was originally developed for industrial applications where metal components failed.
Chef Notes: What a great gift idea! Limited time offer, then they are gone!
Each one of our Revolution knives comes in a beautiful presentation box.
We tested several brands of ceramic knives - Here's the results!
Kyocera was the only knife sharp enough to meet our demands, the others were too dull or the blades were too thin and brittle. Only Kyocera scored very high in sharpness, quality, workmanship, material and warranty. These knives are a great choice for Chefs and Gourmet Cooks! Ceramics are perfect for slicing, dicing, chopping and mincing meats, garlic, carrots, onions, celery, fruits and more. Click Here for More Ceramic Knife Styles and Colors!
Click Here for Small kitchen Island Tables!
---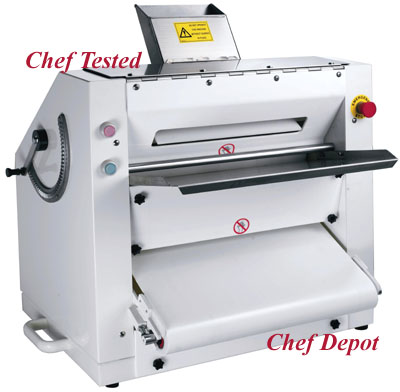 Product # CDAE-PS01-2010PIZZADOUGH-ROLLER
List Price $7800.00 and up
On Sale $ call us

This electric pizza dough roller makes phigh volume pizza production a snap! Let us help you with your restaurant operations effeciency. Our dough roller will help you and your staff save time and training costs. Within seconds employees can make uniform products without tossing, slaping or rolling the dough by hand. Ergonomic design saves space. Small size fits easily on a cart or stainless steel prep table, measures 32 in. x 28 in. x 32 in. The handle is solid stainless steel rollers are made for years of daily use. This is a 1 hp. 115 volt gear driven machine. Up to 700 pieces per hour. Push botton controls offer 1 touch convenience. Simple 2 pass system. Drop dough in top, slides into tray, comes out at bottom. NSF, ETL, CSA, CE approved. Weight 360 lbs. Call us for options. 1 Year Parts Warranty, plus extra 90 days labor.

This 24 in. x 36 in. x 1 in. thick Poly Cutting Board weighs over 29 lbs! Used in many Pizza prep areas. This is the cutting board of choice for all the Chefs here at Chef Depot and many other famous Chefs! John Boos custom makes these Poly boards for us, allow 1-2 weeks for shipping! These Poly Cutting Boards are restaurant quality and can last for over 10 years (if used every day).
We use these poly boards for pizza, meats, poultry and fish, they reduce odor transfer. Dishwasher safe. NSF certified for safety. These 1 in. thick boards are cut from large sheets of pure white poly (aprox. 10 day lead time). Actual shipping applies on these oversizes tops.
Large cutting boards can not be shipped outside the USA. Choose from several sizes Click here; Extra Thick White Poly Cutting Boards, USA made, NSF Certified!
---


Click Here for Black Knife Guards....
---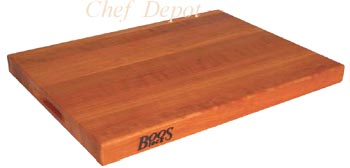 Product # CDCHYR01-CHERRYCUTTINGBOARD-12X18X1.5IN
List Price $99.95 and up
On Sale

Our John Boos Commercial Cherry Cutting Boards are made to last. The edge grain butcher block construction is amazing! Cherry Wood has a beautiful rich color. Perfect for daily meal preparation and serving cheese & holiday appetizers! A full 1 1/2 in. thick, these will last for years of daily use. Oiling it with the special blend of oil below, will keep it looking new for many years! Available in 3 sizes! These boards are in stock, ready to ship. Click Here for the latest Butcher Block Sales!

---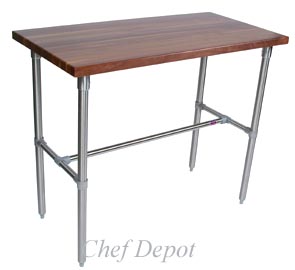 Product # CDBOOSWALNUTCLASSICO
On Sale $1340.00
Free Shipping & Great Customer Service!
John Boos & Chef Depot have created the new Walnut Kitchen Classico Table.
Walnut compares to maple in terms of density, strength and technical properties, and has a dark and warm feeling. Perfect for a breakfast bar island, food prep, holiday parties or casual dining. This table is constructed from 1 1/2 in. thick first grade solid Walnut with a clear coat of FDA approved food safe varnish finish. The tubular stainless steel legs are joined by a metal "I Bar" for optimum stability. The swivel stools are a perfect match for this table. Four stools will easily store underneath when not in use. The lower bar also makes a great foot rest! Choose from two table top sizes and two heights below - Tables sizes are 48 in. W x 30 in. D OR 48 in. W x 24 in. D - Table Heights are 36 inch or 40 inch tall! Made in the USA. More walnut tables are here! Click Here!
Free Shipping & Great Customer Service!
Were having a sale on Walnut, call us. We can ship your new table in aprox. 3 - 4 weeks!
Free Shipping is available in most areas of the continental USA!

48" Wide x 24" Deep x 36" Height Walnut or, Click Here for this table with a cherry or stainless steel top!

---
---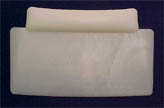 Product # CDDSB1DOUGHCUTTER
Retail $18.99 and up
On Sale $11.99

This dough cutter is used by Dominos. It is FDA approved and made from a durable copolymer for long life. The size of the blade is 8 in. x 3 in. with a 6 in. x 1 1/4 in. comfortable handle. This dough scraper will not damage, sratch or gouge dough trays or counters. The tapered sides allow for easy tray cleanup. This material is chemical resistant and will not support bacterial growth.
Our products are used by Master Chefs, Chefs and pro Cooks!
---


Product # CDH03-HAIKUSMALLCHEF
Retail $91.00 and up
On Sale $

This Haiku 5 1/2 in. Chef Knife is very high quality. Handmade in Japan, it is used by more Sushi Chefs in Japan and Europe than any other! It is handcrafted in the Japanese tradition from alloy layered steel and iron. The knives are so strong that they come with a lifetime warranty with free replacement! Each piece comes in a beautiful gift box. Click here - for more HAIKU! These do save time.
Chefs Note: This knife is very nice. The overall size is 10 in. and it has a nice feel. Great for small dicing. The blade is sharp and with a few light strokes on a whetstone, it is easily resharpened. You will love this knife! Lifetime Warranty.



Click here - for Diamond Sharpening Stones! These do save time.
---

Product # CDMUND56108BCHEF
Retail $29.99 and up
On Sale $ (lowest price and best quality)

This is a 8 inch Chef knife, it is used for most cutting and chopping work. The handle is comfortable and it has a 8 inch long German alloy steel blade. NSF certified for safety and sanitation. A very good quality knife for food preparation. Lifetime Warranty!
Click Here for more Chef Knives!


Click the green arrows below to view more products!


Pizza Supplies:
Page1 |
Page2 |
Page3 |
Page4 |
Page5 |
Page6 |
Page7 |
Page8 |
Page8 |
Page9 |
Page10 |
---

Copyright 1999 - 2022 Chef Depot Inc.
All Rights Reserved.
Legal Notice and Copyright
Customer Service - E-mail us or phone:(630) 739-5200



Customer Feedback : Pizza Baking Supplies and Kitchenwares for #Cooks . Many of our products are #MadeInUSA