Orders M - F : (630)739-5200
9:00am - 5:00pm CST

Cookware is...On Sale! After extensive testing of all the name brand pots and pans on the market. The Results Are In! Independent tests by our Chefs and several Magazines - We tested pots and pans for durable construction, appearance, ease of use, heat transfer, balance, metal ply layers, thickness of bottoms and sides, rivet strength, mirror polished finish, easy clean up, price & value and user satisfaction. The results are in - these scored the highest! These pots and Pans are everything you need from a great set of cookware, professional quality and a great value!
Wolfgang Puck and our Titanium Non Stick Anodized Aluminum cookware also scored very high!
It is also worth mentioning
Our Non Stick Frying Pans and Aluminum Sauce Pans are high quality and a great value. Strainers from France!
Heavy Duty Non Stick Jelly Roll Pans, Bundt Pans & Loaf Pans are here! Our Chefs help you prepare your own gourmet meals and fine sauces.
---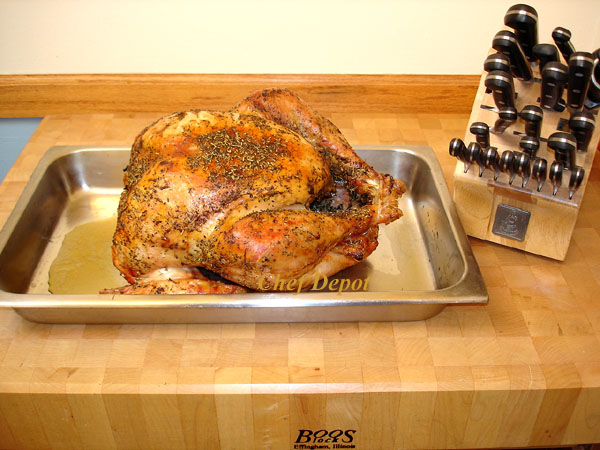 Our Butcher Blocks are made in the USA! Perfect Roasted Turkey takes practice. This one is resting in one of our stainless steel hotel pans (see below). The brining tool above will help you flavor it and keep it moist.
All of our products are Chef tested for quality and value!
Click hyperlinks below to view more products!

---

These are new Heavy Duty Hotel Pans
Made of heavy Stainless Steel, very durability, superior heat conductivity, this commercial-weight pan is designed for holding hot or cold foods. These measure 13 in. wide x 21 in. long. Often used for prepared foods (hot or cold) and holding foods in steam tables. It also makes a great drip pan for automotive and manufacturing uses. Perfect for restaurants and bakeries! Minimum order of 2 pans. Choose from standard gauge or heavy duty 22 gauge below!
Chefs Note: Why Buy Here ? Better Customer Service. High Quality & Low Prices! Choose from several sizes below. Large Quantity Discounts, Smaller sizes available by phone.
On Sale $9.95 and up - ADD TO CART

Full Size Hotel Pan (2 1/2 in deep - 7 1/2 Qt. standard)


Full Size Hotel Pan (4 in deep - 15 Qt. standard)
Full Size Hotel Pan (6 in deep - 22 Qt. standard)
Full Size Hotel Pan (2 1/2 in deep - 7 1/2 Qt., Heavy 22 Gauge)
Full Size Hotel Pan (4 in deep - 15 Qt., Heavy 22 Gauge)
Full Size Hotel Pan (6 in deep - 22 Qt., Heavy 22 Gauge)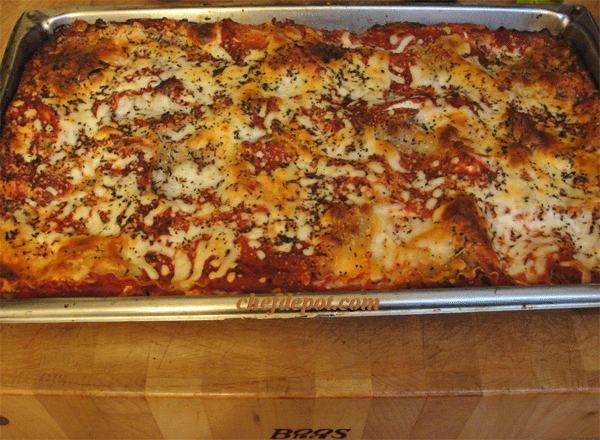 BOOS blocks are on sale now!
Maple, Walnut, Cherry Cutting Boards #MadeinUSA Sale = low prices!
Poly Cutting Boards at the lowest prices!
Learn How to Roast a Perfect Turkey!

---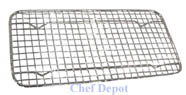 Product # CDPANGRATE10x18
Retail $12.50 and up
On Sale $9.99 or less, ADD TO CART
Do you own a heavy duty cooling rack that will cool anything? Ours will not bend, it's made to last through a lifetime of baking! We have cooled a lot of cakes, cookies and pies on these beauties! It's also made to fit inside our full hotel pans (click the link). It is perfect for roasting meats and we like it for smoking salmon on the grill! Take a side of salmon, drizzle with fresh lemon juice and our Cajun Seasonings and smoke with hardwood chips on your BBQ grill at 200-250 degrees until fish reaches 160 F. ~ enjoy!
Click Here for large Stainless Steel Mixing Bowls!

Click Here for Pure Organic Vanilla!
Poly Cutting Boards at the lowest prices!
---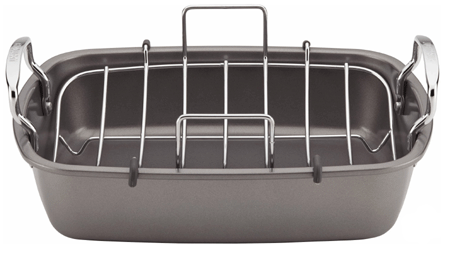 List Price $189.95 and up
Limited Sale - ADD TO CART
Product # CDNONSTICK-PRO-ROAST-PAN104983500
Our Nonstick Bake ware Pro Roasting Pan measures aprox. 18 Inch by 15 Inches. This pan is so easy to clean. Roaster with U-Rack makes it simple to roast a prime rib roast or turkey. With its convenient U-shaped rack, this roaster keeps meats off the bottom of the pan so unwanted fats drip away to the bottom. The heavy-duty carbon steel construction promotes balanced heat distribution for superior cooking performance and long-lasting durability while the rolled edges provide extra strength. The roaster also features DuPont Autograph nonstick for excellent food release and easy cleanup. Oven safe to 500 Fahrenheit, this quality roaster is a great way to create healthier, more delicious meals. Crafted with elegant contemporary design. Made of Carbon Steel alloy. Mfr. limited lifetime warranty. Learn How to Roast a Perfect Turkey!
Chefs Note; These sell out fast.

Click Here for THE BEST CHEF TABLES that you can buy!
---


Product # CD61018-18x12ALUM-ROASTING-PAN
Retail $100.00 and up
On Sale 50.00 and up, add to cart

Our new Aluminum Roasting Pan is 2 1/2 in deep and features heavy riveted handles.
Chefs Note: Finally we bring you a perfect roasting pan. Ideal for roasting a turkey, duckling, prime rib or roasts!

Durable Roasting Pan
Click Here for more saute pans!
---
Product # CD1992-MEAT-MARINATE-INJECTOR
On Sale $8.55

Inject your favorite brine, herbs, butter, sauces or marinades under the skin of nay wild game or turkey, beef, pork, chicken or even fish for added flavor and juicy moisture. Injecting a marinade is easy and quick, and the result is increased flavor and juiciness. Ergonomically designed handles are comfortable to use. Simply insert stainless steel needle into marinade, draw back injector to fill injector, then slide the needle into the meat. Disassembles for easy cleaning, Dishwasher safe.
Chefs Note: If you hunt and fish or enjoy preparing your own turkey and meats, this tool is for you!

Meat Marinate Injector
Click Here for USA Made Butcher Blocks and Cutting Boards!
---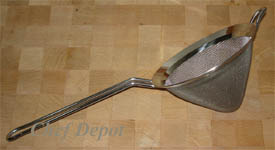 Product # CDNP2153-SS-CONICALSTRAINER
Retail $55.00 and up
On Sale $24.95

This is a "Conical Strainer". It has double fine mesh, used to strain sauces and soups. Made of stainless steel with heavy duty ss mesh construction for years of use. It is fine and will remove seeds and fiber from soups and sauces. We like it for small batches of vanilla speckled creme anglaise and chicken stock. Resting ring on end is designed to hook over bowls and hang. Designed in France!
Stocks & Mother Sauce Recipes! Click Here!
Wild Mushrooms & Vanilla are great in sauces, click here!

Click Here for High Heat Spatulas & Rubber Coated Tongs!
---

Need a large Quantity , email us
This is our Stainless Steel Cake Pan / Roasting Pan (measures aprox. 16.25 in. x 11 in. x 2 in. deep). The high quality pan features solid steel for excellent heat transfer; the result is fast and even cake baking and roasting. Totally nonreactive, use with acid foods like wine and lemon with no transfer of metal taste or harmful properties to your foods.
Chefs Note: Pastry Chefs at the Radisson Hotel like this pan. We use this pan for roasted chickens. It holds 2 small or 1 large chicken, plus vegetables. Why not toss out the old scratched up aluminum pan and get the best you can buy? Contact us for quantity sale prices !
Click Here for THE BEST CHEF TABLES that you can buy!
---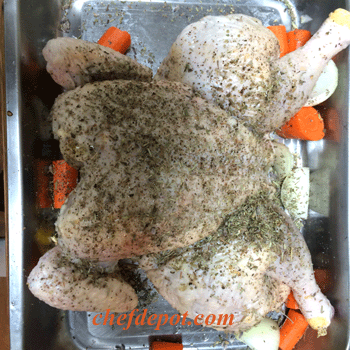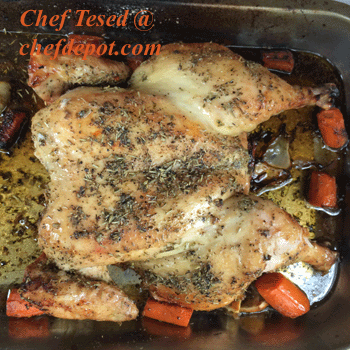 These chickens were rubbed with our Herbes de' Province blend. Click Here!
---
Featured Video ...
Chef shows you how to make Herb Roasted Chickens. Some of the items used in the kitchen are High Quality German Chef Knives. Why not get some New Razor Sharp Chef Knives for your kitchen? Notice, the knife is very sharp and cuts very easily. A sharp knife is required by every Chef and Gourmet Cook. Chef is using one of his NSF Maple Cutting Boards!
---
Learn how to Select Cutlery & How to Sharpen a Knife.
Chefs in Action! Learn How to Roast a Perfect Turkey!


---

Product # CD5018-12KMESSERSLICER12IN
Retail Price $48.95 and up
Clearance Sale $34.95

Our Messermeister 12 in. Granton Edge Meat Slicer makes slicing roasts and turkeys a snap! This knife comes with a Lifetime Guarantee! The 12 in. granton edge blade is medium flexible and has the razor edge that Chefs and Butchers love to use every day! Our Chefs have tested this knife against all of the leading brands. The results, these are the best carving and slicing knives you can buy. We only use a diamond sharpening steel and 3 grit stones to keep our granton edge knives razor sharp.
Place your order today, limited time offer!
Lifetime Warranty! This knife makes a perfect gift! Another Chef Depot Exclusive item!


Click Here for More German Carving Knives!


---



Product # CDAUJUS20x15BOOSBOARD
List Price $185.00 and up
On Sale - add to the cart


This is the reversible Au Jus Solid Maple Cutting Board! Features a wide groove on 1 side. John Boos custom makes these cutting boards for us from first quality Solid Rock Maple, 20 inches by 15 inches and over 1 1/2 inches thick. This reversible board is NSF certified and will not dull your knife! With proper care, this Maple board can last for life! Oiling it with Mystery Oil or Board Cream will keep it looking new. This board is the ideal size for most counter tops. Did you know that maple cutting boards naturally kill bacteria?
Chefs Note: A great board for carving a large turkey, roast beef or prime rib. Also an excellent choice for a gourmet BBQ. This is the cutting board of choice for all the Chefs here at Chef Depot. Find a lower price? Call us for a free gift. Emeril, Charlie Trotter, Paul Kahn and many other famous Chefs!

Our Rock Maple Logo Cuttingboards are On Sale!


Learn How to Roast a Perfect Turkey!


---



Product # CD24x18BOOSMAPLEBOARD
On Sale - plus free oil treatment ...
In Stock
Free Shipping over $99.00 (cont. USA only)


This is the Solid Maple Cutting Board that is used by Emeril & other Chefs on TV! This is the cutting board of choice for all the Chefs here at Chef Depot, Emeril, Charlie Trotter, Paul Kahn and many other famous Chefs. John Boos custom makes these cutting boards for us from first quality Solid Rock Maple, 24 inches by 18 inches and over 1 1/2 inches thick. This reversible board is NSF certified and will not dull your knife! With proper care, this Maple board can last for life! Oiling it with mystery oil, will keep it looking new (available below). This board is the ideal size for most counter tops. Did you know that maple cutting boards naturally kill bacteria?


24 x 18 x 1 1/2

Maple Kitchen Islands are featured in Fine Magazines!


---



Product # CD18x12BOOSAUJUSMINI
List Price $99.95 and up, On Sale ... Add to the cart!
Great for Vegetable prep, BBQ, Turkey, Roasts and is reversible, free shipping over $99.00 in Cont. USA


Our new mini Aujus Cuttingboard is perfect for the backyard BBQ or carving a small roast. This is the cutting board of choice for all the Chefs here at Chef Depot and many other famous Chefs! John Boos custom makes these exclusive cutting boards for us from first quality Solid Rock Maple, 18 inches by 12 inches and over 1 1/2 inches thick. This reversible board is NSF certified and will not dull your knife! With proper care, this Maple board can last for life! Oiling it with Board Cream will keep it looking new (available below). This board is the perfect size for smaller counter tops. Did you know that maple cutting boards naturally kill bacteria?



Add 3 pack of Boos Board Cream (3 pc. 5 oz. tubes)
Sale Price $34.95
New Kitchen Center Islands! Custom sizes are available...


---



Product # CD007RA0600-GIANT-BOOS-BOARD-30x23x2.25
List Price $349.00 and up
On Sale $293.95 + Bonus Wood Treatment. ships free !


Our new Giant John Boos Cutting board is thick and heavy, a perfect match for your countertop or the outdoor patio BBQ. This is the cutting board of choice for all the Chefs here at Chef Depot and many other famous Chefs! John Boos custom makes these fine cutting boards for us from first quality Solid Rock Maple, 30 inches by 23 inches and 2 1/4 inches thick. This reversible board is NSF certified and will not dull your knife! With proper care, this Maple board can last for life! Oiling it with mystery oil, or Board Cream will keep it looking new (available below). This board is the perfect size for islands & counter tops. As seen on TV cooking shows. Did you know that maple cutting boards naturally kill bacteria?



Add 3 pack of Boos Board Cream (3 pc. 5 oz. tubes)
Sale Price $34.95
New Kitchen Center Islands! Custom sizes are available!


---

Product # CDCHEFS-DO-IT-WITH-SPICE-APRON
FREE BONUS OFFER !


Free Chefs Apron with any $250.00 purchase! Our premium professional Chef aprons are lots of fun! One size fits all! Chefs do it with Spice! apron is a heavy cotton poly blend for maximum comfort and durability. Made in the USA! One size fits all! You must purchase over $200.00 and add this item to your cart! Limited Time Offer.


Chefs do it with Spice Apron

Great Chefs use our Kitchen Islands are featured in Fine Magazines!


---


Product # CDSFBM50-HALFSHEET-SILICONE-MAT
List Price $24.00 and up
On Sale $10.95
Product # CDSFBM100-FULLSHEET-SILICONE-MAT
List Price $39.00 and up
On Sale $22.95


Our exclusive professional "Silicone Baking Mats" are used by many Goumets & Pastry Chefs! A great way to keep your cutting board from sliding around! The rubber like non stick baking mat can go from the freezer to the oven (-40 degrees F to 600 F). This mat can be rolled for easy storage. These will help you save time with clean up!
Chefs Note: These sheets are the perfect choice for lining cookie sheets and cake pans, baking cake rolls, delicate sponge cakes, tuiles, chocolate work, sugar, candies and more! These work great under the cuttingboards too, especially with granite and stone countertops (keeps boards more stable). Two Sizes are available, half sheet pan size (11 5/8 in. x 16 1/2 in. for standard ovens) and full sheet pan size (18 in. x 26 in. for commercial ovens). Use & Care of Silicone Baking Mats. Chef Tony: I keep these under my cutting boards for the grip/no-slip properties. When I need them for cooking I pull them out.


Half Sheet Silicone Baking Mat (11 5/8 in. x 16 1/2 in.) $10.95


Full Sheet Silicone Baking Mat (16.5 in. x 24.5 in.) $22.95 Cooks and Chefs Love our Butcher Blocks!

---



Product # CDBOOS-MPL1812175-SSF-CUTTINGBOARD
List Price $299.00 and up
On Sale Plus ***Bonus Wood Treatment*** Click link for sizes and save $


New from John Boos, this 18 x 12 in. x 1 3/4 in. End-Grain Rock Maple Cutting Board with Stainless Steel Feet! It can be used for chopping, dicing, carving and serving! The juice groove is handy for carving meats and turkey, reserving juices for serving the natural aujus! John Boos premier cutting boards are all made in USA. Available in maple or lyptus (cherry look) woods below! We stock these cutting boards for fast shipping. Free Shipping over $99.00 (most areas). Did you know that maple cutting boards naturally kill bacteria? Your New Kitchen - Butcher Block is here!


---

Product # CDJ4762200-SAUCE-PAN-2QT
Retail $60.00 and up
SALE - ADD TO CART


These heavy duty Stainless Steel Sauce Pans feature 3 ply encapsulated 4mm layered bottoms, these are used most commonly for vegetables, sauces and soups. Lid is included on these straight sided pans. Also great for braising and simmering. Features excellent anti corrosive properties. Professional weight for even heat distribution and durability. Comfortable stainless steel loop handles. 18/8 stainless steel. NSF Certified. It is induction ready. Works on all cooking surfaces. Lifetime warranty from the manufacturer.
Chefs Note: A great ss sauce pan for the price! Get the whole set. Perfect size for residential or commercial stoves! Straight sided saute pans have lids, often used to simmer / braise too.


2 Qt. Stainless Steel Sauce Pan, straight sides (6.5 in. Diameter)


3.5 Qt. Stainless Steel Sauce Pan, straight sides (8 in. Diameter)
4 Qt. Stainless Steel Sauce Pan, straight sides (8 in. Diameter)
6 Qt. Stainless Steel Sauce Pan, straight sides (9.25 in. Diameter)
7.5 Qt. Stainless Steel Sauce Pan, straight sides (11.25 in. Diameter)
10 Qt. Stainless Steel Sauce Pan, straight sides (11.25 in. Diameter) Click Here for dried Arbol, Guajillo and Jalapeno Chiles!


---



Product # CD3766-DOUBLE-STEEL-ROASTING-PAN
Sold Out, no longer made.

Our new Double Steel Roasting Pan features extra thick 24 gauge steel with heavy duty riveted handles. These are the ones used at the Hilton and Hyatt Hotel chains for Roasting Turkey and Prime Rib. The straps add strength and keep the pan from wearing out with heavy repeated use. Dimensions: several choices below, measurements are approx., all are 3.5 in. deep.
Click Here for more saute pans!

---

Product # CDTAYLORPROBETHERMPROSERIES
Retail $49.99 and up
On Sale - ADD TO CART


This is the commercial Pro Series Taylor Combination thermometer/timer with stainless steel meat probe and on/off switch. It has a range of 32F to 392F. The probe has a 4 ft. long cord that can go in your oven or the grill. Temperature alarm to signal when food is done cooking. Folds down for compact storage. Magnetic for mounting unit to stove. Also nice to store it on the side of your refrigerator.
Mfr. gives you a free Lifetime Warranty on this thermometer!
Replacement stainless steel probes are available below!


Professional Probe Thermometer

Replacement Probe (lowest price on net)
Click Here for Maple Butcher Block Tables!


---

Product # CD-2P212-CDN-DIGITAL-PROBE-THERMOMETER
Sold Out, no longer made.
Professional Chef Knives for less!

---

Product # CD4762-2QT-SAUCEPAN-SS
Retail $80.00 and up
ADD TO CART - SALE

These heavy duty sauce pots feature 3 ply encapsulated 5mm layered bottoms, these are used most commonly for simmering sauces. Features excellent anti corrosive properties. Professional weight with a magnetized stainlesss steel disc for even heat distribution and durability. Comfortable stainless steel loop handles. 18/8 stainless steel. NSF Certified. It is induction ready. (Lid is available below). Works on all cooking surfaces. Lifetime warranty from the manufacturer.
Chefs Note: A great saucepan for the price! Perfect size for residential or commercial stoves!

2 Qt. Stainless Steel Saucepan (6 1/4 in. Dia.)

3.5 Qt. Stainless Steel Saucepan (7 7/8 in. Dia.) 5.5 Qt. Stainless Steel Saucepan (9.5 in. Dia.) 7.75 Qt. Stainless Steel Saucepan (9.5 in. Dia.) LID ONLY for Stainless Steel Saucepan (purchase of pan required) Click Here for Electric Knife Sharpeners!


---

Product # CD477820-BRAZIER-8QT.SS
Retail $150.00 and up
ADD TO CART

These heavy duty Brazer Pans feature 3 ply encapsulated 4mm + layered bottoms, these are used most commonly for pan fried and sauteed foods. Lid is included on these straight sided pans. Also great for braising and simmering vegetables. Features excellent anti corrosive properties. Professional weight for even heat distribution and durability. Comfortable stainless steel loop handles. 18/8 stainless steel. NSF Certified. It is induction ready. Works on all cooking surfaces. Lifetime warranty from the manufacturer.
Chefs Note: A great pan for the price! Perfect size for residential or commercial stoves! Straight sided brazier pans have lids, often used to simmer / braise too.

8 Qt. Stainless Steel Brazier Pan, straight sides (14 in. Dia.)


13 Qt. Stainless Steel Brazier Pan, straight sides (15 in. Dia.)
20 Qt. Stainless Steel Brazier Pan, straight sides (16 in. Dia.)
25 Qt. Stainless Steel Brazier Pan, straight sides (18 in. Dia.)
25 Qt. Stainless Steel Brazier Pan, straight sides (19 in. Dia.)
30 Qt. Stainless Steel Brazier Pan, straight sides (20 in. Dia.)

---

Product # CDPROTAYLOROVENTHERM
Retail $29.99 and up
On Sale $14.95


This is the best oven thermometer made! It is used to measure your exact oven temperature. Many ovens, household and professional models loose their correct temperature settings within a few years of use. This thermometer easily mounts in your oven by hanging from the rack or stands upright on the bottom. It will tell you exactly what the true temperature is inside your oven. Chef Depot and Cooks Illustrated have tested this thermometer in many models of ovens, most are 25 - 75 degree's off temperature! This thermometer scored the highest! This oven thermometer has a large, easy to read face and it's filled with a blue safety liquid, others are filled with mercury. Lifetime Warranty!


Click Here for Chef Tables.


---

Product # CD7489SLIMPENTHERM
Retail Price $48.99 and up
On Sale $29.99


This is our new Pro Digital Pen Style Thermometer by Taylor. It has a larger display than the other models reads in a second and is accurate +- 1 degree F., it's also waterproof. The slim line pen shape is ideal for those who keep it in their pocket. The digital readout is from - 40 degree's Farenheit to 450 degree's F.(also Celcius).
It comes with an antibacterial pocket sheath for easy storage (it kills germs on contact after each use). Our new model Features a neck lanyard (removable) and a stainless pocket/belt clip. NSF certified, with 1.5 mm FDA approved tip.
This thermometer has an automatic off switch for long battery life.
We recommend this thermometer for all kitchen use, cooking grilled foods and candy making.


Click here for Rock Maple Cutting Boards!


John Boos Blocks & Tables are Made in USA!


Call our kitchen designers for your best deal. phone 630 739 5200


---

---

Product # CD9521LCLASERTHERM-TAYLOR
Retail Price $169.99 and up
On Sale $98.00


Our new Taylor Infrared Laser Thermometer is a great value. This professional laser thermometer with advanced temperature processing meets new HACCP requirements. Infrared thermometer with laser sight. Registers surface temperatures in half a second. Rugged housing with recessed optics. F/C selectable. - 58 degrees to 750 F or --50 to 400 C. Accuracy +/- 1.8 F over the HACCP critical range of 32 to 150 F. Resolution 0.1 F or 0.1 C. Emissivity preset at 0.95. 8:1 optics. Auto off feature. Includes vinyl carrying case and 9-volt battery included. Our Chefs and a health dept. inspector tossed these units around for many weeks and tested it on many foods, it's a great thermometer!


Taylor Infrared Laser Thermometer

Order a Butcher Block Table for your Spouse! Click here!


---

Product # CDSSAU-3-SAUTE-PAN-3QT
Retail $90.00 and up
ADD TO CART

These heavy duty Stainless Steel Saute Pans feature 3 ply encapsulated 5mm layered bottoms, these are used most commonly for pan fried and sauteed foods. Lid is included on these straight sided pans. Also great for braising and simmering vegetables. Features excellent anti corrosive properties. Professional weight for even heat distribution and durability. Comfortable stainless steel loop handles. 18/8 stainless steel. NSF Certified. It is induction ready. Works on all cooking surfaces. Lifetime warranty from the manufacturer.
Chefs Note: A great ss saute pan for the price! Perfect size for residential or commercial stoves! Straight sided saute pans have lids, often used to simmer / braise too.

3 Qt. Stainless Steel Saute Pan, straight sides (10 in. Dia. x 2 3/4 in. tall)

5 Qt. Stainless Steel Saute Pan, straight sides (12 3/8 in. Dia. x 3 1/8 in. tall) 7 Qt. Stainless Steel Saute Pan, straight sides (14 in. Dia. x 3 1/2 in. tall)

---

Product # CDHDALUMINUMSAUCEPOT+LID8QT
Retail $49.00 and up
ADD TO CART

Heavy Duty Eagle Aluminum Sauce Pots, Restaurant Quality, Durable & Effecient Type 502 Aluminum Alloy (Note: Sauce Pots are wider and shorter than Stock Pots). High Thermal Efficiency (No Hot Spots), Extra thick dent resistant bottom and sides (made to last), Heavy-Duty handles with oversized rivets, Easy to clean, NSF approved.
Chefs Note: These stockpots are perfect for making stock, soups and sauces, boiling lobsters, potato salad, canning vegetables, large pots of pasta and chili! Perfect size for residential or commercial stoves!

8 Qt. Sauce Pot with Lid

14 Qt. Sauce Pot with Lid 20 Qt. Sauce Pot with Lid 26 Qt. Sauce Pot with Lid 36 Qt. Sauce Pot with Lid 40 Qt. Sauce Pot with Lid 60 Qt. Sauce Pot with Lid Chef Selected Maple Kitchen Carts & Tables - The Best!


---

---

Product # CD31650-SPIDER-SKIMMER
Retail $19.95 and up
Our Price $12.89


This is our Spider Skimmer. It is the prefect tool for skimming stocks, blanching vegetables and deep frying foods. It is extra strong and durable! Measures aprox. 6 in. Diameter and 18.5 in. long. It features a slot on the end of the handle for hanging when not in use.
Chefs Chopping Blocks - Click Here!

Chef Selected Maple Kitchen Carts & Tables - The Best!

Click Here for Digital Thermometers!

Click Here for more saute pans!


If your knife block is full, click on this picture for storage ideas!
Chef Selected Maple Kitchen Carts & Tables - The Best!


---



Product # CD61826-DOUBLE-HD-ROASTING-PAN
Retail $250.00 and up
On Sale ADD TO CART

Our new Double Roasting Pan features extra thick aluminum with heavy duty riveted handles. These are the ones used at the Marriott and Hyatt Hotel chains for Roast Turkey and Prime Rib. The straps add strength and keep the pan from wearing out with heavy repeated use. Dimensions: 18 in. x 24 in. x 4.5 in.
Chefs Note: Finally we bring you a perfect roasting pan. Ideal for roasting a turkey, duckling, prime rib or roasts!


Heavy Duty Double Roasting Pan

Click Here for more saute pans!


---

Product # CDHI-432280-GRAVY-SEPERATOR
Sold Out. Click Here for High Heat Spatulas & Rubber Coated Tongs!


---


Click Here for High Heat Spatulas & Rubber Coated Tongs!


---

Product # CDJ11-CHROMAJAPANCHEF-VEGETABLE
Retail $48.95 and up
On Sale ADD TO CART


This is the 5.75 in. Vegetable knife (12.7 cm) by Chroma. The knife has a nice thin blade. These knives have a great shape, balance and weight for a lifetime of use. These forged knives are beautiful, functional and easy to clean. We guarantee it will fit your hand perfectly and you will love the balance of this award winning knife. Each one is hand sharpened and finished by the hands of a master knife maker.
We gift box each piece of this fine cutlery. Lifetime Warranty!
Chefs Note: A great little knife for anyone with small hands. A great buy on a forged knife. Ice Hardened Molybdenum Vandium Japanese Steel with the 15 degree V edge. Click Here for more CHROMA knives!

Best Knife Storage Cases!


---

Product # CDUP-OP-12-STAINLESS-STEEL-SERVING-PLATTER
Retail Price $24.00 and up
On Sale ADD TO CART (sold by 10 pack only)


Our Heavy Duty Commercial Stainless Steel Food Serving Trays are perfect for serving many foods. These platters are used by many foodservice operations, caterers, restaurants and schools, our trays wil last for years. Large Quantity Discounts. Minimum order per size is 10 pieces.


10 - 12 in. x 8.5 in. Stainless Steel Food Serving Trays


10 - 14 in. x 8.5 in. Stainless Steel Food Serving Trays
10 - 16 in. x 11.5 in. Stainless Steel Food Serving Trays
10 - 18 in. x 11.5 in. Stainless Steel Food Serving Trays
10 - 22 in. x 14.5 in. Stainless Steel Food Serving Trays Click Here for Chef Knives!
Click Here for Stainless Steel Tables!


---

List Price $40.00 and up
On Sale ADD TO CART
Product # CD-007000-CHICKEN-RACK

These are our new redesigned chicken rack. Easily keeps birds upright for roasting, smoking or slow cooking on the bbq grill, in the oven or in your smoker. This rack is high quality. Works well, nonstick drip pan included and made to last. Gift Boxed, measures aprox. 4.5 in. base x 7 in. tall. Makes a great holiday gift.
Chefs Note: The Colonel buys from us for good reasons. Watch the video below. We use these in the stainless steel pan below lined with parchment paper for herb roasted chickens. Why not toss out the old scratched up aluminum pan and get the best you can buy?


Click Here for THE BEST Herb Blends that you can buy!
Click here for more Quality Grilling Tools!

---

Product # CDJVC-100-130-140-160WBK-VICERA-CERAMIC-KNIFE-SET
Retail $300.00 and up
Sale Price ADD TO CART

This is the new Vicera Ceramic Knife Set, they each hold an edge without sharpening. The set includes 4 pieces, as pictured above. Chef knife, Santoku Knife, Utility Knife and Paring Knife.
This is a very nice ceramic knife set, very comfortable and easy to use.
The weight is about half of steel knives making it comfortable for extended use.
The ultra sharp ceramic blade cuts with precision and accuracy every time maintaining a razor sharp edge for many years.
These knives are made of an advanced, high-tech ceramic, second in hardness only to diamond, it was originally developed for industrial applications where metal components failed. Made in Japan.
Chef Notes: The blades are very thin and sharp. These knives are a great choice for Chefs and Gourmet Cooks! Each one comes in a beautiful presentation box. These knives are a great choice for Chefs and Gourmet Cooks! Ceramics are perfect for slicing, dicing, chopping and mincing meats, garlic, carrots, onions, celery, fruits and more

Click Here for Vanilla Beans and Dried Porcini!
Click Here for more fry pans!


---

Product # CD-JVC-D32009-CERAMIC-KNIFE-SHARPENER
Retail $39.95 and up
Sale Price ADD TO CART


This is our new exclusive Ceramic Knife Sharpener! Made in Japan, it's very comfortable and easy to use. In under 1 minute, you can restore that factory sharp edge on any ceramic blade. Included with the diamond sharpener is a bevel stand that holds the knife at the proper angle, then you simple move the diamond tool horizontally over the blade, turn knife over and repeat. Simple to follow directions are included.
Chef Notes: We quickly put a brand new edge on a heavily used ceramic knife. It now cuts vegetables and fruits with little effort.

Maple Butcher Block Tables are here!!!


---

Product # CDE3686-8MESSERCHEF8IN
Retail $136.00 and up
Sale ADD TO CART


This is the new 8 inch blade Messermeister Elite Chef Knife!
The knife is forged from the highest quality German alloy steel in Solingen Germany. Lifetime Warranty.
Chef Notes: This is a great multi purpose knife for cutting, chopping, slicing and dicing! Purchase one and try it, Messermeister will become your favorite brand of cutlery! This knife becomes a favorite for every Chef who picks it up! We have tested every German knife made - these are the best you can buy.
More Messermeister ~ Click Here!




---


Product # CD-V202-PASTA-EXTRUDER-ITALY
List Price $169.99 and up
On Sale ADD TO CART

The Regina Pasta Extruder Machine is easy to use. This new design is made in Italy. Making fresh pasta is easy, make the dough, drop into the machine and crank out the pasta! The machine comes with a sets of pasta cutters for many shapes. Comes complete with interchangeable dies for producing Rigatoni, Maccheroni, Maccheroncini, Bucatini and Fusilli. Easy homemade pasta!
Order yours by clicking the Add To Cart button below!


Pasta Extruder Machine


More Pasta Making Tools are Here.


---


Product # CDWCR31HANDMADE-WOODEN-SPOON-31IN
List Price $69.99 and up
On Sale $ADD TO CART


This is a handmade high quality 31 inch Wooden Mixing Spoon! Made from high quality beechwood! The head of the spoon is large. Perfect for the stockpot, serving up the grub or display. We know a few kids who could use one of these upon the backside. These spoons are preferred by more Chefs!


31 in. Handmade Wooden Spoon


Click Here for more Mixing Paddles!


---

Click on the Dutch Ovens and the Frying Pan for more pots & pans! Call us for Low Prices on other Commercial Pots & Pans!


These pans are designed to last! We have the Low Prices!


---

Product # CDOSTHB3321800BEEFROASTER
Retail Price $109.00 and up
On Sale ADD TO CART


Our 18 Quart insulated steel Heavy Duty Roaster is perfect for slow cooking roast beef, ham or up to a 24 lb. turkey. Fast and easy roasting, holding and serving. Chef tested for durability and reliability. Features a fully adjustable temperature dial and easy removable enamel steel roast pan. It comes complete with a lid. Temp. Adjustment dial, UL Listed. These roaster last for years of use.


Click Here for High Quality Chafing Dishes!
Click Here for Stainless Steel Tables!


---

Add To Cart Sale , save $

Our new Dark American Walnut Elegante features a solid 1 1/2 in. edge grain top. Choose with or without drawer below. This table is equipped with four locking 3 in. commercial-grade caster wheels, a food service grade SS base and shelves. There's also a stainless steel drawer that has dovetailed joints and a towel bar on the right side. The two shelves can be reversed to hold bottles of wine. The top is finished with a durable clear coat of FDA approved food safe varnish making in maintenance free! This table is 35 in. tall. Call us for our monthly special! We can ship your new table in aprox. 10 days! Free Shipping & Great Customer Service! Free Shipping is available in most areas of the continental USA only. Choose from three sizes below!



Made in the USA Sale - Call us or email us for your best price! Call to order or email questions!


Click links to view these products!


---

Our new exclusive Elegante features stainless steel bar rails on each shelf, a solid 1 3/4 in. maple edge grain top. This table is equipped with four locking 3 in. commercial-grade caster wheels, a food service grade SS base and shelves. There's also a stainless steel drawer that has dovetailed joints and a towel bar on the right side. The two shelves can be reversed to hold bottles of wine. The top is finished with a durable clear coat of FDA approved food safe varnish making in maintenance free! This table is 35 in. tall. It is now available in Walnut too !
Call us for our monthly special! We can ship your new table in aprox. 10 days!
Free Shipping & Great Customer Service! Free Shipping is available in most areas of the continental USA only.
On sale, free shipping, no tax ! Click link!


---

The Elegante features a solid 1 3/4 in. maple edge grain top. This table is equipped with four locking 3 in. commercial-grade caster wheels, a food service grade SS base and shelves. There's also a stainless steel drawer that has dovetailed joints and a towel bar on the right side. The two shelves can be reversed to hold bottles of wine. The top is finished with a durable clear coat of FDA approved food safe varnish making in maintenance free! This table is 35 in. tall. It is now available in Walnut too !
Call us for our monthly special! We can ship your new table in aprox. 10 days!
Free Shipping & Great Customer Service! Free Shipping is available in most areas of the continental USA only. Choose from three sizes below!


---





Product # CDHEAVYDUTYSHEETPAN18x13
List price $16.99
On Sale ADD TO CART


Jelly Roll Pans / Cookie Sheet / Sheet Pan
Made of layered aluminum (18 Gauge), durability, and superior heat conductivity, this commercial-weight pan is designed for baking cookies and sponge cakes. Also great for most baking applications, heating hors d'oeuvres or baking breads. 18 in. L x 13 in. W, x 1 in. Deep. Heavy duty rolled sides and corners for strength and durability. This pan fits all standard size ovens. You can also use a "Silicone Baking Mat" with these, see below. Made in the USA.
Chefs Note: We use a lot of these - the perfect pan for baking & roasting! Quantity Discounts - See Below! Call for larger quantities.

1 Heavy Duty Pan

2 Heavy Duty Pans $ save 3 Heavy Duty Pans 4 Heavy Duty Pans CHEFS cutting boards. Click here.


---


Product # CDSFBM50-HALFSHEET-SILICONE-MAT
List Price $24.00 and up
On Sale $10.95
Product # CDSFBM100-FULLSHEET-SILICONE-MAT
List Price $39.00 and up
On Sale $22.95


Our exclusive professional "Silicone Baking Mats" are used by many Goumets & Pastry Chefs!
The rubber like non stick baking mat can go from the freezer to the oven (-40 degree's F to 480 F / 250 C. ). This mat can be rolled for easy storage. Also, great to keep under a cutting board. These will help you save time with clean up!
Chefs Note: These sheets are the perfect choice for lining cookie sheets and cake pans, baking cake rolls, delicate sponge cakes, tuiles, chocolate work, sugar, candies and more! Just like the famous brand liners. Two Sizes are available, half sheet pan size (11 5/8 in. x 16 1/2 in. for standard ovens) and full sheet pan size (18 in. x 26 in. for commercial ovens). Use & Care of Silicone Baking Mats.


Half Sheet Silicone Baking Mat (11 5/8 in. x 16 1/2 in.)

Full Sheet Silicone Baking Mat (16.5 in. x 24.5 in.) Chef Prep Tables! Made in the USA!
Chefs Select Cutting boards!


---

Product # CDSTSD-140-FLEXIBLE-SS-SPATULA
Retail $15.00 and up
On Sale $2.99

Our stainless steel flexible turner great for burgers and cookies! Used by bakers around the world, this tool is nice for removing cookies and hot baked goods from cookie sheets. Nice tool fo flipping burgers.
Other Spatulas are here.

Click Here for the best Vanilla Extract you can buy!


---

Product # CD2006WHITEBOWLSCRAPER
Retail $5.00 and up
On Sale $1.00

Our flexible plastic mixing bowl scraper is perfect for getting it all out! Used by bakers around the world, this tool is perfect for working with dough and scraping off your work table too. Measures 5 1/2 in. x 3 1/2 in. with a beveled edge on 1 side. Some cooks like to use it for scooping up minced garlic and chopped tomatoes.
Click Here for more Mixing Bowls!

Click Here for the best Vanilla Extract you can buy!
Chefs Select Cuttingboards!


---

This 8 quart full size stainless steel chafer features heavy cast legs. This heavy duty welded SS version of the longtime favorite comes complete with a 2-1/2" deep food pan, satin finish dome cover, dripless water pan, frame, and two fuel holders. This is the standard chafer used by many catering companies.
Click Here for Extra Hotel Pans!



Product # CDJR74823CHAFERSS
Retail $129.00 and up
On Sale ADD TO CART

Click Here for Carving Knives!


---

Product # CD3290GRILLBRUSH14
Retail $19.99 and up
Our Price $9.99


This is a commercial grill cleaning wire brush. It is aprox. 14 in long and 1 in. wide perfect for cleaning the grids of the barbecue grill, heavy duty gas or charcoal grill. This brush comes with stiff metal bristles and a heavy duty metal scraper to allow for easy cleaning of the grill even when very hot. Hardwood handle with a hole.
Chefs Note: This Grill Brush will last! The long handle will help keep your hands cool.



Portable Grilling Carts!


---

Product # CD5PCMUNDCHEFSET
Retail $198.00 and up
On Sale $140.90
Product # CD6PCMUNDCHEFSET(with a 10 in. Chef Knife)
Retail $248.00 and up
On Sale ADD TO CART


This is a "5 Piece Chef Starter Set" It is perfect for the beginning professional Chef or Cook.
The set contains a 8 in. Chef Knife, 6 in. Boning Knife, 3 in. Paring Knife, 10 in. Sharpening Steel and
a large heavy duty Cordura Chef Knife Case (The case lists for 69.00 and up, it holds a lot more)!
Add a 10 inch Chef knife to the above set for only $15.00 more (CD6PCMUNDCHEFSET)!
This is also a great set for the traveling gourmet!
Click Mundial page links below to view more mundial products!


5 Piece Chef Starter Set


5 Piece Chef Set plus a 10 inch Chef knifeClick both Green Arrows for more Pots and Pans!




More Cookware:
Page1 |
Page2 |
Page3 |
Page4 |
Page5 |
Page6 |
Page7 |
Page8 |
Page9 |
Page10 |
Page11 |
Page12 |
Page13 |

---

Copyright 1999 - 2022 Chef Depot Inc.
All Rights Reserved.
Legal Notice and Copyright

Customer Service - E-mail us or phone:(630) 739-5200

Customer Feedback : Best Rated Roasting Pans, Turkey Pan, Ham Pan, Pan for Roast Beef, aluminum, steel, cast iron, pans with racks, best quality reviews