Customer Service, Phone:(630)739-5200
Monday - Friday: 9:00am - 5:00pm CST
A sauce is a flavorful liquid that is usually thickened. A sauce is used to add flavor, moisture, richness and appearance to foods. Sauces also add an interesting and complex level to many foods. Sauce making techniques are basic skills but they take practice to master. Many of the best sauces are made from stocks. To finish a sauce most Chefs use a chinoise, it makes a sauce perfectly smooth and more refined. Every Chef knows from experience that a good sauce will compliment and enhance good food! No time to make a great Demi-Glace Sauce? Check out our wonderful Demi Glace Mix.
The Leading Sauces or Mother Sauces are Bechamel, Veloute, Espagnole, Tomato and Hollandaise. From these leading sauces, thousands of other sauces can be made!
Click the links below for leading sauce recipes
<![if !supportEmptyParas]> <![endif]>
Stocks
Sauces


Click Here to Learn to make perfect Roux!

Chefs Note: We can help "You Save Time" in preparation with the following Chef Tools -
Kyocera Ceramic Knives (always sharp) & Ceramic peelers and graters
Saffron, Vanilla & Spices
John Boos Maple Blocks & Cutting boards are # 1
MessermeisterThe Best German Knives!
Chefs Choice Chefs Electric Knife Sharpeners will save you time!
Chef selected Stainless Steel Pots & Pans!
Chefs Favorite Chinoise & China Cap Strainers!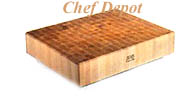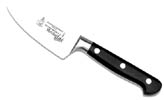 Click the green arrow on the right for more cutlery!


---

Copyright 1999 - 2015 Chef Depot Inc.
All Rights Reserved.
Legal Notice and Copyright
Customer Service - E-mail us or phone:(630) 739-5200



Customer Feedback