A Site for Chefs!

Orders M - F : (630)739-5200
9:00am - 5:00pm CST

Ramekins and Onion Soup Crocks are on sale!
These soup crocks and ramekins are a great addition to your gourmet kitchen!
---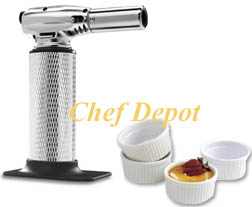 Product # CDFT912-SETMESSERCHEFTORCH+RAMEKINS
Retail $69.95 and up
On Sale $39.95
The best "Chef Torch" made now with 4 ceramic ramikens! We have tested them all and this torch scored the highest for every tested category. It has a built in automatic ignition and adjustable flame tip. Simply pull the trigger and it fires up. There is an on/off switch and it stands up for safety and storage. It weighs less than 8 ounces and easily fills from the bottom with any butane refill.
Once filled with butane this torch will run for over 1 hour!
Chef Notes: This chrome beauty is made by Messermeister. Many Chefs prefer it over the others for the extended flame tip. The torch is very comfortable to hold and easy to use. This torch is perfect for Creme Brulee, Baked Alaska, Meringue Pies, Melting Cheese and browning many foods. It also has many other uses, crafts, electronics, soldering, plumbers, etc. Operating temperature up to 2800 degrees F.
(our butane is the hottest burning available.)
Uses a standard butane canister (one can is included).
Jumbo Torch Butane Refills for this torch are below. Replacement jumbo butane fuel cartridges are $5.95 each (8 oz.), a set of 6 tips is included, they will refill any butane powered item! This butane is cold filtered 5 times and it is the hottest burning butane on the market, ozone friendly too!

Chef Torch + Set of Four Ramikens
Jumbo Butane Refills (Ships to Cont. USA only)


Chef Depot is preferred by Master Chefs, Chefs and professional Cooks all over the world!

---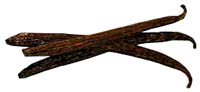 Product # CDVANILLABEANS3

Our Madagascar Vanilla Beans are the highest quality available. They are highly prized by the Pastry Chefs who use them for their wonderful flavor and freshness. They are used extensively by Pastry Chefs and Gourmet Cooks around the world. Congratulations to Team USA, finishing 1st Place in the 2002 World Pastry Chef Championship using our vanilla beans! These Madagascar Bourbon Vanilla Beans (the best variety) are prized for their fragrant strong flavor. Our vanilla beans are very large ( 6 in. - 9 in. long), soft, plump and fresh. Our very Large Gourmet Vanilla Beans
are 100% Completely Organic Grown and PAREVE ~ Kosher certified!
These large soft beans are the best you will ever use and taste. When properly stored, they stay fresh for up to 1 year.
Our beans are the largest and most fragrant select Madagascar beans available, you always get the best at Chef Depot!
Our Pastry Chefs rate them #1! Order yours today!
Here are some Vanilla Bean facts and pictures and recipes!
Click here to buy Vanilla Beans!

---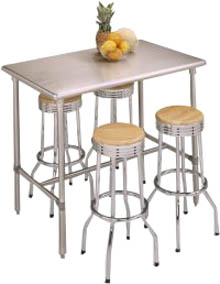 This is the Cucina Classico Stainless Steel Table. The Food Service Grade Stainless Steel (18/8 grade) has a polished top and Bull nose corners & edges for great looks and safety. This table has adjustable feet for leveling. The open base accommodates two counter stools on each side (Order Below - Not Included). This table is available in two sizes 48 in. x 24 in. -OR- 48 in. x 30 in. There are also two heights available, 36 in. Or 40 in. high overall. A larger image of this table is here. Click link! These tables are custom made to order and shipped from the factory. This is the highest quality you can buy. Made in USA. Custom Made Bar Stools, click here!
We can ship your new table in aprox. 10 days!
Chefs Note: These are made to last for generations! Many other sizes of stainless steel tables are available.


Free Shipping is available in most areas of the continental USA! This item only ships to USA / Canada.

Click Here for these Tables & John Boos SALE !



Click Here for John Boos Maple Cutting Boards!


---

Product # CDBOOSWALNUTCLASSICO
On Sale $1340.00 and up
Free Shipping & Great Customer Service!

John Boos & Chef Depot have created the new Walnut Kitchen Classico Table.
Walnut compares to maple in terms of density, strength and technical properties, and has a dark and warm feeling. Perfect for a breakfast bar island, food prep, holiday parties or casual dining. This table is constructed from 1 1/2 in. thick first grade solid Walnut with a clear coat of FDA approved food safe varnish finish. The tubular stainless steel legs are joined by a metal "I Bar" for optimum stability. The swivel stools are a perfect match for this table. Four stools will easily store underneath when not in use. The lower bar also makes a great foot rest! Choose from two table top sizes and two heights below - Tables sizes are 48 in. W x 30 in. D OR 48 in. W x 24 in. D - Table Heights are 36 inch or 40 inch tall! Made in the USA. More walnut tables are here! Click Here!
Free Shipping & Great Customer Service!
Were having a sale on Walnut, call us. We can ship your new table in aprox. 3 - 4 weeks!
Free Shipping is available in most areas of the continental USA!
Click Here for this table with a WALNUT , Cherry, Maple or stainless steel top!


---

Product # CDCREMEBRULEEDISH8058
Retail $7.50 each and up
On Sale $3.95

These high quality Creme Brulee' dishes are triple fired with heavy glaze. They are oven safe and fired to be the strongest dessert dishes tested. Thermal and shock resistant. Can be used in the broiler, oven, microwave, freezer and dishwasher! The low sides and flat bottom promote slow even cooking of custard. These dishes make a beautiful presentation for many desserts! 5 1/8 in. x 1 in. deep, holds 6 oz.
The minimum order is 4 pieces. Click Here for the best Vanilla you can buy!
Click the link at the top of the page to get the best recipe for this heavenly dish!


Click here for Spices, Wild Mushrooms, Saffron, Peppercorns, Vanilla Beans and Gourmet gifts!
We guarantee the highest quality at the lowest prices!


---

Product # CDCREMEBRULEEDISH8015
Retail $9.00 each and up
On Sale $4.95


These high quality Creme Brulee'/Quiche dishes are triple fired with heavy glaze. They are oven safe and fired to be the strongest dessert dishes tested. Thermal and shock resistant. Can be used in the broiler, oven, microwave, freezer and dishwasher! The low sides and flat bottom promote slow even cooking of custard. These dishes make a beautiful presentation for many desserts! 5 in. x 3/4 in. deep, holds 8 oz.
The minimum order is 4 pieces. Click Here for the best Vanilla you can buy!
Click the link at the top of the page to get the best recipe for this heavenly dish!


Click here for Spices, Wild Mushrooms, Saffron, Peppercorns, Vanilla Beans and Gourmet gifts!
We guarantee the highest quality at the lowest prices!


---

Product # CDIWATANIBUTANELIGHTER
Retail $8.95 each and up
On Sale $3.00

The Iwatani gas match is easy to use. Just shift the safety lock to "ON" and click the switch for immediate ignition. You can conveniently adjust the flame to your desired length and the long neck lets you access those hard to reach places for safe, sure ignition the first time. Great for candles, fireplaces and the BBQ!
The minimum order is 2 pieces! Ships to Cont. USA only.


Click here for electric knife sharpeners!

Click here for Spices, Wild Mushrooms, Saffron, Peppercorns, Vanilla Beans and Gourmet gifts!
We guarantee the highest quality at the lowest prices!


---

Product # CD-UP-SC-15-RAMEKINSS1.5OZ-12PC
Retail $30.95
On Sale $18.00


Our new Stainless Steel Sauce Cups are 18-8 stainless steel with an exclusive nesting design. These are Dishwasher safe, choose from 1.5 oz. or 2.5 oz. Sold as a set of 12 pieces, these are perfect for sauces or molding foods! Large quantity Discounts are available.
Chefs Note: You will be using many of these every week!


1.5 oz. Ramekins, 12 pc. set

2.5 oz. Ramekins, 12 pc. set

---

Product # CD8001KSRAMEKIN2OZ-6PC
Retail $36.95
On Sale $12.99 Minimum order is 12 pcs.


These are the best ceramic ramekins made today. Sold as a set of 6 pieces, these are perfect for sauces, appetizers, snacks, custards or molding foods. These are made from heavy duty glazed ceramic, very durable. These are perfect for serving salad dressing, butter, olive oil and more! Choose from several sizes below! Large quantity Discounts are available.


2 oz. Ramekins, 6 pc. set $12.99

4 oz. Ramekins, 6 pc. set $14.99 6 oz. Ramekins, 6 pc. set $17.99

---

These are our ABS ramekins, in many sizes and colors. Sold as a set of 12 pieces or more. Basically unbreakable and these are perfect for sauces, appetizers, snacks, custards or molding foods. Price goes down with quantity. These are perfect for serving salad dressing, butter, olive oil and more! Choose from several sizes below! Large quantity Discounts are available. Call us or email us today chefdepot@yahoo.com phone 630 739 5200


---

Product # CDMUND56108BCHEF
Retail $39.99 and up
On Sale $23.49


This is our new Food service 8 inch Chef knife, it is used for most cutting and chopping work. The handle is comfortable and it has a 8 inch long German alloy steel blade. NSF certified for safety and sanitation. The knives feature Sanitized Antimicrobial Protection which protects the knife handle from bacterial growth. These knives meet all international safety and health standards. A very good quality knife for food preparation. Lifetime Warranty! 10 in., 12 in. Chef Knives & More...Click Here!



8 inch Chef Knife


SIX 8 inch Chef Knives $126.00 Click Here for Electric Diamond Sharpeners!


---

Product # CDJR84102-RED-BUFFET-TRAYS
Retail Price $5.99
On Sale , min. 48 pcs


Our Buffet Food-service Serving Trays are thick, textured and slip resistant. Several colors / sizes below. Call for large quantities.


Red Buffet Food-service Serving Trays, Click Here for our NEW Kitchen Islands!


---


Product # CDH03-HAIKUSMALLCHEF
Retail $95.00 and up HOT Sale, now only $74.95

This Haiku 5 1/2 in. Chef Knife is very high quality. Handmade in Japan, it is used by more Sushi Chefs in Japan and Europe than any other! It is handcrafted in the Japanese tradition from alloy layered steel and iron. The knives are so strong that they come with a lifetime warranty with free replacement! Each piece comes in a beautiful gift box. Click here - for more HAIKU! These do save time.
Chefs Note: This knife is very nice. The overall size is 10 in. and it has a nice feel. Great for small dicing. The blade is sharp and with a few light strokes on a whetstone, it is easily resharpened. You will love this knife! Lifetime Warranty.




Click here - for Diamond Sharpening Stones! These do save time.


---

These are non-stick professional Saute pans. Heavy duty with a riveted handle and thick aluminum for even heat transfer. These pans are used by professional Chefs across the country. These Saute pans are coated with Ceramic reinforced Teflon for superb non-stick ability and long life. High quality heat resistant rubber handles are included. Choose from 4 sizes below. The 7 in. and 8 in. saute pans are perfect for omelets, fried eggs, and sauteing small amounts of food! The 10 in. and 12 in. sizes are great for most sauteed foods - chicken, fish, cutlets, vegetables, potatoes, ect. With a few of these non stick pans and a little practice you can master the art of sauteing!


7 inch Non Stick Saute Pan - (case of 6 pans) On Sale $14.99 ea.


8 inch Non Stick Saute Pan - On Sale $18.99
10 inch Non Stick Saute Pan - On Sale $23.99
12 inch Non Stick Saute Pan - On Sale $25.95
14 inch Non Stick Saute Pan - On Sale $48.95 Click Here for Chefs Pro Knife Sets!

More Chef Tables! Made in USA ! Designer Discounts!


---

Product # CDMUND4690BW-FISH-SPATULA
Retail $22.95 and up
Clearance Sale $11.79 to $12.79

Our high quality stainless steel Offset Fish Spatula Turner is a must for every serious cook. This turner features a solid medium flexible stainless steel blade with black hardwood handle. Use this 18/10 stainless steel spatula to simplify lifting and turning fragile fish fillets. Its flexible, offset and angled head slides neatly beneath delicate fish to prevent breakage, the perforated design allows liquid or juices and cooking oil to drain back into the saute pan. The handle provides a comfortable grip and helps keep your hands away from the heat. Measures 11 in. long. Lifetime warranty against manufacturing defects!
Chefs Note: Our new Offset Fish Spatula Turner is a real helper for all saute foods!Makes a perfect gift, buy 2 or more and save $.


1 Spatula $12.79


2 Spatulas for $11.79 ea. Chef Prep Tables! Made in the USA!


Chefs Select Cuttingboards!



---

These are professional Saute pans. Heavy duty with a riveted handle and thick aluminum for even heat transfer.
These pans are used by professional Chefs across the country. These Saute pans are designed for excessive everyday use and long life. Heat proof rubber handles are included.
Choose from 4 sizes below. The 7 in. and 8 in. saute pans are perfect for sauteeing small amounts of food! 10 in. and 12 in. sizes are great for most sauteed foods - chicken, fish, cutlets, vegetables, potatoes, ect. With a few of these saute pans and a little practice you can master the art of sauteeing!


7 inch Saute Pan - On Sale $11.99

8 inch Saute Pan - On Sale $12.99 10 inch Saute Pan - On Sale $16.99 12 inch Saute Pan - On Sale $23.90 14 inch Saute Pan - On Sale $29.90 Click Here for Portable Maple Butcher Block Tables!


---

Product # CDSSMIXINGBOWLS
Retail $10.00 and up
On Sale, add to cart


Solid stainless steel mixing bowls! These are the bowls used by professional Chefs. They are made from pure high quality stainless steel, these will last through years of use. Chefs Note: These are the bowls used by professional Chefs! We supply restaurants and hotels with these mixing bowls. We have tested 100's and these are sweet. Choose your bowls below. With proper care these NEW bowls will last for life!


3/4 Qt., (aprox. 6.25 in. diam.) Stainless Steel Bowl $8.65

1 1/2 Qt., (aprox. 7.5 in. diam.) Stainless Steel Bowl $9.95 3 Qt., (aprox. 9.25 in. diam.) Stainless Steel Bowl $17.95 4 Qt., (aprox. 10.25 in. diam.) Stainless Steel Bowl $19.95 5 Qt., (aprox. 11.25 in. diam.) Stainless Steel Bowl $24.95 8 Qt., (aprox. 13.25 in. diam.) Stainless Steel Bowl $31.95 13 Qt., (aprox. 16.25 in. diam.) Stainless Steel Bowl $34.95 16 Qt., (aprox. 17 in. diam.) Stainless Steel Bowl $48.95 20 Qt., (aprox. 18.75 in. diam.) Stainless Steel Bowl $59.95 Click Here for more Mixing Bowls!
Click Here for Porcini Mushrooms!


---

Product # CD5133-3QT-5QT-8QT-STAINLESS-STEEL-MIXING-BOWL-SET
Retail $99.95 and up
Sale Price $69.95


The Stainless Steel Mixing Bowl Set nests together for easy storage. Heavy Duty set has a 3 qt., 5 qt., 8 qt. extra thick stainless steel mixing bowls! 3 Quart bowl holds approx. 2.8L, 5 Quart holds approx. 4.7L, 8 Quart holds approx. 7.6L. The bowls are very thick stainless steel. I can stand on them and they do not bend. These will last through years of use.
Chefs Note: These are the bowls used by professional Chefs! We supply restaurants and hotels with these mixing bowls.
Click Here for Colored High Heat Spoonulas! Email us for larger sizes and large quantity discounts.



Click Here for Saffron, Vanilla & Porcini Mushrooms!


---

Featured Video ...

Chef reviews high quality stainless steel bowls. Click Here for Professional Chef Knives!
Get your knives razor sharp with our sharpening stones! Get a fast edge and maintain your sharp knives with our sharpening steels! Chef is using one of his Favorite NSF Stainless Steel Tables.

---

Product # CD2006WHITEBOWLSCRAPER
Retail $5.00 and up
On Sale $1.00


Our flexible plastic mixing bowl scraper is perfect for getting it all out! Used by bakers around the world, this tool is perfect for working with dough and scraping off your work table too. Measures 5 1/2 in. x 3 1/2 in. with a beveled edge on 1 side.
Some cooks like to use it for scooping up minced garlic and chopped tomatoes.
Click Here for more Mixing Bowls!

Click Here for the best Vanilla Extract you can buy!


---

Product # CD8320-13QT-SUPER-BOWL-STAINLESS-STEEL
Retail $109.95 and up
Sale Price $69.95


The Stainless Steel Super Bowl is perfect for serving chips and snacks or chilling iced down down beer bottles, champagne and wine! Welded pedestal base. 13 Quarts high quality stainless steel. Your guests will love the chilled spirits!
Chefs Note: Sleek way to display your drinks.
Click Here for Colored High Heat Spoonulas! Email us for larger sizes and large quantity discounts.



Click Here for Saffron, Vanilla & Porcini Mushrooms!


---





Product # CDMUND562710E10BREAD
Retail $34.95 and up
On Sale - add to cart


This is a 10 inch Serrated bread knife, it is used for cutting all types of breads, cake and pasteries easily and accurately. The handle is comfortable and it has a 10 inch long German alloy steel blade. NSF certified for safety and sanitation.


Click Here for more Bread Knives!

Click Here for French Chocolate!


---

Product # CDSOFTWIREWHIP12
Retail $16.99 and up
On Sale $9.99


This flexible wisk is the professional choice for soups and sauces as well as whipping meringue and pastry cream. It is 12 inches long and made from solid stainless steel.
We only sell the best quality, this whip will last through years of daily use!
Chef Notes: This is the perfect whip for hollandaise, vinaigrette salad dressing, whipped cream and meringue. More Whips, many sizes...Click Here !


Click Here for High Heat Colored Rubber Spatulas! More Wisks too!


---

Product # CD3620-POT-SCRUBBER-BRUSH
Retail $16.99 and up
On Sale $7.99


This Medium Bristle Pot Scrubbing Brush is the professional choice. It features a hardwood handle and durable bristles!
Chef Notes: This is a good one.


Click Here for High Heat Colored Rubber Spatulas! More Wisks too!


---

Our Green Mundial "Boning/Fillet Knives" are on sale! You will like this knife!Click Here for Boning Knives!



Product # CD18x12x1/2WHITEPOLYBOARD
On Sale $23.75


This 18 in. x 12 in. x 1/2 in. thick Poly Cutting Board weighs over 4 lbs! This is the cutting board of choice for all the Chefs here at Chef Depot and many other famous Chefs! It is used by Emeril and other Chefs on TV and in professional kitchens across the USA! These Poly Cutting Boards are restaurant quality and will last for years (if used every day). We use these boards for meats, poultry and fish, they reduce odor transfer. Dishwasher safe! NSF certified for safety.Click Here for More Poly Boards, Colors too!



1 Poly Cutting Board, 18 in. x 12 in. x 1/2 in.


6 Poly Cutting Boards, 18 in. x 12 in. x 1/2 in., add to cart and save $ Rock Maple Cutting Boards - Our Logo Cuttingboards are On Sale!


---


Product # CD24x18x1/2WHITEPOLYBOARD
List Price $32.99 and up
On Sale $26.75


This 24 in. x 18 in. x 1/2 in. thick Poly Cutting Board weighs over 7 lbs! This is the cutting board of choice for all the Chefs here at Chef Depot and many other famous Chefs! It is used by Emeril and other Chefs on TV and in professional kitchens across the USA! These Poly Cutting Boards are restaurant quality and will last for years (if used every day). We use these boards for meats, poultry and fish, they reduce odor transfer. Dishwasher safe! Click Here for More Poly Boards, Colors too!




1 Poly Cutting Board, 24 in. x 18 in. x 1/2 in.


6 Poly Cutting Boards, 24 in. x 18 in. x 1/2 in. Boos Block Maple Cutting Boards On Sale!


---


Product # CD20x15x1/2WHITEPOLYBOARD
List Price $25.99 and up
On Sale - Add to the cart and save $


This 20 in. x 15 in. x 1/2 in. thick Poly Cutting Board weighs over 5 lbs! This is the cutting board of choice for all the Chefs here at Chef Depot and many other famous Chefs! It is used by Emeril and other Chefs on TV and in professional kitchens across the USA! These Poly Cutting Boards are restaurant quality and will last for years (if used every day). We use these boards for meats, poultry and fish, they reduce odor transfer. Dishwasher safe! Click Here for More Poly Boards, Colors too!



1 Poly Cutting Board, 20 in. x 15 in. x 1/2 in.


6 Poly Cutting Boards, 20 in. x 15 in. x 1/2 in. $ Rock Maple Cutting Boards - Our Logo Cuttingboards are On Sale!


---


Product # CD18x12x3/4WHITEPOLYBOARD
List Price $34.99 and up
On Sale


This 18 in. x 12 in. x 3/4 in. thick Poly Cutting Board weighs over 5 lbs! This is the cutting board of choice for all the Chefs here at Chef Depot and many other famous Chefs! It is used by Emeril and other Chefs on TV and in professional kitchens across the USA! These Poly Cutting Boards are restaurant quality and will last for years (if used every day). We use these boards for meats, poultry and fish, they reduce odor transfer. Dishwasher safe! NSF certified for safety. Click Here for More Poly Boards, Colors too! Rock Maple Cutting Boards - Our Logo Cuttingboards are On Sale!

---


Product # CD24x18x3/4WHITEPOLYBOARD
List Price $79.99 and up
On Sale


This 24 in. x 18 in. x 3/4 in. thick Poly Cutting Board weighs over 11 lbs! This is the cutting board of choice for all the Chefs here at Chef Depot and many other famous Chefs! It is used by Emeril and other Chefs on TV and in professional kitchens across the USA! These Poly Cutting Boards are restaurant quality and will last for years (if used every day). We use these boards for meats, poultry and fish, they reduce odor transfer. Dishwasher safe! NSF certified for safety. Click Here for More thick Poly Boards, Colors too! Rock Maple Cutting Boards - Our Logo Cuttingboards are On Sale!

---

Product # CDFK140WH-RD-KYOCERA-EXCLUSIVE-REVOLUTION-RED
Retail $79.95 and up
Sale Price $42.95


This is the new 5.5 in. Kyocera Revolution Ceramic Santoku Knife, with Red Handle, it holds an edge without sharpening. The Revolution series feature an extra hefty black handle and a perfect balance. This is a great ceramic knife, it's very comfortable and easy to use.
The weight is about half of steel knives making it comfortable for extended use.
The ultra sharp ceramic blade cuts with precision and accuracy every time maintaining a razor-sharp edge for many years.
These knives are made of an advanced, high-tech ceramic, second in hardness only to diamond,
it was originally developed for industrial applications where metal components failed.
Chef Notes: These knives are a great choice for Chefs and Gourmet Cooks! Ming Tsai loves these knives. A rainbow of colored handles are now available, exclusively at Chef Depot. Limited Time Offer! What are you waiting for? Click Here, More Colors!
Each one of our Revolution knives comes in a beautiful presentation box.
We tested several brands of ceramic knives - Here's the results!
Kyocera was the only knife sharp enough to meet our demands, the others were too dull or the blades were too thin and brittle. Only Kyocera scored very high in sharpness, quality, workmanship, material and warranty. These knives are a great choice for Chefs and Gourmet Cooks! Ceramics are perfect for slicing, dicing, chopping and mincing meats, garlic, carrots, onions, celery, fruits and more

Click Here for More Poly Boards, Colors too.


---

Product # CDVINYLRUBBERGLOVES2012
Retail $9.95 and up
On Sale $9.75 (per box of 100 gloves)


These are high quality vinyl-rubber gloves ! They have a light powder coating to allow your hands to slip into them. They are perfect for cleaning fish and butchering meat. They are also great for gardening, painting and working with paints & chemicals. One size fits all, these gloves are medium - large size and stretch so they will fit your hands (one size fits all). Made from natural vinyl. This is a box of 100 disposable gloves. These are Foodservice Quality Gloves.
Chefs Note: Perfect for working with foods, cleaning fish, butchering large pieces of meat. We also use these for stripping and staining furniture, woodworking, crafts and painting.


Box of 100 Vinyl Gloves

Click Here for Butcher Blocks.


---

Product # CDLATEXRUBBERGLOVES004
Retail $13.95 and up
On Sale $9.75 (per box of 100 gloves)


These are the highest quality latex-rubber gloves made! They have a light powder coating to allow your hands to slip into them. They are perfect for cleaning fish and butchering meat. They are also great for gardening, painting and working with paints & chemicals. One size fits all, these gloves are medium - large size and stretch so they will fit your hands (one size fits all). Made from natural latex and rubber. This is a box of 100 disposable gloves. These are Quality Gloves.
Chefs Note: Perfect for cleaning fish, butchering large pieces of meat. We also use these for stripping and staining furniture, woodworking, crafts and painting.


Box of 100 Latex Gloves

Click Here for Butcher Blocks.
Click Here for Butcher Block Slabs, Bars, Counter tops, Islands, Desk Tops, More!


---


Product # CDUPCBR1520-RUBBERCUTTINGBOARD
List Price $75.00 and up
On Sale - add to the cart

This reversible 15 in. x 20 in. x 1/2 in. thick Rubber Cutting Board weighs over 12 lbs! This cutting board is preferred by many Chefs! Non porous, non absorbent synthetic rubber cutting boards. NSF Listed, FDA Approved. It is used in professional kitchens across the USA! We use these boards for meats, poultry and fish, they reduce odor transfer. Grab it and go, dishwasher safe! It will not crack, chip, splinter, swell, absorb liquids, retain odors or harbor bacteria.
Chefs Note: The heavy weight and rubber material grabs most countertops and will not easily slide during use. In addition, you can resurface the rubber cutting board by simply sanding it down.

Apple Cutters & Corers, grapefruit knives, peelers & more - on sale now

Rock Maple Cutting Boards - Our Logo Cuttingboards are on sale now!


---

Product # CD-DS8-BIG-BURGER-FOOD-SCOOP
Retail $15.00 and up
On Sale $11.49


This is our professional burger and food scoop. It is ambidexterous and aprox. 3 in. diameter and made of 18/8 stainless steel with a ratcheting spring loaded gear action made to last for years of heavy use. This scoop hold 4 oz. of water, when level, and 4- oz. to 8 oz. of ground burger or other foods.
We have tested them all, this is a great scoop. Heavy Duty Muffin pans and silicone trivets are now in stock!
Works for portioning mashed potatoes too. With proper care this scoop will last!
Click Here - More Scoops!

1 Scoop


12 Scoops $129.95 Click Here for Food Processors & Ice Cream makers!


---

Featured Video ...

A Chef is reviewing our USA made high heat spatulas. These feature solid rock maple handles and the top is removable (you have to pull hard). Chef is using one of his favorite NSF Maple Cutting Boards. Custom logo handle branding is available for large quantities. These are made in USA!

---

These are new Heavy Duty Hotel Pans
Made of heavy Stainless Steel, very durability, superior heat conductivity, this commercial-weight pan is designed for holding hot or cold foods. These measure 13 in. wide x 21 in. long. Often used for prepared foods (hot or cold) and holding foods in steam tables. It also makes a great drip pan for automotive and manufacturing uses. Perfect for restaurants and bakeries! Minimum order of 2 pans. Choose from standard gauge or heavy duty 22 gauge below!
Chefs Note: Why Buy Here ? Better Customer Service. High Quality & Low Prices! Choose from several sizes below. Large Quantity Discounts, Smaller sizes available by phone.
On Sale $9.95 and up


Full Size Hotel Pan (2 1/2 in deep - 7 1/2 Qt. standard) $21.95


Full Size Hotel Pan (4 in deep - 15 Qt. standard) $26.95
Full Size Hotel Pan (6 in deep - 22 Qt. standard) $34.95
Full Size Hotel Pan (2 1/2 in deep - 7 1/2 Qt., Heavy 22 Gauge) $31.95
Full Size Hotel Pan (4 in deep - 15 Qt., Heavy 22 Gauge) $36.95
Full Size Hotel Pan (6 in deep - 22 Qt., Heavy 22 Gauge) $46.95



BOOS blocks are on sale now!
Maple, Walnut, Cherry Cutting Boards #MadeinUSA Sale = low prices!
Poly Cutting Boards at the lowest prices!


---

Product # CDPANGRATE10x18
Retail $12.50 and up
On Sale $9.99

Do you own a heavy duty cooling rack that will cool anything? Ours will not bend, it's made to last through a lifetime of baking! We have cooled a lot of cakes, cookies and pies on these beauties! It's also made to fit inside our full hotel pans (click the link). It is perfect for roasting meats and we like it for smoking salmon on the grill! Take a side of salmon, drizzle with fresh lemon juice and our Cajun Seasonings and smoke with hardwood chips on your BBQ grill at 200-250 degrees until fish reaches 160 F. ~ enjoy!
Click Here for large Stainless Steel Mixing Bowls!


Click Here for Pure Organic Vanilla Paste!


---

Product # CDYZ1-YAKATORI-TONGS
Retail $20.00
On Sale $5.95


Our non stick tongs are comfortable and lightweight! These will work for flipping foods on the BBQ or turning items in non stick frying pans. Great for self service buffets & salad bars.
Do you have a great Chef Knife ?



Click Here for Chef knife sets!


---

Featured Video ...

Reviewing our new tongs. Another great exclusive item from "Chef Depot" TM. If you BBQ or saute foods, you must watch this video! Click Here for a handmade Chef Knife!
Chef is using one of his NSF Maple Cutting Boards!
Learn how to Select Cutlery & How to Sharpen a Knife.


---


Product # CD30414RUBBERMSPATULA14IN
Retail $9.00 and up
On Sale $5.99 each


This is our pure white 14 inch Rubber Spatula. This high quality rubber spatula is made to last. Minimum order is 3 pcs.
Chefs Note: Perfect for scraping the bowl and making omlettes. Our restaurant chains like these scrapers.


Rubber Spatula 14 In.

Click Here for Messermeister Cultery -Solingen Germany!!


---


Product # CDSSTONGS12
Retail $18.00 and up
On Sale $6.99


These are heavy duty stainless steel tongs. These are perfect for grilling steaks and chicken. Use while you saute' or fry foods, perfect for serving salads and buffets. Minimum order is 3 pcs. These are high quality, very durable and long lasting use!


Stainless Steel Tongs 12 in.

Click Here for Butchering Supplies!


---



Product # CDGD03-SS-FISH-BONE-TWEEZERS
Retail $35.99 and up
On Sale $9.99


This set of stainless steel Fish Bone Tweezers is 6 inches long and 1 inch wide. These are nice for smoked salmon, whitefish and trout, plating cold foods for intricate plate presentations, food styling and competition work.
Chefs Note: Excellent for fish bones and other applications. Design by Georg Draser.


USA made Rock Maple Cutting Boards!

---

Product # CD301PORSCHEP09PARING
Retail $89.00 and up
Price Match Sale by AM, only $48.95 each

This is the 3 1/2 in. Chef knife (77mm), Chroma Type 301 designed by F.A. Porsche. These knives have the perfect shape, balance and weight for a lifetime of use. These knives are beautiful, functional and easy to clean. Each one is hand made, hand sharpened and polished by the hands of a master knife maker. We gift box each piece of this fine cutlery. Each one comes with a Lifetime Warranty!
These knives are easy to use and hold an edge longer than most other knives!
Click here to read some of our Chefs Comments!
Click here for more PORSCHE Type 301 knives!

Hurry, sale will be over soon!

Diamond Sharpening Stones & Steels...


---

This is a simple Carved Cucumber Flower. All you need is the very sharp paring knife (above) and a Garnishing Set will help you practice on many foods.
Click Here for Chefs cutting boards (as seen on TV)!


---

Receive the new Yakitori Non Stick Tongs for Free with $100.00 purchase of Chroma Type 301 designed by F.A. Porsche Cutlery ($100.00 or more)! Our non stick tongs are comfortable and lightweight! a $20.00 value! Place your order today, limited time offer! Click the button below to add these to your shopping cart! Another Chef Depot Exclusive!


Free Yakitori Non Stick Tongs

---

Featured Video ...

A Chef is testing out the riveted Mundial Chef knife set while preparing a appetizer. Notice, the knife is very sharp and cuts easily. A sharp knife is required by every Chef and Gourmet cook. The knife is featured in the set above. These cuts will take you practice to master. Chef is using one of his favorite NSF Maple Cutting Boards. These are made in USA!

---





Product # CDHEAVYDUTYSHEETPAN18x13
List price $16.99
On Sale $13.79





Jelly Roll Pans / Cookie Sheet / Sheet Pan
Made of layered aluminum (18 Gauge), durability, and superior heat conductivity, this commercial-weight pan is designed for baking cookies and sponge cakes. Also great for most baking applications, heating hors d'oeuvres or baking breads. 18"L x 13"W, x 1" Deep. Heavy duty rolled sides and corners for strength and durability. This pan fits all standard size ovens. Made in the USA.
Chefs Note: We use a lot of these - the perfect pan for baking & roasting! Quantity Discounts - See Below! Call for larger quantities.

1 Heavy Duty Pan


2 Heavy Duty Pans $26.50
3 Heavy Duty Pans $36.50
4 Heavy Duty Pans $48.00
12 Heavy Duty Pans $129.00 24 Heavy Duty Pans $199.00 48 Heavy Duty Pans $389.00


---

Product # CD2603ICECREAMSCOOP
Retail $12.00 and up
On Sale $3.69 and up, add to the cart

This is our new professional ice cream scoop. It is made of solid aluminum with an anti-freeze handle. We have tested them all, this is our favorite ice cream scoop. With proper care this ice cream scoop will last for life! Price drops with quantity. Call us for larger quantity discounts.
Click Here - for More Scoops!
Click Here for Smoothie Blenders and FREE Smoothie Recipes!

1 ice cream scoop

Click Here for Ice Cream makers!
Click Here for Smoothie Blenders and FREE Smoothie Recipes!


---

Product # CD2608ICECREAMSPADE
Retail $10.00 and up
On Sale $4.69 and up


This is a professional ice cream spade. It is made of solid aluminum with an anti-freeze handle.
We have tested them all, this is or favorite ice cream paddle / scraper.
Perfect for scraping down the container and excellent for hard ice cream! We also like to use one of these when making ice cream cakes and layered baked alaska dessert! Price drops with quantity. Call us for larger quantity discounts.
Click Here - Ice Cream & Frozen Yogurt Makers!

1 ice cream spade


Click Here - Food Processors!


---

Product # CDR6198COOKIESCOOP
Retail $18.00 and up
On Sale $11.95

This is our professional cookie scoop. It is 1 1/2 in. diameter and made of 18/8 stainless steel with a ratcheting spring loaded gear action made to last for years of heavy use.
We have tested them all, this is a great cookie dough scoop.
Works for ice cream too. Click Here for more Food Scoops! With proper care this scoop will last!
Click Here - Vanilla Paste! It's great in cookies!

Click Here for Vanilla Powder!


---

Product # CD619900SMALLCOOKIESCOOP
Retail $18.00 and up
On Sale $9.95

This is our small professional cookie scoop. It measures aprox. 1 in. diameter and made of 18/8 stainless steel with a ratcheting spring loaded gear action made to last for years of heavy use. Perfect for making chocolate truffles too!
Chefs Note: A chocolate truffle is a mixture of chocolate and other ingredients to form Ganache. It is then cooled and formed into small balls and rolled or dipped into chocolate, nuts, cocoa or other sweets. We have tested them all, this is a great little scoop. With proper care this scoop will last! Click Here for more Food Scoops!
Click Here - Vanilla Paste! It's great in cookies!

Click Here for African Cinnamon & Whole Nutmeg!


---

Product # CDR6193MUFFIN-SCOOP
Retail $15.00 and up
On Sale $8.95

This is our professional muffin scoop. It is aprox. 2 1/4 in. diameter and made of 18/8 stainless steel with a ratcheting spring loaded gear action made to last for years of heavy use.
We have tested them all, this is a great muffin scoop. Click Here for more Food Scoops! Heavy Duty Muffin pans are now in stock!
Works for portioning mashed potatoes too. With proper care this scoop will last!
Click Here - Giant Vanilla Beans! Great in muffins!

Click Here for more Food Scoops!


---

Product # CD-DS8-BIG-BURGER-FOOD-SCOOP
Retail $15.00 and up
On Sale $11.49

This is our professional burger and food scoop. It is ambidexterous and aprox. 3 in. diameter and made of 18/8 stainless steel with a ratcheting spring loaded gear action made to last for years of heavy use. This scoop hold 4 oz. of water, when level, and 4- oz. to 8 oz. of ground burger or other foods.
Click Here for more Food Scoops! Click Here - Adjustable Burger Presses! We have tested them all, this is a great scoop. Heavy Duty Muffin pans are now in stock!
Works for portioning mashed potatoes too. With proper care this scoop will last!
Click Here - Adjustable Burger Presses!

Click Here for Food Processors & Ice Cream makers!


---


Product # CDNONSTICKSHEETPANCD17.25x11.5
Clearance Sale $9.99 to $11.95


Non Stick Jelly Roll Pans / Cookie Sheet / Sheet Pans feature tough Non stick coating, durability, and superior heat conductivity, designed for baking cookies and sponge cakes. Also great for most baking applications. 17 1/4 in. L x 11 1/2 in. W, x 1 in. Deep. Heavy duty rolled sides and corners for strength and durability. This pan fits all standard size ovens. Dishwasher safe. You can also use a "Silicone Baking Mat" with these, see below.


1 Non Stick Jelly Roll Pans / Cookie Sheet / Sheet Pan


3 Non Stick Jelly Roll Pans / Cookie Sheet / Sheet Pans @ 9.99 ea. Portable Kitchen Islands! Made in the USA!


---



Product # CD2009-5108-APPLE-CUTTER
Retail $12.99 and up
Promo Sale $4.99

This is a high quality Apple Cutter. The sharp stainless steel blades will easily cut and core most any size apples or pears! Easy and safer to use. Durable and comfortable design. Now made in white with raised ergo comfort rubber handles. Measures 4 in. Diameter and 7 in. across the handles. Chefs Note: Works great on apples and crisp pears.


Butcher Blocks used by Chefs & Butchers! Made in USA!

---


Product # CDSFBM50-HALFSHEET-SILICONE-MAT
List Price $24.00 and up
On Sale $10.95
Product # CDSFBM100-FULLSHEET-SILICONE-MAT
List Price $39.00 and up
On Sale $22.95

Our exclusive professional "Silicone Baking Mats" are used by many Goumets & Pastry Chefs!
The rubber like non stick baking mat can go from the freezer to the oven (-40 degree's F to 600 F ). This mat can be rolled for easy storage. These will help you save time with clean up!
Chefs Note: These sheets are the perfect choice for lining cookie sheets and cake pans, baking cake rolls, delicate sponge cakes, tuiles, chocolate work, sugar, candies and more! Just like the famous brand liners.
Two Sizes are available, half sheet pan size (11 5/8 in. x 16 1/2 in. for standard ovens) and full sheet pan size (18 in. x 26 in. for commercial ovens). Use & Care of Silicone Baking Mats.


Half Sheet Silicone Baking Mat (11 5/8 in. x 16 1/2 in.)

Full Sheet Silicone Baking Mat (16.5 in. x 24.5 in.) Chef Prep Tables! Made in the USA!

Chefs Select Cuttingboards!


---

Product # CDSTSD-140-FLEXIBLE-SS-SPATULA
Retail $15.00 and up
On Sale $2.49

Our stainless steel flexible turner great for burgers and cookies! Used by bakers around the world, this tool is nice for removing cookies and hot baked goods from cookie sheets. Nice tool fo flipping burgers.
Other Spatulas are here.

Click Here for the best Vanilla Extract you can buy!


---

Product # CD2006WHITEBOWLSCRAPER
Retail $5.00 and up
On Sale $1.00

Our flexible plastic mixing bowl scraper is perfect for getting it all out! Used by bakers around the world, this tool is perfect for working with dough and scraping off your work table too. Measures 5 1/2 in. x 3 1/2 in. with a beveled edge on 1 side.
Some cooks like to use it for scooping up minced garlic and chopped tomatoes.
Click Here for more Mixing Bowls!

Click Here for the best Vanilla Extract you can buy!


---

Product # CDMUND4690BW-FISH-SPATULA
Retail $22.95 and up
Clearance Sale $11.79 to $12.79

Our high quality stainless steel Offset Fish Spatula Turner is a must for every serious cook. This turner features a solid medium flexible stainless steel blade with black hardwood handle. Use this 18/10 stainless steel spatula to simplify lifting and turning fragile fish fillets. Its flexible, offset and angled head slides neatly beneath delicate fish to prevent breakage, the perforated design allows liquid or juices and cooking oil to drain back into the saute pan. The handle provides a comfortable grip and helps keep your hands away from the heat. Measures 11 in. long. Lifetime warranty against manufacturing defects!
Chefs Note: Our new Offset Fish Spatula Turner is a real helper for all saute foods!Makes a perfect gift, buy 2 or more and save $.


1 Spatula $12.79


2 Spatulas for $11.79 ea. Chef Prep Tables! Made in the USA!


Chefs Select Cuttingboards!


Chefs Butcher Blocks for your new kitchen!


---

Product # CD4830000-CHAFERROLLTOPSS
Retail Price $349.99 and up
On Sale $199.99


This 8 quart full size stainless steel chafer features heavy elegant styled welded legs and brass handles. This chafer is the choice of most upscale hotels. It comes complete with 2-1/2" food pan, dripless water pan, heavy duty frame, and two fuel holders. More Chafers! Click Here !



1 Roll Top Chafer


2 Roll Top Chafers
Click Here for Rock Maple Cutting Boards!

Click here for serving tongs!


---

Product # CDUPP-ECFRWP4-ELECTRIC-CHAFER-PAN
Retail Price $259.99 and up
On Sale - add to the cart


Eliminate sterno's and open flames with our "Powder Coated Steel Electric Chafing Dish Insert" these fit most chafing dishes. Power consumption is 450 watts, UL listed, thermostatically controlled, adjustable heat controls. Holds pans up to 4 in. Measures 22 in. x 14 in. x 6 in. Click Here for More Chafing Dish Styles!



1 Electric Chafing Dish Insert


2 Electric Chafing Dish Inserts
Our knives are preferred by Master Chefs, Chefs and professional Cooks all over the world.
Click the page links and green arrows below to view more products!




---

Kitchen Furniture:
Page1 |
Page2 |
Page3 |
Page4 |
Page5 |
Page6 |
Page7 |
Page8 |
Page9 |
Page10 |
Page11 |
Page12 |
Page13 |
Page14 |
Page15 |
Page16 |

---

Copyright 1999 - 2022 Chef Depot Inc. All Rights Reserved.
Legal Notice and Copyright

Customer Service - E-mail us
Customer Feedback : Highest Quality Food Prep Tools used by #Chefs