---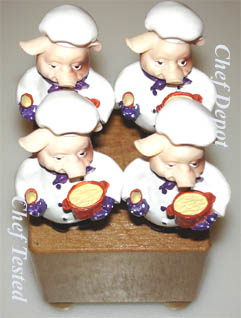 Product # CD55302-PIG-CHEFSPREADERS4+10010BLOCK
Retail $39.99
On Sale
Our Exclusive Mini Pig Chef Spreaders in a hardwood Storage Block (made in the USA)! Each piece is carefully hand painted. The blades are made of quality stainless steel and they are dishwasher safe. This set is perfect for cheese platters, pate and spreads. A great conversation set for the holidays. Available with block below!
Chefs Note: Enhance your next cheese platter with this set, it is cute and functional!
This set makes also perfect gift that will be enjoyed for generations.
Click Here for the nicest Butcher Blocks! Made in the USA!

Pig Spreaders with Block
Click Here for Maple Tables!
---

Product # CDGS10-GLOBAL-CHEESE-KNIFE-5.5IN
Retail $125.00 and up
Promo Sale - add to cart

This is the new 5.5 inch blade Global Cheese Knife! Cuts thick or thin slices through most any cheese with minimal effort. The knife forged from super high quality Japanese alloy steel. It is very sharp. Lifetime Warranty.
Chefs Note: Sweet handle, perfectly balanced and amazing CROMOVA steel blade. If you want a high quality knife to pass through generations, you found it. Bonus: See the Free offer below!
Chef Notes: Global knives are made from the finest high carbon stainless steel available for producing professional quality kitchen knives. Yoshikin uses its own proprietary stainless steel which it calls CROMOVA 18 Stainless Steel. This steel is hard enough for Global knives to keep their edge for a long time, but soft enough so that it is not too difficult to sharpen the knives. The CRO in CROMOVA 18 stands for chromium and the 18 is the percentage of chromium in the steel. This high percentage of chromium contributes to Global's good stain resistance. The MO and VA in CROMOVA 18 stand for molybdenum and vanadium. These two elements give a knife good edge retention. More GLOBAL knives are on sale! Click Here!
Dark Walnut Tables are on sale! Click Here!
---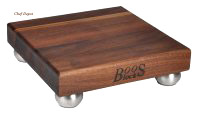 Product # CDJBWAL-9SS-9x9x1.5IN-WALNUT
Sale Price

Low prices, Free Shipping & Great Customer Service!
The John Boos Square Walnut Cheese Board is made of select American Dark Walnut and features practical Stainless Steel Feet. It was made for a lifetime of slicing and serving pleasure. These beauties come with a natural oil finish. Available in several sizes listed below.
Chefs Note: Walnut is a fine surface for cutting and chopping foods, it will not dull your knife and naturally kills bacteria! These blocks have many applications! Perfect for kitchen islands, next to the stove top or portable cart, cabin, camper or boat. Click Here for these Sets!

---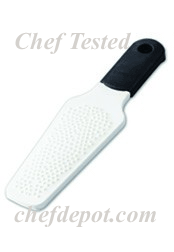 Product # CDCMG-250-NEW-KYOCERA-GRATER
Retail $25.00 and up
Sale Price ADD TO CART
This is the new Kyocera Ceramic Grater, it holds an edge without sharpening. This is a great little tool! For ease of use, non-slip silicone base underneath holds the grater in place. Perfect for grated cheeses, ginger root, fresh grated horseradish, fine carrots and many other applications. These tools are made of an advanced, high-tech ceramic, second in hardness only to diamond, it was originally developed for industrial applications where metal components failed.
Chef Notes: This grater will quickly grate any hard cheese, elephant garlic, ginger, spices or most any vegetables. A great choice for Chefs and Gourmet Cooks!
Click Here for Handmade Maple Furniture!
---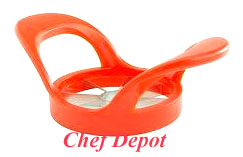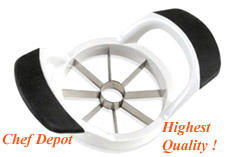 Product # CD2009-5108-APPLE-CUTTER
Retail $12.99 and up
Promo Sale / LOWEST PRICE ON NET

This is a high quality Apple Cutter. The sharp stainless steel blades will easily cut and core most any size apples or pears! Easy and safer to use. Durable and comfortable design. Now made in white with raised ergo comfort rubber handles. Measures 4 in. Diameter and 7 in. across the handles. Chefs Note: Works great on apples and crisp pears.

Butcher Blocks used by Chefs & Butchers! Made in USA!
---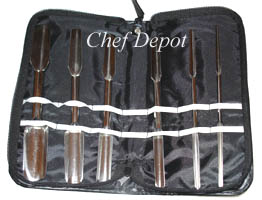 Product # CD6PC-CHINESE-FRUIT-CARVING-SET
Retail $40.00 and up
On Sale - add to cart

This is the new 6 pc. Garnishing Fruit & Vegetable Carving Set! It is a good set for fast carving. Easy to use! Now you can add exciting garnishes to baskets, platters and salads. Six tools, each measuring 7.5 in. long with 12 different sharp carving tips. The case protects the tools and zips closed.
Chef Notes: This set is used by many Chefs and Cooks for Fruit and Vegetable Carvings! Watch video below.

Butcher Blocks used by Chefs & Butchers! Made in USA...

Chefs Cutting Boards!
Global Knife Sale!
Almond, Lemon and Vanilla Extracts!
---

Product # CD9492CHEEESE-SPATULA
Retail $29.00 and up
On Sale

This is a German cheese plane or cheese slicing knife. Made from the highest quality German alloy steel. This knife is excellent for cutting and slicing brick, blocks or wheels of cheese.
This traditional style cheese knife is prefered by many and it will last!
It will stay sharp for a long time!

Click Here for Rock Maple Lifetime Cheese Boards!
Click Here for Big Fat Juicy Vanilla Beans!
Click Here for Maple Tables!

---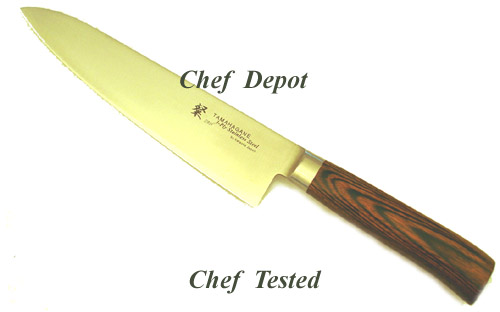 Product # CDSN-1103H-TAMAHAGANE-CHEF11IN


Not for cutting the cheese, however you will love the feel of the handle and amazing blade of this handmade Chef knife. Perfect for most cutting, chopping, slicing and dicing. This is a new Tamahagane Chef knife with an 11 in. blade. The carbon 3 layered steel Damascus Clad blade is one of the sharpest and strongest blade made. Crafted by a second generation knife making family. The VG5 steel blade is clad with 2 layers of SUS410 and hand honed to a 15 degree angle. The contured wood and resin handle is friendly and tough. The edge that is holds is hair splitting and remains throughout heavy use. We could not believe how sharp these knives were until we tried each one. 61 degree Rockwell Hardness. Handmade in Seki Japan.
Chefs Note: Yes, another favorite knife. We tried it out cutting, chopping and dicing vegetables, WOW, this is a sweet knife. You will love this knife! A knife collectors favorite.

Click here for more Handmade Japan Knives!
---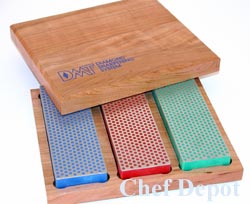 Product # CD-DMTDSS-THREE-STONE-SET
Retail $165.00 and up
On Sale $98.95

This is our exclusive DMT diamond sharpening set! It is precision manufactured to our exact specifications, right here in the USA. Each set features a Coarse 325 grit diamond stone (Blue), a Fine 600 grit diamond stone (Red) and a Extra Fine 1200 grit diamond stone (Green) each one is aprox. 6 in. x 2 in. in a hardwood box. The Monocrystalline diamonds will not break apart during use. These diamond sharpeners outlast all the competition!
Chef Notes: A perfect gift for someone who has almost everything. This diamond sharpening set will quickly produce a fine razor sharp edge on any good knife, garnishing tools and chisels with four six to six strokes. Why not buy the best?

Portable Chef Tables! Click Here!
USA made Maple Cutting boards!
---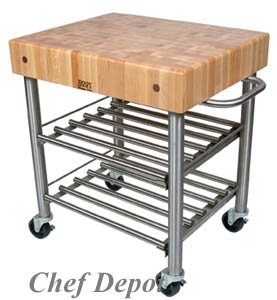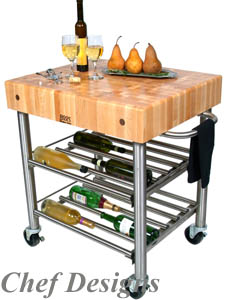 Product # CDCUCD15EC-DAMICOWINECART
Sale Price $1499.95

This is the new Cucina D Amico Wine Cart, it measures 30 in. x 24 in. x 5 in. and stands 35 in. overall. It has a solid end grain butcher block top. Made from select solid Rock Maple (or Cherry, choose below) These blocks have a FDA approved food safe natural finish. The stainless steel double wine rack shelving system will hold any size wine bottles! This cart is food service grade - legs, base, shelf, and towel bar.This cart has a FDA approved food safe natural finish. The butcher block top requires rubbing with Mystery Oil or Wood Cream, every few months to keep it looking new. Equipped with four locking 3 in. commercial grade casters. Your family & friends will cherish this block - It's a work of art! We can ship your new block in aprox. 2 weeks!
Free Shipping is available in most areas of the continental USA only.
Wine lovers rejoice! This cart is ideal for entertaining!
ON SALE / CLICK HERE / More Butcher Block Tables - on sale for a limited time!

---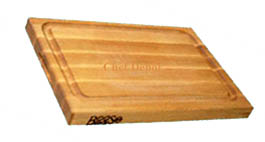 Product # CD18x12BOOSAUJUSMINI
List Price $89.95 and up, On Sale ... In Stock!
Great for BBQ Turkey, Roasts and is reversible, free shipping over $99.00 in Cont. USA

Our new mini Aujus Cuttingboard is perfect for the backyard BBQ or carving a small roast. This is the cutting board of choice for all the Chefs here at Chef Depot and many other famous Chefs! John Boos custom makes these exclusive cutting boards for us from first quality Solid Rock Maple, 18 inches by 12 inches and over 1 1/2 inches thick. This reversible board is NSF certified and will not dull your knife! With proper care, this Maple board can last for life! Oiling it with Board Cream will keep it looking new (available below). This board is the perfect size for smaller counter tops. Did you know that maple cutting boards naturally kill bacteria?


Add 3 pack of Boos Board Cream (3 pc. 5 oz. tubes)
Sale Price $34.95
New Kitchen Center Islands! Custom sizes are available!

---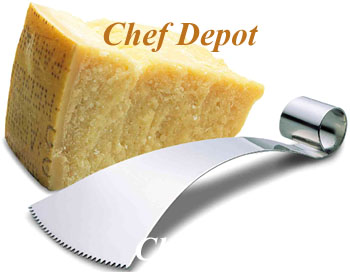 Product # CDV5700-CHEESE-GRATTOLO
Sold out
Click Here for More Cheese knives!


---

Product # CDGTF30-GLOBAL-CHEESE-KNIFE-3IN
Retail $129.00 and up
Sale Price


This is the new 3 inch blade Global Cheese Knife! Cuts thick or thin slices through most any cheese with minimal effort. The knife forged from super high quality Japanese alloy steel. It is very sharp. Lifetime Warranty.
Chefs Note: Sweet handle, perfectly balanced and amazing CROMOVA steel blade. If you want a high quality knife to pass through generations, you found it. Bonus: See the Free offer below!
Chef Notes: Global knives are made from the finest high carbon stainless steel available for producing professional quality kitchen knives. Yoshikin uses its own proprietary stainless steel which it calls CROMOVA 18 Stainless Steel. This steel is hard enough for Global knives to keep their edge for a long time, but soft enough so that it is not too difficult to sharpen the knives. The CRO in CROMOVA 18 stands for chromium and the 18 is the percentage of chromium in the steel. This high percentage of chromium contributes to Global's good stain resistance. The MO and VA in CROMOVA 18 stand for molybdenum and vanadium. These two elements give a knife good edge retention.

More Global knives on sale! Click Here!


---

---


Product # CD-BWC-BOARD-CREAM
List Price $15.00 and up
Sale Price $11.90


John Boos & Co. Board Cream - Formula penetrates into the grain of the wood and leaves a natural silky wax barrier. It also replenishes moisture lost from repeated use and cleanings. This product is a natural combination of unbleached beeswax and food grade mineral oil. We recommend applying the board cream every 30 days or even more often. This product will seal your boards and blocks.
Chefs Note: Helps keep the blocks and cutting boards looking new. Repels moisture and humidity and keeps them harder. We use it all the time! Order a case and get a really cool Chefs apron for free!


1 Boos Board Cream

2 Boos Board Creams $22.75 Case of 12 Boos Board Creams (bonus - Free Apron) $129.95 Click Here for more Lazy Susans!
FAQ: Cutting Board Care & Maintenance


---



Product # CDCHYRA01-CHERRYCUTTINGBOARD-12X18X2.25IN
List Price $199.95 and up
On Sale- add to cart ***Bonus Wood Treatment***


Our John Boos Commercial Cherry Cutting Boards are made to last. The edge grain butcher block construction is amazing! Solid American Cherry Wood has a beautiful rich color. Perfect for daily meal preparation and serving cheese & holiday appetizers! A full 2 1/4 in. thick, these will last for years of daily use. Oiling it with the special blend of oil below, will keep it looking new for many years! Available in 3 sizes below! See Free Oil Offer Below.


18 in. x 12 x 2.25 in. Cherry Cutting Board


20 in. x 15 x 2.25 in. Cherry Cutting Board
In Stock !
24 in. x 18 x 2.25 in. Cherry Cutting Board
In Stock...
Click here, Great Knife Sets!
Click Here for Maple Butcher Block Tables! Simply the best!

Click Here for Sea Salt & Peppercorns in all colors!


More of the Chefs Favorite Peppermills!


---

Product # CDTAYLORPROBETHERMPROSERIES
Retail $49.99 and up
On Sale $34.50

This is the commercial Pro Series Taylor Combination thermometer/timer with stainless steel meat probe and on/off switch. It has a range of 32F to 392F. The probe has a 4 ft. long cord that can go in your oven or the grill. Temperature alarm to signal when food is done cooking. Folds down for compact storage. Magnetic for mounting unit to stove. Also nice to store it on the side of your refrigerator.
We give you a free Lifetime Warranty on this thermometer!
Replacement stainless steel probes are available below!


Professional Probe Thermometer

Replacement Probe
Click Here for Maple Butcher Block Tables!


---



Product # CD9878EFDA-SLIM-LINE-WATERPROOF-THERMOMETER
List $39.00 and up
Promo Sale $14.25





This is the new professional series slim line digital waterproof pocket thermometer. It has a super wide temperature range and a nice slim size. It has max. and min. memory, two stage off, hold and reads in Fahrenheit or Celsius, easily s electable & recalibratable, with a range of -58 degrees to 500 degrees F. Features the new FDA recommended 1.5 mm step down probe tip. Battery included.
Chefs Note: A perfect choice for everything from candy making to cooking prime rib, grilling steaks, saute chicken breasts and roast turkey! The Safe T Guard sleeve incorporates a non toxic chemical compound that inhibits the growth of pathogens which minimizes cross contamination.
Click links below to view more products!


Chef Tested Knife Sharpeners!

---

MADE IN USA - FEW LEFT ..... HURRY ....

Product # CD44000-LEFTOVERS-COLANDER-MEDIUM-OVAL-RED
Retail $16.99 and up
Sale Price $9.49 (few left)

Our new Leftovers Medium size Colanders are the thickest and strongest that we have ever seen (2 qt). These are wide and tapered for easy use. Aprox. 9 in. x 6.5 in. x 4.5 in. deep. Features: Wide bowl for comfortable mixing, Easy grip handle aids pouring, Made with 100% recycled food safe plastic, Dishwasher safe, Made in USA!
Chefs Note: very thick and durable, the colors are vivid and you will enjoy using these colanders! Strong enough to stand on. This medium size red oval colander is perfect for washing grapes and other fruits! More Colors! Recycled Colanders are Cool!

Red Colander

New Kitchen Knives! Used by Chefs around the world!


---

Our Blended American Walnut works well as a counter top or a unique kitchen island. A great value, and made in the USA. Our furniture quality top features a food safe clear varnique finish (or optional mineral oil). This gives you durability, ease of maintenance and beauty! These are available in 1.5 in thickness! More Installed Countertops and Islands are pictured here! Click Here!
Call for sizes and prices or to order (630) 739-5200

---

Product # CD03BA5704-4-X2-BOKER-STEAK-KNIFE-SET
Retail $199.00 and up
On Sale , click link below ! More Great steak knives, Click Here!


---

Product # CD80002-KASUMI-WHETSTONE-3000/8000GRIT
Retail $149.00 and up
On Sale $114.95


Our Fine Japanese Whetstone is made in Seki City Japan. It will take a fine sharp japanese knife and produce a razor edge quickly.
This stone features a 3000 and 8000 grit extrafine surfaces plus a durable base. The base and box protect the stone while not in use. It also includes a cleaning block (small harder stone for removing metal accumulations and keeps the stone flat). There is also a 240/1000 available below!
Chefs Note: The base is very stable so it does not move around while in use. This is the same type used to mirror finish handmade Samurai Swords. Detailed Instructions are included. The stone with base measures aprox. 7 in. x 2 1/2 in. You will love this stone!



Kasumi Japanese Whetstone 3000/8000 GRIT

Kasumi Japanese Whetstone 240/1000 GRIT $63.95
Click here for more Sharpening Stones!

Click here for Portable Butcher Blocks!

---


Product # CDABB1407000-14x7-MAPLE-BREAD-BOARD-MAGNETIC
List Price $49.00 and up
On Sale $29.95


Our Exclusive 14 in. x 7 in. Maple Cheese Board features a powerful pressed super magnet. Works with most any knife (knife not included, available above and below). It can be used for serving cheese & fruit or warm bread, rolls and butter or chopping, dicing, slicing and serving! These cutting boards are over 1/2 in. thick and feature a radius edge and mineral oil finish, plus these are reversible. Aprox. Weight 2 lbs. This hand made piece will be enjoyed by your family and guests! Use the Elixer Oil / Mystery Oil (pictured below) to keep it rich and preserved. These boards meet all NSF standards. Made in USA.


14 in. x 7 in. Maple Cheese Board


Click here for Vanilla Beans Vanilla Extracts!


---


Product # CD9655AIRCHEESE
Retail $29.99 and up
On Sale $13.75


This is our offset wavy hollow blade German cheese knife. This knife is excellent for cutting any cheese into nice thin slices. The wavy blade cuts through cheese like butter and the air pockets allows the blade to easily pass through cheese. The blade is 6 inches long! The knives are made from the highest quality German alloy steel.






Click here for Vanilla Beans, Vanilla Extracts!


---

Featured Video ...

Demo shows you how to cut and serve Edam cheese. Also featured is one of our USA made rock maple cutting boards, ours are made in USA!! And a Pizza Peel, ours are made in USA!

---

Product # CD08298BPL8800-9PC-PRIME-CHEF-SET
Retail $499.95 and up
Sale Price $379.95
We supply these sets to Culinary Programs. Contact us for large quantity prices.
You will love it!

Our new exclusive Cooks knife set! We build these sets for schools and food service operations. The high quality German knives are very sharp and well balanced. Each one features a razor sharp blade with a nice taper and a sharp point. The blades are made of German high carbon alloy steel with super comfortable rubber handles! Made in Solingen Germany since 1777! This is one of the best Chef knife sets made! Set features; Chef knife 9 in. 23cm, Universal knife 9.8 in. 25cm, Santoku knife 7 in. 18cm, Vegetable knife 4 in. 10cm, Tourne knife 2.5 in 6 cm, Sharpening steel 10 in. 25cm, Plating tongs, flexible bowl scraper.
Chefs Note: If you want a great German set, this is it! A personal favorite for quality cutlery and small garnishing tools. This knife case will hold more, it was jut redesigned with a few improvements. Click Here for more images!


Hot Chef Tables! Click Here!


Click Here for Rock Maple Butcher Blocks!


---

Featured Video ...

A quick review of some of the blocks, tables and woods available from our factory! Chefs Favorite NSF Stainless Steel Tables.
Click here: new styles of our Kitchen Tables!
Small walnut chop blocks, click here



---

Product # CDCU-CULART30-06KITCHENCART
Retail Price $899.00 and up
On Sale $609.00
Free Shipping & Great Customer Service!


Our new Cucina Culinary Cart measures 30 in. x 20 in. and features 1 1/2 in. Thick Hard Maple Top (Edge Grain) with a natural oil finish. The tops is removable and reversible! There are 3 ways to use this cart! Use it as a kitchen cart for cutting and chopping meals. Use it as a serving tray to present what you prepare and easily move the top to a counter or table for dining! Use it as on the patio for BBQ and it's ideal for bar service! Measures 35" high overall.
This table has a Food service grade stainless base and shelves and it is equipped with four locking 3" commercial-grade caster wheels. There is a towel bar and a bar to hang utensils.
This table combines style with function, it is simply amazing!
We can ship your new table in aprox. 2 - 3 weeks!

Click here for Chef Carts and Blocks!


---


Product #CD9605WW20-wavy blade cheese knife granton edge, 8.5 inch blade


This is our exclusive wavy blade cheese knife (granton edge 8.5 inch blade). The knives are made in Germany, from the highest quality German alloy steel.
This knife is excellent for cutting blocks of cheese or other foods. The wavy blade creates air pockets and allows the blade to easily pass through cheese and meats. The knife has a comfortable rubber handle and a long wavy blade. We guarantee this blade cuts easier and stays sharp longer during use.
Hot Chef Tables! Click Here!


Click Here for Rock Maple Butcher Blocks!



Click the green arrow on the right for more Cheese Knives!




Cheese Knives:
Page1 |
Page2 |
Page3 |
Page4 |
Page5 |
Page6 |

---

Copyright 1999 - 2022 Chef Depot Inc.
All Rights Reserved.
Legal Notice and Copyright

Customer Service - E-mail us or phone:(630) 739-5200

Customer Feedback : Best Rated Cheese Knife Sets , Pro Cheese Service Tools and Tips