---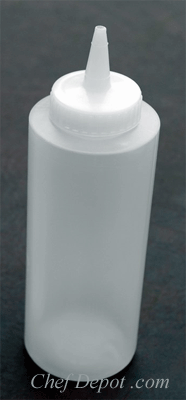 Product # CDSBC-08-SQUEEZE-BOTTLES
Retail $4.95 and up
On Sale $2.20 or less

This clear squeeze bottle is made of sturdy flexible plastic and offers instant content recognition with a see through design. This squeeze bottle is ideal for self service and high volume foodservice operations. These feature a very small tip that can be trimmed. Great for dessert sauces, entrée sauces, ketchup, mustard and more. 2 sizes below, call for others and large volume discounts. Chefs Note: It's great for painting the plate with sauces. try our bread pudding! Click the link to try it out!

1 plastic squeeze bottle, 8 oz.


6 plastic squeeze bottles, 8 oz. $2.10 ea.
1 plastic squeeze bottle, 12 oz.
6 plastic squeeze bottles, 12 oz. $2.90 ea. Rock Maple Kitchen Furniture! Made in the USA
---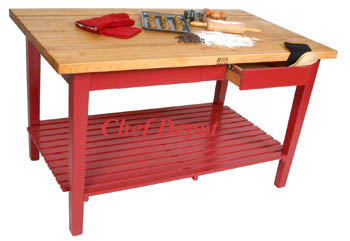 This is our handmade Maple Country Workstation. A perfect table for the center of your new kitchen! This table is made in the USA!
Click Here for your Maple Country Workstation!
---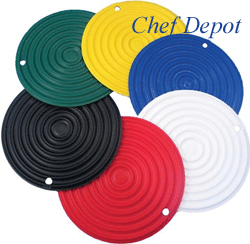 Product # CD3410-SUPER-SILICONE-HOTPAD-TRIVET
Retail Price $15.99 and up
On Sale $12.95

Made of silicone, our new 3 pack of pot holder / trivet set will protect from intense heat, up to 700 F. Non slip, waterproof and non porous, they provide safety and help protect your table. Machine washable! Measures 7.5 in. x 1/4 in thick. Choose Your Color Below!
Chefs Note: Made in USA. Few left. We use a lot fo these, for pots, pans, grilling, moving pots of soup to the table (put one under the pot), even under house plants! Features one tiny hole to allow hanging on the wall or pot rack when not in use. Makes a nice gift. With proper care these trivets will last for many years.

Super Silicone Hot Pad / Trivet, Blue, 3 pack

Super Silicone Hot Pad / Trivet, Yellow, 3 pack Chef Tested, High Quality Knife Sets!

---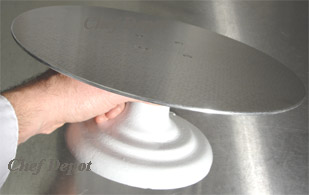 List Price $89.99 and up
Promo Sale Price $68.50
Product # CDATECO6120CAKETURNTABLE

This Professional cake turntable is made with a heavy duty cast aluminum stand which is 4 5/8 in. tall and includes a 12 in. diameter plate. This turntable will hold up to a 16 in. diameter cake with ease! Some bakers add cardboard or plywood rounds under larger cakes. Chefs Note: This turntable is a must have item for anyone who makes layered cakes. Easily turns with one finger. Perfect for trimming layered cakes, as well as easily icing and frosting them. It is also a great way to serve any decorated cake! Click Here for pure Vanilla Extract & Vanilla Paste!


Click Here for Cake Decoration Bags and tips
---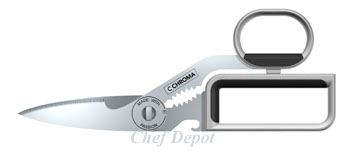 Product # CDCHROMA-SHEARS
Retail $75.00 and up
Sale Price $49.95 Buy 2 Promo Sale, only $44.95 each
The new Chroma Shears are finally here! Great for cutting poultry, fish, carpeting ar anything in between! From the finest thread to the thickest cloths, for grooming, sewing or food preparation. The perfect shears for every task. Chroma Porsche Knives are here! Chef Notes: Easy to use. Tests show these easily cut a penny in half. Great Quality Offset Shears! Lifetime Warranty!
Chroma Shears


Two Pairs Chroma Shears @ $44.95 each
Click here for Large Cutting Boards!

---
---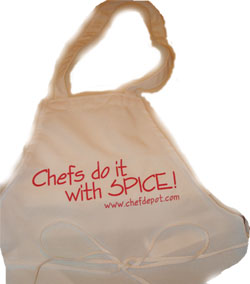 Product # CDCHEFS-DO-IT-WITH-SPICE-APRON
On Sale $8.95

Our premium professional Chef aprons are lots of fun! One size fits all! Chefs do it with Spice! apron is a heavy cotton poly blend for maximum comfort and durability. Made in the USA! One size fits all!

Great Chefs Kitchen Islands!
---

How To use a Mandoline - Click Here
Click Here For Kitchen Islands & Butcher Blocks!
Give your kitchen a Fresh New Look! Butcher Block Islands, made in USA !
---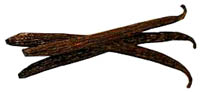 Our Madagascar Vanilla Beans are the highest quality available. They are highly prized by the Pastry Chefs who use them for their wonderful flavor and freshness. They are used extensively by Pastry Chefs and Gourmet Cooks around the world. Congratulations to Team USA, finishing 1st Place in the 2002 World Pastry Chef Championship using our vanilla beans! These Madagascar Bourbon Vanilla Beans (the best variety) are prized for their fragrant strong flavor. Our vanilla beans are very large ( 6 in. - 9 in. long), soft, plump and fresh. Call us for large quantity discounts. Our very Large Gourmet Madagascar Vanilla Beans, paste, extract and powder (click here) are 100% Completely Organic Grown and PAREVE ~ Kosher certified!

Best Cutting Boards used by Chefs on TV ~ Click Here!

---