---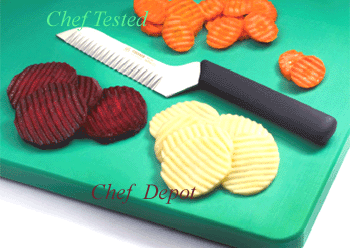 Product # CD9605BS12-DECORATING-KNIFE
Retail $49.00 and up
On Sale $34.95

This is our new Decorating Knife, it is offset and features a comfortable rubber nonslip handle. It measures 10 in. overall, with a 5 1/2 in. long German steel blade. The wavy blade is 1 in. wide and offset about 1 in. so your hand will clear the cutting board. Made in Germany.
Chefs Note: A great garnishing knife! Quickly decorate potatoes, carrots and zucchini, beets, turnips, squashes, cheese and more!
USA made Maple Cutting boards!
---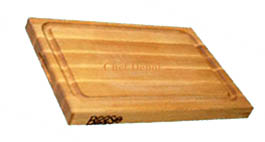 Our new mini Aujus Cuttingboard is perfect for carving a roast, turkey or the backyard BBQ. This is the cutting board of choice for all the Chefs here at Chef Depot and many other famous Chefs!
John Boos custom makes these exclusive cutting boards for us from first quality Solid Rock Maple, 18 inches by 12 inches and over 1 1/2 inches thick. This reversible board is NSF certified and will not dull your knife! With proper care, this Maple board will last for life! Oiling it with mystery oil, will keep it looking new (available below). This board is the perfect size for smaller counter tops (it will not slide while cutting).
Did you know that maple cutting boards naturally kill bacteria?
List Price $76.00 and up
On Sale $54.95
Product # CD18x12BOOSAUJUSMINI

More cuttingboards are here!
---

Product # CD07004GRATEDPARMESAN
Retail $9.99 and up
On Sale $7.99
Our classic grated Parmesan Cheese is aged for over 10 months. It has a perfect nutty taste and a more coarse texture than the lower grades found in most grocery stores. This cheese is aged for over 10 months. Our shelf stable packaging means no refrigeration is needed until it's opened! 12 oz. resealable container.
Chefs Note: One taste and you will know Italian quality. Crusty garlic cheese bread, sprinkled on pasta, pizza and salads, I love it on everything!

Click Here For Rock Maple Kitchen Carts!
---
Product # CDROYCS12CHEESESHAKER12OZ
Retail $13.99
On Sale $8.95

Our 12 ounce cheese shaker is made with a solid stainless steel shaker top. It is perfect for parmesan cheese, crushed pepper or spices. We use ours for grated parmesan cheese. Restaurant and pizza parlor customers love these!

Click Here for Whole Truffles!
---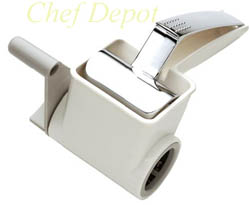 Product # CD55200ROTARYCHEESEGRATER
Retail $29.00 and up
On Sale $12.95