Orders M - F : (630)739-5200
9:00am - 5:00pm CST

Our High Heat Colored Spatulas and Heavy Duty Colored Stainless Steel Tongs are the best made!
These Spatulas & Tongs work great! You will love to use them!
---


Product # CDGD-02SSCHOPTONGS
Retail $32.99 and up
On Sale $15.99

These Porsche Type 301 stainless steel tongs are very sleek. The useful pincers are aprox. 12 inches long. These are nice for serving cold foods and appetizers or a gourmet baby greens salad! Perfect for intricate plate presentations, food styling and competition work. With care, they will last forever.

Carving and Food Garnish Tools are here!
How safe is your kitchen? Maple Cutting Boards!
---


Product # CDGD03-SS-FISH-BONE-TWEEZERS
Retail $35.99 and up
On Sale $9.99

This set of stainless steel Fish Bone Tweezers is 6 inches long and 1 inch wide. These are nice for smoked salmon, whitefish and trout, plating cold foods for intricate plate presentations, food styling and competition work.
Chefs Note: Excellent for fish bones and other applications. Design by Georg Draser.

USA made Rock Maple Cutting Boards!
---



Product # CD800-95RLOCKINGTONGSSILICONETIP12IN-RED
Retail $19.99 and up
On Sale $12.75

Our new Red Silicone tipped heavy duty locking stainless steel tongs are amazing high quality. Buy quality the first time. These are perfect for non stick cookware, BBQ grilling and make turning hot and juicy food an easy task. The high heat silicone is made to withstand 600 degrees F.!
Chefs note: The handles are inlaid with heavy duty non slip rubber and the black locking ring makes it easy to hang them or lock them closed for storage! The bright flower-like colors are visually pleasing. Comfortable and these do not scratch pots or pans!
New item - These are Red Hot!
12 in. Red Silicone Locking Tongs
Click Here for Truffles.
---
Product # CD301PORSCHEP09PARING
Retail $59.00 and up
Sale Price $51.95
Price Match Sale by AM, only $45.95 each
This is the 3 1/2 in. Chef knife (77mm), Chroma Type 301 designed by F.A. Porsche. These knives have the perfect shape, balance and weight for a lifetime of use. These knives are beautiful, functional and easy to clean. Each one is hand made, hand sharpened and polished by the hands of a master knife maker. We gift box each piece of this fine cutlery. Each one comes with a Lifetime Warranty!
These knives are easy to use and hold an edge longer than most other knives!
Click here to read some of our Chefs Comments!
Click here for more PORSCHE Type 301 knives!
Hurry, sale will be over soon!
Diamond Sharpening Stones & Steels...
---
This is a simple Carved Cucumber Flower. All you need is the very sharp paring knife (above) and a Garnishing Set will help you practice on many foods.
Click Here for Chefs cutting boards (as seen on TV)!

---
Receive the new Yakitori Non Stick Tongs for Free with $50.00 purchase of Chroma Type 301 designed by F.A. Porsche Cutlery ($50.00 or more)! Our non stick tongs are comfortable and lightweight! a $20.00 value! Place your order today, limited time offer!
Click the button below to add these to your shopping cart! Another Chef Depot Exclusive!

Free Yakitori Non Stick Tongs
---

Product # CD2053SSCHOPTONGS
Sold out
Many other Garnishing Tools are here!
How safe is your kitchen? Maple Cutting Boards!
---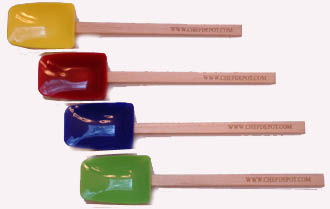 Product # CDSPOONULASCRAPER

On Sale $7.95 ea. and up

Our heat resistant rubber spoonulas (scraper with spoon indentation) are the best. They are 12 inches long and are heat resistant to 800 degree's Farenheit! Video review is below.
Chefs Note: The solid hard maple handle makes this spoonula very comfortable to use. We have used a set several hundred times and they look new. These are perfect for scraping the bowl while mixing & baking, chocolates, saute' and pan fried foods, cooking omelettes and more!
Chefs Note: This set will last forever with proper care. Made in the USA.
Heat Resistant GREEN Spoonula $7.95


Heat Resistant YELLOW Spoonula $7.95
Click Here for Butcher Block Tables!

---



Product # CDSPATULA-SCRAPER-ORANGE-PROMO
Retail $15.00 and up
On Sale $8.85

Our heat resistant rubber spatulas are made in USA. 12 inches long and are heat resistant to 800 degree's Farenheit! This orange spatula is on sale at a very low seasonal promotion price.
Chefs Note: The solid round hard maple handle makes this spatula very comfortable to use. We have used a set several hundred times and they look new. These are perfect for scraping the bowl while mixing & baking, chocolates, saute' and pan fried foods, cooking omelettes and more! This spatula will last forever with proper care. Made in the USA.

Heat Resistant Orange Spatula
Our Rock Maple Cutting Boards, these are used by all the Chefs on TV - click here


---



Product # CDSPATULASCRAPERYELLOW-WOODEN-HANDLE
Sold Out, no longer made.


Our Medium Heat Resistant Rubber Spatulas are the best. USA made, Buy them now, these are no longer made. They are 12 inches long and are heat resistant to 800 degree's Farenheit! You can order them individually below! Video review below.
Chefs Note: The solid hard maple handle makes this spatula very comfortable to use. We have used a set several hundred times and they still look new. These are perfect for scraping the bowl while mixing & baking, chocolates, saute' and pan fried foods, cooking omelettes and more!
Chefs Note: This set will last with proper care. Video is below. Made in the USA.
Click Here for Butcher Block Tables!


---



Product # CDSPATULASCRAPERPINK-WOODEN-HANDLE
List price $13.00
On Sale $9.50


Our heat resistant pink rubber spatula is the best MADE IN USA. Each is 12 inches long and it's heat resistant to 800 degree's Farenheit! For every pink spatula purchase made we will make a donation to a charity.
Chefs Note: The solid hard maple handle makes this spatula very comfortable to use. We have used a set several hundred times and they still look new. These are perfect for scraping the bowl while mixing & baking, chocolates, saute' and pan fried foods, cooking omelettes and more! Made in the USA.



Heat Resistant Pink Spatula

Chef Prep Tables! Made in the USA!


---

These heat resistant rubber spatulas (scrapers) are excellent. They are 12 inches long and are heat resistant to 600 degree's Farenheit! The set contains a yellow, red, blue and green spatula. You can also order them individually below!
Chefs Note: The stainless steel handle matches stainless appliances. We have used a set several hundred times and they look new. These are perfect for scraping the bowl while mixing & baking, chocolates, saute' and pan fried foods, cooking omelettes and more!
This set will last forever with proper care.

Product # CDHEATRESISTANTSCRAPERSET-SS-HANDLES
Retail $49.99 and up
On Sale $34.99


Heat Resistant Scraper Set

Heat Resistant Yellow Scraper $8.99

Heat Resistant Red Scraper $8.99

Heat Resistant Blue Scraper $8.99

Heat Resistant Green Scraper $8.99


Click Here for Butcher Block Tables!


---

Product # CDYZ1-YAKATORI-TONGS
Retail $20.00
On Sale $5.95

Our non stick tongs are comfortable and lightweight! These will work for flipping foods on the BBQ or turning items in non stick frying pans.
Do you have a great Chef Knife ?



Click Here for Chef knife sets!


---

Featured Video ...

Reviewing new tongs. If you BBQ or saute foods, you must watch this video! Click Here for a handmade Chef Knife!
Chef is using one of his NSF Maple Cutting Boards!
Learn how to Select Cutlery & How to Sharpen a Knife.


---



Product # CD12INCOLOREDTONGSET4
Retail $48.00 and up
On Sale $32.00


Our rubber coated Heavy Duty One Piece Tongs are the best. Each one is 12 inches long and made to last! Constructed to our specifications out of a single piece of heat treated stainless steel then coated with several heavy layers or colored rubber. The set contains a yellow, red, blue and green pair. You can also order them individually below! These are perfect for turning meats on the grill, removing items from the oven and broiler, baking and to help turn pan fried foods! The set of 4 features the 4 colored tongs. Black is also available.
Chefs Note: These tongs are comfortable and non slip as well as unbreakable! This set will last forever with proper care.

Colored Rubber & Stainless Steel Tong Set


Product # CD12INCOLOREDTONGYELLOW
Retail $12.00 and up
On Sale $8.95


Yellow Rubber & Stainless Steel Tong


Product # CD12INCOLOREDTONGRED
Retail $12.00 and up
On Sale $8.95


Red Rubber & Stainless Steel Tong


Product # CD12INCOLOREDTONGBLUE
Retail $12.00 and up
On Sale $8.95


Blue Rubber & Stainless Steel Tong


Product # CD12INCOLOREDTONGGREEN
Retail $15.00 and up
On Sale $8.95


Green Rubber & Stainless Steel Tong


Product # CD12INCOLOREDTONGSBLACK
Retail $15.00 and up
On Sale $8.95


Green Rubber & Stainless Steel Tong


Please tell your friends about our Chef site!


---



Product # CD800-91SSLOCKINGTONGS9IN
Retail $14.99 and up
On Sale $9.10


These are heavy duty locking stainless steel tongs. Now available in 9 in., 12 in., 16 in. sizes below! These are perfect for BBQ grilling and make turning hot food an easy task.
Chefs note: The handles are inlaid with heavy duty non slip rubber and the black locking ring makes it easy to hang them or lock them closed for storage!

9 in. Locking Tongs

12 in. Locking Tongs $10.75 16 in. Locking Tongs $14.75 Click Here for Butchering Supplies!


---



Product # CD800-95BLLOCKINGTONGSSILICONETIP9IN-BLUE
Retail $18.99 and up
On Sale $11.75


Our new Blue Silicone tipped heavy duty locking stainless steel tongs are amazing. These are perfect for non stick cookware, BBQ grilling and make turning hot and juicy food an easy task. The high heat silicone is made to withstand 600 degrees F.! Choose from 9 in. or 12 in. below.
Chefs note: The handles are inlaid with heavy duty non slip rubber and the black locking ring makes it easy to hang them or lock them closed for storage! The bright flower-like colors are visually pleasing. Comfortable and these do not scratch pots or pans!
New item - These are Red Hot!

9 in. Blue Silicone Locking Tongs

12 in. Blue Silicone Locking Tongs Click Here - Tahitian Vanilla!


---



Product # CD800-95OLOCKINGTONGSSILICONETIP9IN-ORANGE
Retail $18.99 and up
On Sale $11.75


Our new Orange Silicone tipped heavy duty locking stainless steel tongs are amazing. These are perfect for non stick cookware, BBQ grilling and make turning hot and juicy food an easy task. The high heat silicone is made to withstand 600 degrees F.! Choose from 9 in. or 12 in. below.
Chefs note: The handles are inlaid with heavy duty non slip rubber and the black locking ring makes it easy to hang them or lock them closed for storage! The bright flower-like colors are visually pleasing. Comfortable and these do not scratch pots or pans!
New item - These are Red Hot!

9 in. Orange Silicone Locking Tongs

12 in. Orange Silicone Locking Tongs Electric Knife Sharpeners Click Here!


---



Product # CD800-95GLOCKINGTONGSSILICONETIP9IN-GREEN
Retail $18.99 and up
On Sale $11.75


Our new Green Silicone tipped heavy duty locking stainless steel tongs are amazing. These are perfect for non stick cookware, BBQ grilling and make turning hot and juicy food an easy task. The high heat silicone is made to withstand 600 degrees F.! Choose from 9 in. or 12 in. below.
Chefs note: The handles are inlaid with heavy duty non slip rubber and the black locking ring makes it easy to hang them or lock them closed for storage! The bright flower-like colors are visually pleasing. Comfortable and these do not scratch pots or pans!
New item - These are Red Hot!

9 in. Green Silicone Locking Tongs

12 in. Green Silicone Locking Tongs Click Here for Meat Truffles!


---



Product # CD800-95LOCKINGTONGSSILICONETIP9IN-BLACK
Retail $17.99 and up
On Sale $11.55


Our new Black Silicone tipped heavy duty locking stainless steel tongs are amazing. These are perfect for non stick cookware, BBQ grilling and make turning hot and juicy food an easy task. The high heat silicone is made to withstand 600 degrees F.! Choose from 9 in. or 12 in. below.
Chefs note: The handles are inlaid with heavy duty non slip rubber and the black locking ring makes it easy to hang them or lock them closed for storage! The bright flower-like colors are visually pleasing. Comfortable and these do not scratch pots or pans!
New item - These are really cool!

9 in. Black Silicone Locking Tongs

12 in. Black Silicone Locking Tongs Click Here for Meat Grinders!


---


Product # CD30414RUBBERMSPATULA14IN
Retail $9.00 and up
On Sale $5.99


This is our pure white 14 inch Rubber Spatula. This high quality rubber spatula is made to last.
Chefs Note: Perfect for scraping the bowl and making omlettes. Our restaurant chains like these scrapers.


Rubber Spatula 14 In.

Click Here for Messermeister Cultery -Solingen Germany!!


---


Product # CDSSTONGS12
Retail $12.00 and up
On Sale $4.99


These are heavy duty stainless steel tongs. These are perfect for grilling steaks and chicken. Use while you saute' or fry foods, perfect for serving salads and buffets. These are high quality, very durable and long lasting use!


Stainless Steel Tongs 12 in.

Click Here for Butchering Supplies!


---



Product # CDRAD01-GRV-BOOS18x12x2.25W/GROOVE
List Price $120.00 and up
On Sale $89.95


Our new 18 x 12 x 2.25 in. Groove Cutting Board is perfect for the backyard BBQ or carving a small roast. This is the cutting board of choice for all the Chefs here at Chef Depot and many other famous Chefs! John Boos custom makes these exclusive cutting boards for us from first quality Solid Rock Maple. This reversible board (flat on other side) is NSF certified and will not dull your knife! Weight is 14 lbs. With proper care, this Maple board can last for life! Oiling it with mystery oil or board cream, will keep it looking new (available below). Function and style, a great all around choice. Did you know that maple cutting boards naturally kill bacteria?

New Kitchen Center Islands! Custom sizes are available...


---



Product # CD24x18BOOSBOARD-AUJUS2
List Price $135.00 and up
On Sale $129.95


This is the reversible Au Jus Solid Maple Cutting Board! Features a wide groove on 1 side. John Boos custom makes these cutting boards for us from first quality Solid Rock Maple, 24 inches by 18 inches and over 1 1/2 inches thick. This reversible board is NSF certified and will not dull your knife! With proper care, this Maple board can last for life! Oiling it with Mystery Oil or Board Cream will keep it looking new. This board is the ideal size for most counter tops. Did you know that maple cutting boards naturally kill bacteria?
Chefs Note: A great board for carving a large turkey, roast beef or prime rib. Also an excellent choice for a gourmet BBQ. This is the cutting board of choice for all the Chefs here at Chef Depot. Find a lower price? Call us for a free gift.
Emeril, Charlie Trotter, Paul Kahn and many other famous Chefs!


Add 3 pack of Boos Board Cream (3 pc. 5 oz. tubes)
Sale Price $29.95
Your New Kitchen - Butcher Block is here!


Our Rock Maple Logo Cuttingboards are On Sale!


---



Product # CDAUJUS20x15BOOSBOARD
List Price $125.00 and up
On Sale $99.95


This is the reversible Au Jus Solid Maple Cutting Board! Features a wide groove on 1 side. John Boos custom makes these cutting boards for us from first quality Solid Rock Maple, 20 inches by 15 inches and over 1 1/2 inches thick. This reversible board is NSF certified and will not dull your knife! With proper care, this Maple board can last for life! Oiling it with Mystery Oil or Board Cream will keep it looking new. This board is the ideal size for most counter tops. Did you know that maple cutting boards naturally kill bacteria?
Chefs Note: A great board for carving a large turkey, roast beef or prime rib. Also an excellent choice for a gourmet BBQ. This is the cutting board of choice for all the Chefs here at Chef Depot. Find a lower price? Call us for a free gift. Emeril, Charlie Trotter, Paul Kahn and many other famous Chefs!

Our Rock Maple Logo Cuttingboards are On Sale!


---

This Round Solid Maple End Grain (checkerboard look) Cutting Board is made from select #1 grade Hard Rock Maple. Our USA made logo cuttingboard features a rounded top edge and it's oil finished. New, now available in Lyptus, Walnut and Cherry, see below. We like these round cuttingboards for serving cheese platters at holiday parties! America's Heritage custom makes these cutting boards for us from first quality solid rock maple! Choose from two sizes below! The 20 lb. round cuttingboard measures 18 inches in diameter by 3 1/2 inches thick! The 11 lb. round cuttingboard measures 15 in. x 2 in. thick. Maple cutting boards will not dull your knife! With proper care, this Maple board can last for life! Oil it every month with mystery oil, to keep it looking new. Did you know that maple cutting boards naturally kill bacteria? These boards meet all NSF standards.
Free shipping to most areas of the USA.


18 in. x 3 1/2 in. Round End Grain Maple Cutting board, on Sale $119.00


15 in. x 2 in. Round End Grain Maple Cutting board, on Sale $79.00
These exclusive cuttingboards are on sale for a limited time!





---

Product # CD20-707500-SSCAP-POPPER
Retail $23.95 and up
Sale Price $12.75

Our new Stainless Steel Be Open Bottle Opener is sure to light up your face and those of your guests every time you use it. A unique spring loaded mechanism pries both twist off and pull top bottle caps when you easily push down on the opener. It's as easy as 1, 2, 3 to open bottles with this fun and unique tool. It serves as a great gift for everyone! Our high quality bottle opener is the perfect holiday gift. Bartenders love it! In less than 2 seconds you will reach for another bottle to open! We guarantee the lowest price on this item!



Electric Knife Sharpeners - Make your knives like new in seconds!


---

Product # CDUP-CT12P-FORGED-BLACK-CARVING-FORK
Retail $38.00 and up
On Sale $14.95


This forged carving fork is perfect for the BBQ grill or carving a turkey or any roast meat. The carving fork is 12 in. long overall and features a triple riveted poly handle. Pass it down to generations, it has a lifetime warranty. Very comfortable and easy to use. Perfectly balanced and a great deal! NSF approved.


Click here for Carving Boards!

Click here for Carving knives!


---

Product # CDSTSD-140-FLEXIBLE-SS-SPATULA
Retail $15.00 and up
On Sale $2.49

Our stainless steel flexible turner great for burgers and cookies! Used by bakers around the world, this tool is nice for removing cookies and hot baked goods from cookie sheets.
Chefs Note: Nice tool for flipping burgers in a frying pan or on a griddle.
Other Spatulas are located here.

Click Here for the best Cajun Spices you can buy!


---

Product # CD-DT302-CDN-DIGITAL-THERMOMETER
Retail $24.95 and up
On Sale $8.95


Our new Digital Thermometer is a great value. Features: - 40 to + 392 F., 5 in./12.7 cm stem, Shatterproof, very accurate, For thin cuts of meat, fish or poultry, One button operation, Food-safe ABS plastic, Stainless steel stem, Temperature guide on sheath, Sheath can be used as handle extension, Pocket clip, 1.5V Button, battery included, is a IEC LR44 Alkaline.
Chefs Note: I keep a few of these around the grill, smoker, kitchen and wine cellar. More Kitchen Timers, click here...


Chef Tested Chef Knives! Very Sharp & Lifetime Warranty!


---

Product # CD-14792100-TAYLOR-WIRELESS-REMOTE-THERM
Retail $60.00 and up
On Sale $21.75


Our new Portable Wireless Thermometer is a great new tool. Ever think about roasting and not being in the kitchen? This thermometer does it all, even grilling. Commercial roasting and baking digital thermometer with easy to read backlit LCD screen. Wireless remote pager for monitoring cooking temperatures from up to 200 feet away. For use in oven or on barbecue or smoker; beep/flash "ready" indicator; kitchen timer; volume control. Displays set and current internal food temperature includes; lanyard, clip, stand, magnet, and batteries included. Measures approximately 2 in. by 6 in. by 1 in., remote is size of small pager, Times up to 39 hrs, 59 min, 59 sec. volume control on remote. 1 year limited warranty. More Exciting Kitchen Tools, click here...


Remote Thermometer

Chef Tested German Knife Sets!


---

Product # CDKNIFEHOLSTER005BLACK
Retail $45.99 and up
On Sale $24.99


Our exclusive "Chef Knife Holster" is perfect for the busy Chef! This Chef Holster will hold a 10 in. blade Chef knife (or smaller), a 12 in. sharpening steel (or smaller), boning knife, paring and tourne knives, a thermometer, tongs and more! This holster is dishwasher safe and made from a very durable canvas to guard your sharp knives. It is also called a "knife scabbard" as used by Escoffier. Works for Righty or Lefty.
Chefs Note: This holster will help to eliminate the loss of knives and tools. It also makes kitchen prep time more effecient. This holster is black (pictured in red only to show it holding knives). The heavy duty belt is quick locking and easily adjustable, one size fits all. We recommend knife guards to protect the knife edge and the holster. Click here for Knife Edge Guards.

Click Here for Electric Diamond Sharpeners!


---

Product # CDFLXTP9OFFSETSPATULABROWN
Retail $14.95 and up
On Sale $5.75

A high quality stainless steel turner is a must for every cook. This turner features a solid medium flexible stainless steel blade and non slip brown handle. Dishwasher safe, includes a lifetime warranty against manufacturing defects!
Chefs Note: Our Offset Spatula Turner is great for flipping burgers and steaks as well as grilled zucchini and sliced onions! We also use this turner for French toast.



More Chef Tested Spatulas!


---

These are heavy duty stainless steel tongs. These are perfect for serving smoked salmon and canapes, also great for ice buckets, salads and buffets. These are 6 in. long high quality solid stainless steel!
Product # CD8020MINISSTONGS
Retail $6.99 and up
On Sale $3.99


Mini Stainless Steel Tongs

Click Here for Butchering Supplies!


---

Product # CDMUND4690BW-FISH-SPATULA
Retail $22.95 and up
Clearance Sale $11.79 to $12.79

Our high quality stainless steel Offset Fish Spatula Turner is a must for every serious cook. This turner features a solid medium flexible stainless steel blade with black hardwood handle. Use this 18/10 stainless steel spatula to simplify lifting and turning fragile fish fillets. Its flexible, offset and angled head slides neatly beneath delicate fish to prevent breakage, the perforated design allows liquid or juices and cooking oil to drain back into the saute pan. The handle provides a comfortable grip and helps keep your hands away from the heat. Measures 11 in. long. Lifetime warranty against manufacturing defects!
Chefs Note: Our new Offset Fish Spatula Turner is a real helper for all saute foods!Makes a perfect gift, buy 2 or more and save $.


1 Spatula $12.79


2 Spatulas for $11.79 ea. Chef Prep Tables! Made in the USA!


Chefs Select Cuttingboards!


Chefs Butcher Blocks for your new kitchen!


---

Product # CDR4222BALLWHISK
Retail $17.99 and up
On Sale $9.49


Our new Ceramic Ball Whisk is made from solid Stainless steel with a small cage containing a ceramic ball agitator for faster beating & mixing!
Chef Notes: This is the perfect whip for hollandaise, Excellent for salad dressing, whipped cream, meringue, sauces & soups. Large Quantity Discounts.
Click Here for Giant Whips!


Click Here for Colored Rubber Handled Stainless Steel Tongs!


---

Product # CD44000-LEFTOVERS-COLANDER-MEDIUM-OVAL-RED
Retail $14.99 and up
Clearance Sale Price $7.95


Our new Leftovers Medium size Colanders are the thickest and strongest that we have ever seen (2 qt). These are wide and tapered for easy use. Aprox. 9 in. x 6.5 in. x 4.5 in. deep. Features: Wide bowl for comfortable mixing, Easy grip handle aids pouring, Made with 100% recycled food safe plastic, Dishwasher safe, Made in USA!
Chefs Note: very thick and durable, the colors are vivid and you will enjoy using these colanders! Strong enough to stand on. This medium size red oval colander is perfect for washing grapes and other fruits!

Red Colander

More GREEN products! Used by Cooks around the world!


---

Product # CDKYOCERAKNIFESET-REV-2PC-ORANGE
Retail $100.95 and up
Temporary Sale Price Reduction $69.95

This is our Exclusive 2 piece Kyocera Revolution Knife Set, it includes a 5.5 in. Kyocera Revolution Ceramic Santoku Knife, and a 4.5 in. Kyocera Revolution Ceramic Utility Knife, with Orange Handle, it holds an edge without sharpening. The Revolution series feature a colorful handle and a perfect balance. This is a great ceramic knife, it's very comfortable and easy to use.
The weight is about half of steel knives making it comfortable for extended use.
The ultra sharp ceramic blade cuts with precision and accuracy every time maintaining a razor-sharp edge for many years.
These knives are made of an advanced, high-tech ceramic, second in hardness only to diamond,
it was originally developed for industrial applications where metal components failed.
Chef Notes: These knives are a great choice for Chefs and Gourmet Cooks! A rainbow of colored handles are now available, exclusively at Chef Depot. Limited Time Offer! Free Gift Below! What are you waiting for?
Each one of our Revolution knives comes in a beautiful presentation box.
We tested several brands of ceramic knives - Here's the results!
Kyocera was the only knife sharp enough to meet our demands, the others were too dull or the blades were too thin and brittle. Only Kyocera scored very high in sharpness, quality, workmanship, material and warranty. These knives are a great choice for Chefs and Gourmet Cooks! Ceramics are perfect for slicing, dicing, chopping and mincing meats, garlic, carrots, onions, celery, fruits and more

Click Here for more colored sets.


---

Our Blended American Walnut works well as a counter top or a unique kitchen island. A great value, and made in the USA. Our furniture quality top features a food safe clear varnique finish (or optional mineral oil). This gives you durability, ease of maintenance and beauty! These are available in 1.5 in thickness! More Installed Countertops and Islands are pictured here! Click Here!
Call for sizes and prices or to order (630) 739-5200

---


Product # CD2012-MINI-MAGNETIC-BLOCK-MAPLE
Retail $55.00 and up
On Sale $29.95

Our new mini magnetic knife block makes a great gift. Original design will compliment your holiday entertaining. True butcher block maple cutting board measures 6 in. X 6 in. X 1 1/2 in. thick. Super powerful magnets permanently pressed into the wood will easily hold most smaller knives and cheese tools. It displays 2 cheese knives at any angle. The other side is perfect for slicing and serving cheese! Exclusively manufactured for us! Made in USA. Choose with or without cheese knives below.


Maple mini magnetic knife block $29.95


Maple mini magnetic knife block with 2 Cheeese Knives $39.95
Click Here for more knife storage ideas!

Click here, Fat Juicy Vanilla Beans, Extracts & Paste! Holiday Baking is around the corner!


---

Product # CD03BA5704-4-X2-BOKER-STEAK-KNIFE-SET
Retail $199.00 and up
On Sale , click link below ! More Great steak knives, Click Here!


---


List Price $45.00 and up
On Sale $23.95
Product # CD12-IN-ROUND-CUTTING-BOARD-W-GROOVE



This reversible 12 inch round Rock Maple cutting board is ideal for serving BBQ, Steak or cheeseboards! Can be used for weddings, catering, parties, carving and presentations. Use the smooth side for chopping, slicing, dicing & mincing. The reverse side for carving meats or serving steaks, it features a grooved perimeter that collects the juices from meats. Take this board from the grill to the table. Hand washing and treating with Board Cream (avail. below) from time to time will keep them in top condition. 12 in. x 1 1/4 in., each has a 3/16 in. top edge radius and a squared bottom edge. Made in the USA. Minimum order is 4 pcs. Another Chef Depot exclusive! Call us for Large quantity discounts.

Set of 4 Round Rock Maple Cutting Boards

Click here for Maple & Walnut Cutting Boards & Butcher Tables!


---


Product # CD3200BAGEL-BITER
Retail $44.99
On Sale $34.95



The Commercial Bagel Biter is made to last. Featuring a non stick coated stainless steel blade with a very sharp serrated edge! It has a very durable impact resistant base and ergonimic handle with built in safety shields. It is easy and fun to use. Dishwasher safe. FDA approved materials. Made in the USA. The blade cartridge is replaceable. 1 year warranty from manufacturer.



Commercial Bagel Biter


Click Here for Maple Tables!


---


Product # CDBT-1MBAGELTONGS
Retail $14.99
On Sale $8.99



These are solid Maple Bagel Tongs.
They are excellent for serving bagels, toast and hot pop tarts! They also help you remove items from the toaster and perfect for non-stick pans. These tongs also work great for salads. These tongs have a strong magnet hidden in the back to store them on the side on the refrigerator! These tongs are 8 in. long x 1 1/4 in. wide!



Bagel Tongs


Click Here for Maple Tables!


---

Product # CDPULLTABWINEKEY001-BLUE
Retail $19.95 and up
On Sale $8.99

Our new Dark Blue Pull Tab opener is the choice of professional waiters. These "Wine Keys" are used to easily open wine tableside. It is also our favorite pocket wine opener. The all-in-one two-step boot lever easily extracts any cork, natural, rubber or synthetic. The first cut in the boot lever extracts the cork about 3/4" then the second step extracts the cork the rest of the way. Micro serrated stainless steel knife blade and non-stick teflon coated spiral screw makes it easy to remove the cork. Available in Burgundy or Green, choose below. Large quantity discounts are available. This opener is easy to use and perfect when you travel, especially to Italy, France or Napa, California. You should also have one in your kitchen drawer for daily tastings and parties. These wine openers are made in Italy, very high quality. Large Quantity Discounts!

Blue Pulltab Wine Opener (pictured)


Our handmade knives are the choice of Chefs around the world!
More Champagne & Wine Openers are here


---

Product # CD5060500NUTCRACKER-CHAMPAGNE-OPENER
sold out


The Nutcracker - Champagne Opener opener features a comfortable design. It is a very fast opener and easy to use.
Chefs Note: Makes quick opening for many bottles of champagne. If you are feeding squirrels, why not crack the nuts first?

Click Here for Saffron, Vanilla Beans & Shitake Mushrooms!


---




Product # CD201100-DEB-KOBRA-V-SLICER
List Price $89.99 and up
On Sale $51.95
This is an effective & simple V slicer...


This is the New "DeBuyer Stainless Steel and Composite Kobra V Slicer", made in France. Easy to handle and easy to store. Includes a serrated blade that slices up to 5 mm cuts. Very easy to change the thickness of the cuts with a click of the red knob on the end of the comfortable handle. Made of heavy-gauge 18/10 stainless steel with sturdy rubber legs for stability. The safety shield pusher has a large, easy grip handle and metal spikes. The pusher clips onto the bottom for storage. Dishwasher safe for easy cleaning. Measures: aprox. 14 L x 4 W x 3 in. If you buy this mandoline from us, all parts are available.
Chef Notes: Fast, light and simple. We easily sliced ripe tomatoes, lettuce, peppers, apples, cabbage and more. Ideal for small hands and lightweight use. Every professional Chef we know uses a cut proof Butcher Glove (click here) to quickly and safely cut vegetables on a V slicer.


Click Here For Kitchen Islands & Butcher Blocks


---



How To use a Mandoline - Click Here
Click Here For Kitchen Islands & Butcher Blocks!


---

Product # CD2006WHITEBOWLSCRAPER
Retail $5.00 and up
On Sale $1.00

Our flexible plastic mixing bowl scraper is perfect for getting it all out! Used by bakers around the world, this tool is perfect for working with dough and scraping off your work table too. Measures 5 1/2 in. x 3 1/2 in. with a beveled edge on 1 side.
Some cooks like to use it for scooping up minced garlic and chopped tomatoes.
Click Here for more Mixing Bowls!

Click Here for the best Vanilla Extract you can buy!


---


Email us your needs, or call to order ! Phone Orders (630) 739-5200


---

Product # CD102-BMESSERGARNISH3IN
Retail $12.00 and up
On Sale $5.90


This is a 3 in. long blade garnishing knife! It comes with a small sheath. It is perfect for carving and paring small fruits and vegetables.
Chefs Note: We like to use ours for watermelon and cantaloupe carvings.



Click the page links and green arrow on the right for more Messermeister!




Smallwares:
Page1 |
Page2 |
Page3 |
Page4 |
Page5 |
Page6 |
Page7 |
Page8 |
Page9 |
Page10 |
Page11 |

---

Copyright 1999 - 2020 Chef Depot Inc.
All Rights Reserved.
Legal Notice and Copyright

Customer Service - E-mail us or phone:(630) 739-5200

Customer Feedback