Prices vary by size. The pictured set is only $629.00 or less. Call for a quote ~ 630-739-5200 This one is our 30 in. Round Pub Table and Welded Metal Restaurant Chair Set ( many other sizes, 24, 36 and more). Set Includes 4 Chairs, Square Table Top and X-Base. Designed for Commercial and Home Use, Ladder Back Black Metal Chair, Heavy Duty Restaurant Chair, Lightweight Design, Black Vinyl Upholstered Seats, 2.5 in. Thick Foam Padded Seat, Fire Retardant Foam, 18 Gauge Steel Frame, Welded Joint Assembly, Curved Support Bar, Black Powder Coated Frame Finish, Plastic Floor Glides. Overall Size: 17 in. W x 18D x 42.25 in.H, Seat Size: 16.75W x 16.5D x 31 in. H, Commercial Grade Table Top, 42 in tall, 1.125 Thick Top, Natural Laminate Finish, natural light or dark walnut, High Impact Melamine Core, Black T-Mold Edge, 22in x 22in X-Base with 3in Diameter Table Height Column Cast Iron Construction, Easy 2-Piece Assembly with Single Bolt. Top Plate Pre Welded to Column. Black Powder Coated Finish!
Call for a quote ~ 630-739-5200
---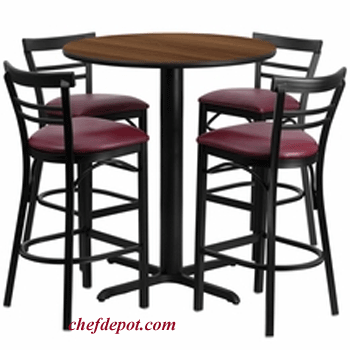 Prices vary by size. The pictured set is only $609.00 or less. Call for a quote ~ 630-739-5200 This one is our 24 in. Round Pub Table and Welded Metal Restaurant Chair Set ( many other sizes, 30, 36 and more). Set Includes 4 Chairs, Square Table Top and X-Base. Designed for Commercial and Home Use, Ladder Back Black Metal Chair, Heavy Duty Restaurant Chair, Lightweight Design, Black Vinyl Upholstered Seats, 2.5 in. Thick Foam Padded Seat, Fire Retardant Foam, 18 Gauge Steel Frame, Welded Joint Assembly, Curved Support Bar, Black Powder Coated Frame Finish, Plastic Floor Glides. Overall Size: 17 in. W x 18D x 42.25 in.H, Seat Size: 16.75W x 16.5D x 31 in. H, Commercial Grade Table Top, 42 in tall, 1.125 Thick Top, Natural Laminate Finish, natural light or dark walnut, High Impact Melamine Core, Black T-Mold Edge, 22in x 22in X-Base with 3in Diameter Table Height Column Cast Iron Construction, Easy 2-Piece Assembly with Single Bolt. Top Plate Pre Welded to Column. Black Powder Coated Finish!
Call for a quote ~ 630-739-5200

---

Product # CDMUND56146BSTIFFBONING
Retail $32.99 and up
On Sale $16.99

This is a 6 inch Boning knife, it is used for boning out pieces of meat easily and accurately. This knife is excellent for boning out venison and leg of lamb. It also works well to clean beef rounds and tenderloins. The handle is comfortable and it has a 6 inch long German alloy steel blade. NSF certified for safety and sanitation.

Click Here for diamond sharpeners!!
Click the green arrow on the right for more cutlery!



More Mundial:
Page12 |
Page13 |
Page14 |
Page15 |
Page16 |
Page17 |
Page18 |
Page19 |
Page20 |
Page21 |
---

Copyright 1999 - 2020 Chef Depot Inc.
All Rights Reserved.
Legal Notice and Copyright
Customer Service - E-mail us or phone:(630) 739-5200



Customer Feedback : Mundial knives, Mundial knife, Butchering Knives with Lifetime Warranty