A Site for Chefs!

Customer Service, M - F : (630)739-5200
9:00am - 5:00pm CST

HOME| PRODUCTS| PRODUCTS II| COOKING TIPS| RECIPES| GOURMET| CUTLERY| SHARPENERS| SPORTSMANS CORNER| CONTACT US| LINKS
When we first tested the Chefs Cutlery we were amazed at the balance of these knives. Traditional Forged Forged Riveted Black Cutlery at a great price! Check out these Garnishing Tools! Chef Depot designs new and cool Supplies for you and your kitchen! Cool Red & White Handle Cutlery looks great in red and white kitchens! Sushi Knives and Stamped Chef Knives for less. Fully forged knives are the working tools of great Chefs and the most important equipment in your kitchen! Mundial Scissors are razor sharp and hold an edge through years of use - Lifetime Warranty!
Quantity Discounts are Available, Please email us More Cutlery!
---
Cutlery Cases| Knife Blocks| Magnetic Knife Holders| Sharpening Steels| Electric Sharpeners| Cutlery
---


Product # CDCY10KYOCERAGRATER3.5IN
Retail $20.00 and up
Sale Price $15.00
This is the new Kyocera Ceramic Grater, it holds an edge without sharpening. This is a great little tool! Perfect for grated ginger root, fresh grated horseradish, fine carrots and many other applications.
Choose from two sizes below!
These tools are made of an advanced, high-tech ceramic, second in hardness only to diamond,
it was originally developed for industrial applications where metal components failed.
Chef Notes: This grater will quickly pulverize any root vegetables. A great choice for Chefs and Gourmet Cooks!
3.5 in. Small Grater

6.5 in. Medium Grater Click Here for John Boos Kitchen Islands! Simply the best!

---


Ginger Root, Sliced & Dried (9 oz) $9.75
Excellent for snacking and rehydrating for your favorite stir fry dishes. After rehydrating it in water, it can easily be grated using the tool above! Click Here for more dried herbs & spices!

---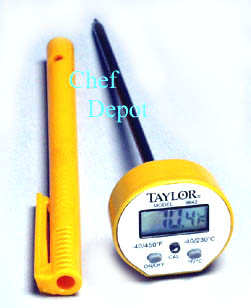 Product # CDPRODIGITHERM
Retail Price $39.00 and up
On Sale $29.99

This is the new professional model Taylor digital thermometer. It reads in a second and is accurate +- 1 degree F., it's also waterproof. The digital readout is easy to see, it instantly reads from - 40 degree's Farenheit
to 450 degree's Farenheit (also Celcius).
It comes with an antibacterial pocket sheath for easy storage (it kills germs on contact after each use).
This thermometer has an automatic off switch for long battery life.
We recommend this thermometer for all Pro Chefs and home kitchen use, cooking grilled & roasted foods, microwave reheating and candy making.

Click Here for Rock Maple Cutting Boards!
---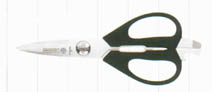 Product # CDMUNDELEGANCE6166SHEARS
Retail $35.99 and up
On Salee $19.50

These Elegance Kitchen Shears make cutting and trimming a snap. They come apart into two pieces, very easily to allow for easy cleaning! These shears are excellent to keep in the kitchen for cutting fish, chicken, pastry, paper, carpeting and cardboard. Lifetime Warranty. These shears are amazing!
Click here for Chocolate, Saffron, Peppercorns, Vanilla Beans and Gourmet gifts!
We guarantee the highest quality at the lowest price!
---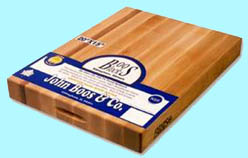 Product # CD20x15BOOSMAPLEBOARD
List Price $79.99 and up
On Sale $66.95

These are the Solid Maple Cutting Boards used by Emeril & other Chefs on TV!
These cutting boards are the choice for all the Chefs here at Chef Depot,
Bobby Flay, Charlie Trotter, Paul Kahn, Mary Sue Milliken, Susan Feninger, Mario Batali and many other Chefs!
John Boos custom makes these cutting boards for us from first quality Solid Rock Maple, 20 inches by 15 inches and over 1 1/2 inches thick (12 lbs) or 2 1/4 thick (18 lbs). Available in two thickesses below! These reversible boards are NSF certified and will not dull your knife! With proper care, these Maple boards will last for life! Oiling it with mystery oil, available below, will keep it looking new (available below). These boards are a good size for most counter tops (it will not slide while cutting).
Did you know that maple cutting boards naturally kill bacteria?

20 x 15 x 1 1/2 Maple Cutting Board

20 x 15 x 2 1/4 Maple Cutting Board $85.95
Click here for White Poly Cutting Boards!

---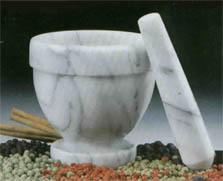 Product # CDMEDIUMMARBLEMORTAR4INCH
Retail $34.95 and up
On Sale $18.95
This is a solid marble mortar with a smooth marble pestle. It is used to make traditional pesto and aioli sauces. It is also great for grinding nuts and seeds for working with spices. This mortar is very thick and heavy so it won't move around while using it and it is very durable. The mortar is 4 1/4 inches wide x 4 1/4 inches tall. This mortar is unique, it is handcrafted for Chef Depot! This mortar is the nicest shape and finish of all the mortars we have tested! Solid marble is also the strongest mortar and pestle material.
Other mortars are available, please email us!

---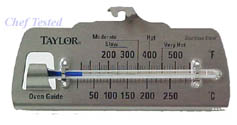 Product # CDPROTAYLOROVENTHERM
Retail $29.99 and up
On Sale $14.95

This is the best oven thermometer made! It is used to measure your exact oven temperature. Many ovens, household and professional models loose their correct temperature settings within a few years of use. This thermometer easily mounts in your oven by hanging from the rack or stands upright on the bottom. It will tell you exactly what the true temperature is inside your oven. Chef Depot and Cooks Illustrated have tested this thermometer in many models of ovens, most are 25 - 75 degree's off temperature! This thermometer scored the highest! This oven thermometer has a large, easy to read face and it's filled with a blue safety liquid, others are filled with mercury. Lifetime Warranty.

Click Here for Sauce Pans & Non Stick Egg Pans!
---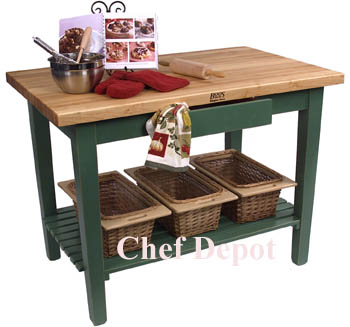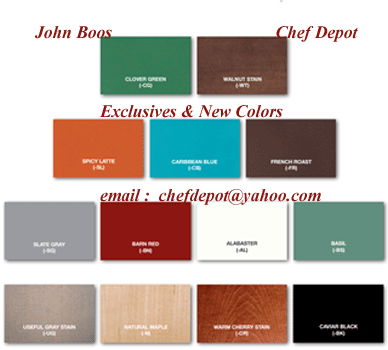 Product # CDCUC3624-COUNTRYWORKSTATION-NOSHELF
Sale Price $560.00
We guarantee the Fastest Delivery of your table! Free Shipping & Great Customer Service!
Our new John Boos Country Workstation features Solid Hard Maple with a FDA approved natural finish. Pictured is our most popular size in maple with one shelf. The pictured table is 60 in. wide x 30 in. deep with a 1 3/4 inches thick top and hand rubbed Basil stain! The drawer option (as pictured, 15 in. wide) is also available below! 60 in. tables can fit up to 2 drawers, all others 1 drawer. These elegant tables all stand 36 in. tall! Several other sizes, baskets and options are listed below! Options include up to 2 Shelves, without a shelf, Dovetailed Drawers, Locking Caster Wheels and more. The butcher block top requires rubbing with Mystery Oil or Wood Cream, every few months to keep it looking new. One or Two shelves and drawers are available!
Cherry Country Tables are available here! Walnut Country Tables are available here!
Made to order, your new table ships in aprox. 3-4 weeks!
These tables can only ship to the continental USA! Free Shipping & Great Customer Service!

Please click the button below to order your new table, then email us your color selection.
Click Here for Sizes and prices!

Add 3 pack of Boos Board Cream (3 pc. 5 oz. tubes)
Sale Price $29.95

Add 12 pack of Boos Board Cream (12 pc. 5 oz. tubes)
Sale Price $109.95


Type 301 Cutlery
F.A. Porsche!
Click the green arrow on the right for more Maple Blocks, Carts & Tables!




John Boos:
Page1 |
Page2 |
Page3 |
Page4 |
Page5 |
Page6 |
Page7 |
Page8 |
Page9 |
Page10 |
Page11 |
Page12 |
Page13 |
Page14 |
Page15 |
Page16 |

---

Copyright 1999 - 2020 Chef Depot Inc.
All Rights Reserved.
Legal Notice and Copyright

Customer Service - E-mail us or phone:(630) 739-5200

Customer Feedback