---


Product # CDKYOCERAKNIFESET-REV-3PC-GREEN
Retail $140.95 and up
Temporary Sale Price Reduction $89.95
This is our Exclusive 3 piece Kyocera Revolution Knife Set, it includes a 5.5 in. Kyocera Revolution Ceramic Santoku Knife, and a 4.5 in. Kyocera Revolution Ceramic Utility Knife and 3 in. Paring Knife with Green Handle, it holds an edge without sharpening. The Revolution series feature a colorful handle and a perfect balance. This is a great ceramic knife set, very comfortable and easy to use. The weight is about half of steel knives making it comfortable for extended use. The ultra sharp ceramic blade cuts with precision and accuracy every time maintaining a razor-sharp edge for many years.
These knives are made of an advanced, high-tech ceramic, second in hardness only to diamond, it was originally developed for industrial applications where metal components failed.
Chef Notes: These knives are a great choice for Chefs and Gourmet Cooks! A rainbow of colored handles are now available, exclusively at Chef Depot. Limited Time Offer! Free Gift Below! What are you waiting for? Each one of our Revolution knives comes in a beautiful presentation box. We tested several brands of ceramic knives - Here's the results! Kyocera was the only knife sharp enough to meet our demands, the others were too dull or the blades were too thin and brittle. Only Kyocera scored very high in sharpness, quality, workmanship, material and warranty. These knives are a great choice for Chefs and Gourmet Cooks! Ceramics are perfect for slicing, dicing, chopping and mincing meats, garlic, carrots, onions, celery, fruits and more
Click Here for more Ceramic Sets and Colors!
---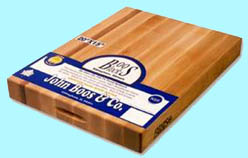 Product # CD24x18BOOSMAPLEBOARD
On Sale, plus Bonus wood treatment ... Free Shipping over $109.00 (cont. USA only)

This is the Solid Maple Cutting Board that is used by Emeril & other Chefs on TV! This is the cutting board of choice for all the Chefs here at Chef Depot, Emeril, Charlie Trotter, Paul Kahn and many other famous Chefs. John Boos custom makes these cutting boards for us from first quality Solid Rock Maple, 24 inches by 18 inches and over 1 1/2 inches thick. This reversible board is NSF certified and will not dull your knife! With proper care, this Maple board can last for life! Oiling it with mystery oil, will keep it looking new (available below). This board is the ideal size for most counter tops. Did you know that maple cutting boards naturally kill bacteria?

24 x 18 x 1 1/2
Maple Kitchen Islands are featured in Fine Magazines!
---

Product # CD18x12x1/2WHITEPOLYBOARD
List Price $35.99 and up
On Sale .... add to cart
This 18 in. x 12 in. x 1/2 in. thick Poly Cutting Board weighs over 4 lbs!
This is the cutting board of choice for all the Chefs here at Chef Depot and many other famous Chefs!
It is used by Emeril and other Chefs on TV and in professional kitchens across the USA!
These Poly Cutting Boards are restaurant quality and can last for years (if used every day).
We use these boards for meats, poultry and fish, they reduce odor transfer. Dishwasher safe. Many sizes are available. We have low prices on all our high quality cutting boards!

More Pure White Poly and Colored Cutting Boards On Sale Now! Click Here!
---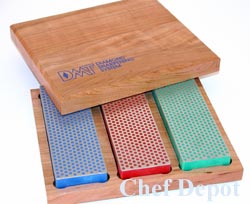 Product # CD-DMTDSS-THREE-STONE-SET
Retail $165.00 and up
On Sale $98.95
This is our exclusive DMT diamond sharpening set! It is precision manufactured to our exact specifications, right here in the USA. Each set features a Coarse 325 grit diamond stone (Blue), a Fine 600 grit diamond stone (Red) and a Extra Fine 1200 grit diamond stone (Green) each one is aprox. 6 in. x 2 in. in a hardwood box. The Monocrystalline diamonds will not break apart during use. These diamond sharpeners outlast all the competition!
Chef Notes: A perfect gift for someone who has almost everything. This diamond sharpening set will quickly produce a fine razor sharp edge on any good knife, garnishing tools and chisels with four six to six strokes. Add the clips below and get those knives ~ sharper than new! Why not buy the best?

Portable Chef Tables! Click Here!
---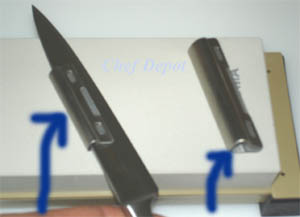 Product # CDST-G-SHARPENING-GUIDES
Retail $15.00 and up
On Sale $9.95

Our exclusive knife guides fit onto most any knife and work with any stone to give you a fast precise 15 degree sharpening angle.
Set of 2, large and small.
Chefs Note: These little clips are plastic lined stainless steel and they will help you sharpen correctly. Made in Japan!

Click here for Portable Butcher Blocks!
---
Featured Video ...
Chef is sharpening a high quality Japanese Chef knife. These knives are handmade in Japan!
Chef is using one of his favorite DMT sharpening stones on a NSF Stainless Steel Bistro Tables! Made in USA. NSF Cutting Boards are here! Made in USA. Knife clips are above!
More Japanese knives! Click Here!
Click Here for Rock Maple Kitchen Carts!

---
Featured Video ...