Our Gourmet Whip Maker creates "Espumas" - light and delicious whipped foams. This trend of food preparation is hot.. get yours and be on the cutting edge! The Espumas concept has no limit, basic ingredients include fruits, herbs, vegetables, fish, seafood, meat and dairy products! It is an multi-talented tool for the professional chef and the hobby cook. Prepare light sauces, frothy vegetable or fruit "Espumas" foams, delicious desserts. Works great with Hot and Cold mixtures. You can keep it in a hot water bath for sauces and soups or in the refrigerator for whipped desserts. Fixed dispensing value allows for precise application and control. Keep sauces fresh, hot and ready to serve "à ¬a minute". Yields five times the initial input which is high than any other whipped method. Non-slip lever provides better grip, lever maintains a comfortable temperature. Drip-stop, crescent shaped hole at the base of the decorator tip allows excess drippings to escape before they reach the lever. Includes three decorating tips to add style and design to your creations. A recipe booklet is included with purchase, it will inspire your own creations. Hygienic air tight system meets HACCP standards( NSF certified). Made from solid stainless steel that is highly polished. All parts are dishwasher safe.
It comes in two sizes, 1 pint and 1 quart.
The n2o cartridge (one included) has no taste, unlike CO2 which does not taste good at all. One cartridge will last for dozens of desserts in the Pint unit, the Quart unit requires 2 cartridges for over a hundred servings.
N2o cartridges are available from $.43 cents each to $1.69 each!
These units come with three different tips and a two year warranty!
We supply these whipped cream makers to
Oberweis Ice cream Stores, Baskin Robins 31 Flavors and many fine dining restaurants.
Gourmet Whip Maker Large (quart)
Gourmet Whip Maker Small (pint)
5 Pack of n2o Refills


300 Pack of n2o Refills
---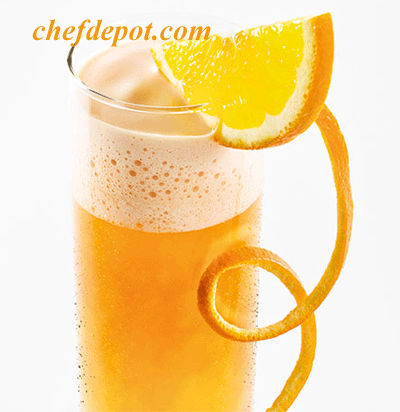 Recipe : Campari Orange Espuma 50 ml Campari 450 ml fresh orange juice 3 x sheet(s) of gelatin 10 g powdered sugar
Soak the gelatin in cold water. Heat up 125 ml of orange juice, and dissolve the drained gelatin in it. Mix the Campari with the rest of the orange juice, and add the dissolved gelatin. Pass the mixture through a strainer and then funnel directly into the 0.5 L Whipper. Screw on 1 cream charger and shake vigorously. Refrigerate for at least 6 hours. Shake vigorously before serving.
---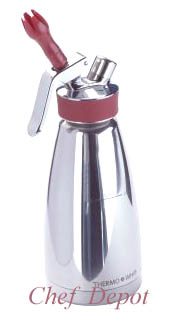 Product # CD180101NEWGOURMETWHIPPINT
Retail $159.00 and up
On Sale ADD To CART

Our new ISI Gourmet Thermo Whip is the first food whipper with thermal capabilities. In fact, with its patented technology, is ISI through and through, but with an added dash of flexibility and an additional pinch of innovation built right in! First of all, it can keep contents cold for up to eight hours. No refrigeration needed. Second, it can keep ingredients hot - without the need to reheat - for up to three hours. Third, you can take the Thermo Whip with you wherever it's needed, buffet, catered event, whatever. Or use it to help free up limited refrigerator space, keep it filled with what you need to save unnecessary steps. Perfect for creating and storing your most delicate soups, sauces, gravies, whipped creams, light desserts, and Espumas. 1-pint capacity. It will keep its contents cold, without refrigeration, for up to 8 hours at room temperature. It can save steps by eliminating trips to the refrigerator and save space on the preparation line. Portable, so it's perfect for use in places where no refrigeration or reheating source is available. It can actually increase menu flexibility for serving away from the food preparation area. No matter how warm or cold the contents, double-wall construction keeps the Thermo Whip cool to the touch. Visible maximum filling line helps standardize food preparation. Improves product yield by reducing the need to shake the bottle each time the Thermo Whip is removed from the refrigerator. Improves consistency of content appearance by maintaining a constant temperature of each serving. Handsome style fits into a drawer or cabinet . . . and speaks volumes about good taste. NSF certified. HACCP compliant, Industrial dishwasher safe, Two-year warranty. One N2o cartridge is included, order more above!


5 Pack of n2o Refills
300 Pack of n2o Refills
Click here for Chef Tables & Chop Blocks!

---

Product # CDKYOCERAKNIFESET-REV-2PC-GREEN
Retail $100.95 and up
Temporary Sale Price ADD To CART
This is our Exclusive 2 piece Kyocera Revolution Knife Set, it includes a 5.5 in. Kyocera Revolution Ceramic Santoku Knife, and a 4.5 in. Kyocera Revolution Ceramic Utility Knife, with Green Handle, it holds an edge without sharpening. The Revolution series feature a colorful handle and a perfect balance. This is a great ceramic knife, it's very comfortable and easy to use.
The weight is about half of steel knives making it comfortable for extended use.
The ultra sharp ceramic blade cuts with precision and accuracy every time maintaining a razor-sharp edge for many years.
These knives are made of an advanced, high-tech ceramic, second in hardness only to diamond,
it was originally developed for industrial applications where metal components failed.
Chef Notes: These knives are a great choice for Chefs and Gourmet Cooks! A rainbow of colored handles are now available, exclusively at Chef Depot. Limited Time Offer! Free Gift Below! What are you waiting for?
Each one of our Revolution knives comes in a beautiful presentation box.
We tested several brands of ceramic knives - Here's the results!
Kyocera was the only knife sharp enough to meet our demands, the others were too dull or the blades were too thin and brittle. Only Kyocera scored very high in sharpness, quality, workmanship, material and warranty. These knives are a great choice for Chefs and Gourmet Cooks! Ceramics are perfect for slicing, dicing, chopping and mincing meats, garlic, carrots, onions, celery, fruits and more
Click Here for More Colors!
---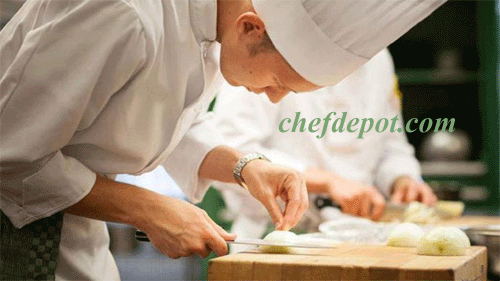 This is one of our favorite Culinary schools! What do you notice the student is doing ? Is he holding the onion correctly ? No, he should have the hand opposite the knife flat on top of the onion! Nobody likes cut fingers, one way to help avoid cuts is by using our Stainless Steel Butcher Glove (click here) to quickly and safely cut vegetables.
Click Here for Colored Rubber Handled Stainless Steel Tongs!

---
Product # CDHI98048RS-LASAGNA-FOCACCIA-PAN-RED
ADD To CART

Theres nothing like homemade lasagna, especially one that uses unique ingredients to create a culinary masterpiece the whole family can enjoy. With its enameled exterior and superior heat retention, this oven to table porcelain pan can be served quickly. Buon appetito. Measures 13 in. x 9 in., weight is aprox. 5 lbs. Heat proof to at least 500 degrees F.
Chefs Note: This is a sweet lasagna pan and doubles up as a great foccacia pan! Can also be used for vegetable casseroles! ***Click here for other colors***



Designed By Chefs! We like it! ***Click here for other colors***!
Butcher Block Tables! Design your new kitchen!
Click Here for Butcher Blocks!
---
Featured Video ... Torch Demo ...

A Chef is reviewing a Cooking Torch. We use this torch for creme brulee and baked Alaska. It can be used to brown gratin soups and carmelize desserts. Great for the pipe, cigars, candles and lighting the grill too! The Chef is working on one of his Maple Butcher Blocks! Click Here to learn more about Knives & Knife Sharpening!


---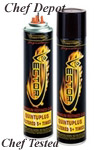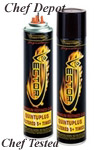 Product # CDJUMBO8OZ.CHEFTORCHBUTANE-4PACK
Retail $44.00 and up
On Sale ADD To CART

Our Vector Chef Torch Butane Refill Cartridges are highly filtered to be among the most powerful available. It will save you time as the higher BTU's will produce a hotter flame! Saves time. Extra large can, as pictured.
Click Here for other Butane Refills
4 Stove Butane Refills (highly filtered, burns hotter)
Electric Range Burners & Chafing Dishes ~ Click Here!