Chef Supplies for less!

Orders M - F : (630)739-5200
9:00am - 5:00pm CST

HOME| CHEFS BLOCKS, Bars and Center Islands| PRO CHEF KNIVES| EDUCATION| RECIPES| GOURMET| CUTLERY| SHARPENERS| SPORTSMANS CORNER| CONTACT US| LINKS
Beautiful Pepper Mills are On Sale! All are in stock ! These are the best pepper mills we have seen!

When we first tested pepper mills we noticed there are a lot of disposable mills on the market. The mills below passed the test! They are all high quality with solid metal bodies and all of them have fully adjustable ceramic or hardened steel grinding mechanisms. After all, what you want is a great peppermill that will last a lifetime! Wine Spectator rated these mills to be the best. Our Pro Chefs Lifetime Cutlery, made in Germany! Use these knives 500 times before sharpening! Our Modern Chef Tables will compliment your new kitchen.
Great Chefs & Fine Restaurants use our pepper mills!

Gourmet: VANILLA BEANS| SPICES| PURE VANILLA EXTRACT| MUSHROOMS| GOURMET FOODS| CHEFS CUTTING BOARDS
---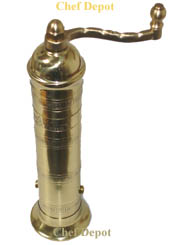 Product # CDPEPPERMILLBRASS1040
Retail $90.95 and up
On Sale (add to cart to see sale price)

Our new solid brass peppermill is easily filled from the top! These Greek handmade professional pepper mills are the highest quality we have tested. They are the same professional-style mills used in elegant restaurants in Europe. The highly polished peppermills have a fully adjustable hardened steel grinding mechanism. These mills adjust from coarse to fine grinding. 9 1/2 in. tall. The matching brass salt mill is also available below! The highly polished salt mills have a corrosion proof nylon grinding mechanism that easily grinds sea salt. Lifetime Warranty! Our Atlas mills are Hand Made in Greece! All are IN STOCK for fast shipping.

Brass Pepper Mill (8 in tall)


Brass Pepper Mill (9 1/2 in tall)
Brass Salt Mill (9 1/2 in tall)
Brass Pepper Mill (10 1/2 in tall) Click Here for Sea Salt & Peppercorns in all colors!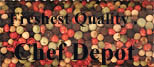 ---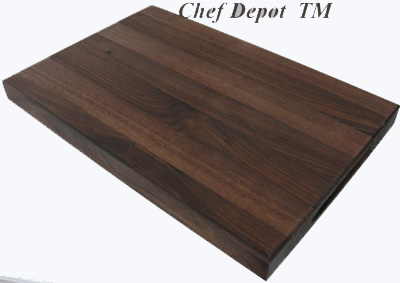 Our Exclusive Dark Walnut Counters, bars and island tops are here : Click Here for more sizes & styles! It can be used for chopping, dicing, Slicing and serving! These feature a mineral oil finish, made in USA. This hand made piece will be enjoyed by your family and guests! Use the Oil (pictured below) to keep it rich and preserved. These boards meet all NSF standards.

More Chef Tested Cutting Boards! Click Here for more styles!

---
Product # CD20-2123PEPPERMILLBAMBOO-12.5IN
Sold Out
Click Here for Sea Salt & Peppercorns in all colors!




---

Product # CDPEPPERMILLBRASS3030
Retail $91.00 and up
On Sale (add to cart to see sale price)


Our new solid brass pepper mill is easily filled from the top! These Greek handmade professional pepper mills are the highest quality we have tested. They are the same professional-style mills used in elegant restaurants in Europe. The highly polished pepper mills have a fully adjustable hardened steel grinding mechanism. These mills adjust from coarse to fine grinding. 8 1/2" tall. The optional mill has a receiving cup to catch the ground pepper.
Lifetime Warranty! Our Atlas mills are Hand Made in Greece! All are IN STOCK for fast shipping.


8 1/2 in Brass Mill


8 1/2 in Brass Mill (with receiving cup) Click Here for Sea Salt & Peppercorns in all colors!




---

Product # CDPEPPERMILLCOPPER&BRASS4120
Retail $88.99 and up
On Sale $ (add to cart to see sale price)


Our new solid brass pepper-mill is easily filled from the top! These Greek handmade professional pepper mills are the highest quality we have tested. They are the same professional-style mills used in elegant restaurants in Europe. The highly polished pepper mills have a fully adjustable hardened steel grinding mechanism. These mills adjust from coarse to fine grinding. 7 1/2" tall! Lifetime Warranty! Our Atlas mills are Hand Made in Greece! All are IN STOCK for fast shipping.


Brass Peppermill 7.5 in tall

Brass Peppermill 8.5 in tall Brass Peppermill 9.5 in tall Brass Salt mill 8.5 in tall Brass Salt mill 9.5 in tall Click Here for Sea Salt & Peppercorns in all colors!




---

Product # CDELECTRICPEPPERMILL
Retail $59.99 and up
On Sale $29.95 (buy 2 and save $)


Our stainless steel battery powered pepper mills are handcrafted from solid stainlesss steel. They feature adjustable grinder settings from coarse to fine. This pepper mill measures aprox. 7 1/2 in. tall and 2 in. diameter. It is easy to refill and holds a lot of peppercorns that are visible near the bottom. The modern design is visually pleasing, easy to hold and simple to use.
These are the highest quality automatic pepper grinders that we have found in our testing.
We have extensively tested all of the battery powered and rechargable pepper mills on the market!
The Electric Peppermill works great on all peppercorns and grinds sea salts. It features a fully adjustable ceramic grinding mechanism and a light built into the bottom of the base (the bulb can also be removed). 4 AA batteries are included with each mill.
These peppermills have a lifetime warranty on the grinding mechanisms!
To order the freshest peppercorns you can buy, simply click on the small picture below!


Electric Peppermill

Pair of Electric Peppermills $57.95 Click Here for Sea Salt & Peppercorns in all colors!




---