Click Here for Chef Tested Cutlery Sets!

---
Product # CD139781592334322000-COOKS-BOOK-INTENSE-FLAVORS

The Cooks Book of Intense Flavors is an indispensable guide to exotic and decadent flavor combinations for the advanced chef. Filled with more than 100 extraordinary combinations, The Cooks Book of Intense Flavors will make you rethink the way you approach food and each exotic flavor is accompanied by an inspired recipe as an example of how to use it. And unlike other flavor references, this book offers a recipe for each combination so you know exactly how to use what you learn. You'll learn how to cook more innovatively by adding an unexpected note such chili to a traditional flavor combination such as pineapple and mango. You will cook more intuitively by learning which flavors work together and how to balance different flavor profiles such as sweet, sour, savory, and spicy. You will get more excitement from cooking as you taste how flavors evolve during the cooking process. Most importantly, you'll get more pleasure out of the flavors and ingredients you use every day! Hardcover, 288 pages.
Chefs Note: Nice recipes and pictures, good reference. Great gift idea!
Click Here for NSF Butcher Block Tables!

---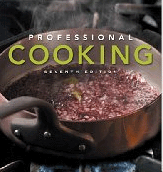 Product # CD09780470197523-7TH-PROCOOKINGBOOK

Used by Pro Chefs and Instructors and students alike, Wayne Glissen, Professional Cooking is known as "Simply The Best" 200 color photos, 1200 tested recipes, International section with latest trends. 1088 pages !
Click Here for Stainless Steel Tables!

---
Product # CD0471359262ADVPASTRYCHEF

Elegant techniques for the accomplished baker! This book has it all. Master Chef Bo Friberg returns with sophisticated dessert recipes for the advanced professional chef and the serious home baker. An advanced version of the popular The Professional Pastry Chef: Fundamentals of Baking and Pastry, this new book delivers readers to the upper echelons of pastry creation, describing advanced techniques in sugarwork, chocolate artistry, and marzipan figures. Chef Bo also devotes chapters to the baking and business of wedding cakes, holiday favorites, modernist desserts, light desserts, and advanced decorating techniques. The accomplished baker will enjoy considerably expanding his or her repertoire with The Advanced Professional Pastry Chef. "Bo Fribergs The Advanced Professional Pastry Chef is a superb resource for the pastry student and the established Chef. His years of experience as a chef and teacher shine through in these well-formulated recipes and insightful tips. An essential book for every student of pastry who aspires to a higher level." Jacquey Pfeiffer -Pastry Instructor & Owner of The French Pastry School
850 Pages, Hardcover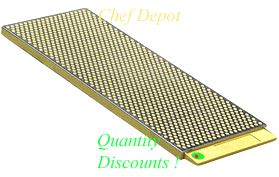 Are Your Knives Very Sharp ? Click on the Diamond Stone for more info.
Click Here for Maple Cutting Boards - Lowest Prices!
Click Here for Maple, Walnut, Cherry Counters, bars, island tops - Lowest Prices!

---
Product # CD978-0-7645-9562-2HORSDEUVRES-COOKBOOK

The Culinary Institute of America is the nation's most influential training school for professional cooks, Time magazine
The Culinary Institute of America is the nation's premier culinary training ground, the place where many top chefs and caterers have honed their skills in the kitchen. The schools emphasis on solid technique and rigorous hands-on training is widely respected and admired by culinary insiders the world over. Now, in Hors d'Oeuvre at Home with The Culinary Institute of America, the experts show you how to prepare an impressive selection of bite-sized creations for any gathering. From skewers and dips to desserts, they explain the various types of hors d'oeuvre and walk you step by step through the techniques you need to create each one. Featuring more than 150 stylish recipes and 40 full-color photos, the book provides all the guidance and know-how you need to cater your own parties and dazzle your guests. 224 Pages, Hardcover
Click Here for Cinnamon Sticks, Whole Nutmeg and Cajun Spices!

---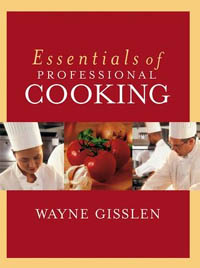 Product # CD0471202029-ESSENTIALS-PRO-COOKING

Managers of restaurants and other foodservice operations need to know how to cook, but do not have to be chefs in order to manage them effectively. Written by Wayne Gisslen, author of the bestselling Professional Cooking, this book gives managers in the foodservice field the information they need about cooking in order to do their jobs well. 704 Pages, hardcover, an invaluable tool for restaurant managers. If you own a restaurant, a great tool for the front of the house.
Click Here for Garnishing Tools!

---

Product # CD0471332690HEALTHYCBOOK

Techniques of Healthy Cooking is a great new addition to the growing list of CIA books. Once again, The Culinary Institute of America has compiled a wealth of information and stunning recipes that are flavorful and innovative. This book will be a valuable addition to any kitchen library. The fact that the recipes are healthy is almost irrelevant. Get cooking! Waldy Malouf, Chef/Restaurateur, Beacon "Ive been publicly searching for the best of taste and the best of health for the past 25 years. The book you are now holding has the potential to change the way people eat. The Professional Chefs Techniques of Healthy Cooking hasnt got one ounce of padding!" Graham Kerr, International Culinary Consultant The book takes a marvelous, sane approach to cooking, blending the joys of cooking with a well-informed approach to new thinking about food ingredients, many of which were all-but-unheard-of items only a few years ago but with which we have become widely familiar" Craig Claiborne.
Click Here for Pro Chefs Knives & Tools!

---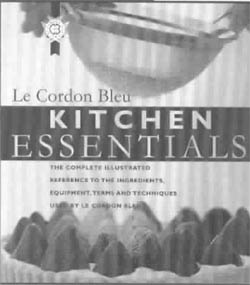 Product # CD0471393487CBOOK

This cookbook shares some of the expertise from the world renowned Le Cordon Bleu cooking schools! Guidance on kitchen equiptment, ingredients, preparation, cooking techniques and much more. Over 1000 step by step photos and recipes make this a must have reference book for every kitchen.
256 pages, Cloth Bound
Click Here for USA made Diamond Sharpeners...

---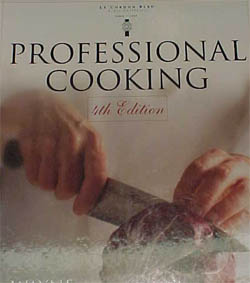 Product # CD047166374-3PROCBOOK

This is one of our best selling "Professional Cooking" books available! The new 6th Edition is used by many Le Cordon Bleu Cooking Schools and is packed with valuable information on the Foodservice Industry, sanitation, recipes, nutrition, hot and cold foods, presentation, International Cuisine and Le Cordon Bleu recipes. Full color pictures and demonstrations. Recipes are from 6 - 24 portions. This book is essential for the serious cook who wants to explore advanced cooking. Want to be a better cook? Buy it today. It is used by many culinary programs around the world.
1056 pages, Cloth Bound.
Click Here for Chefs Favorite Sushi knives

---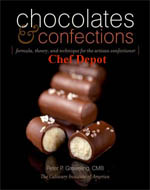 Product # CD9780764588440-CHOCOLATES/CONFECTIONSBOOK

This is one of our best "Chocolate Making" books available! Chocolate and candy making today is undergoing a renaissance in public awareness and status. This comprehensive book combines artisan confectionery techniques with accessible explanations of the theory and science as well as formulas for use in production. Fundamental information for the confectioner includes ingredient function and use, chocolate processing, and artisan production techniques. The book contains 140 formulas and variations for beautiful confections, including dairy-based centers, crystalline and noncrystalline sugar confectionery, jellies, and nut center and aerated confections. 388 pages.
Click Here - Rock Maple Cuttingboards! Used by the Hyatt and Hilton Hotels.

---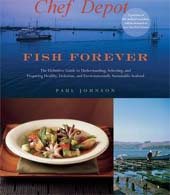 Few people know more about fish than Paul Johnson, whose Monterey Fish Market in San Francisco supplies seafood to some of the nation's most celebrated chefs, from Alice Waters, Thomas Keller, and Michael Mina to Todd English, Daniel Boulud, and Alain Ducasse. Written for people who love seafood but worry about the overfishing of certain species as well as mercury and other contaminants, Fish Forever pinpoints today's least endangered, least contaminated, best-tasting fish and shellfish species, in depth guidance on 70 different fish along with 96 stylish international recipes that highlight the outstanding culinary qualities of each. In addition to teaching readers about sustainable fishing practices, Johnson will be donating a portion of his royalties to Save Our Wild Salmon, an organization that works to restore wild salmon runs. Complete with over 60 beautiful color photographs, how to tips, and fascinating sidebars, Fish Forever is a must have kitchen resource for seafood lovers everywhere.
Our Rock Maple Cutting Boards are used by most Restaurants.

---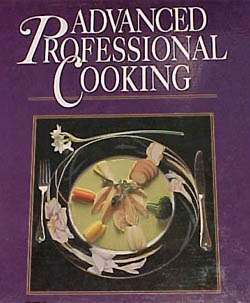 Product # CD0471836834ADCBOOK

This is an advanced book with complex recipes and techniques. It reviews the development of the modern style of cooking and covers advanced mise en place, plating and presentation. It also covers soups and sauces. Recipes are from 4 - 16 portions.
672 pages, Cloth Bound.

Click the green arrow on the right for more Chef books!



More Pro Chef Books:
Page1 |
Page2 |
---

Copyright 1999 - 2024 Chef Depot Inc.
All Rights Reserved.
Legal Notice and Copyright
Customer Service - E-mail us or phone:(630) 739-5200



Customer Feedback : Cooking Boos, Cookbooks, best, rated, reviews, Chefs , Culinary Arts