---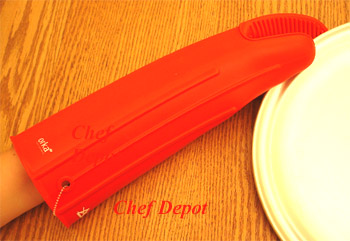 Product # CDA82210-ORKA-BBQ-MITT-17IN
Retail Price $35.99 and up
On Sale $21.49

Do you Bake? Do you BBQ? Do you like things that really last? Made of thick silicone, ORKA BBQ oven mitts protect from intense heat, up to 700 F. Non-slip, waterproof and non-porous, they provide safety and perfect food hygiene. 100 percent high tensile strength silicone, the 17 in. long glove goes up the arm and provides more protection. Vapor and moisture will not penetrate this glove. Machine washable. "The pizza pan was 450 degrees F. and my hand is not even warm through the glove"!
Chefs Note: Love the color! With proper care this oven mitt will last for many years. Used by many restaurants that demand quality. This glove has many other applications.

Red Orka BBQ Mitt
Student Chef Knife Sets!
---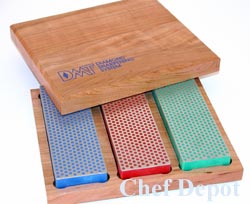 Product # CD-DMTDSS-THREE-STONE-SET
Retail $165.00 and up
On Sale $98.95
This is our exclusive DMT diamond sharpening set! It is precision manufactured to our exact specifications, right here in the USA. Each set features a Coarse 325 grit diamond stone (Blue), a Fine 600 grit diamond stone (Red) and a Extra Fine 1200 grit diamond stone (Green) each one is aprox. 6 in. x 2 in. in a hardwood box. The Monocrystalline diamonds will not break apart during use. These diamond sharpeners outlast all the competition!
Chef Notes: A perfect gift for someone who has almost everything. This diamond sharpening set will quickly produce a fine razor sharp edge on any good knife, garnishing tools and chisels with four six to six strokes. Add the clips below and get those knives ~ sharper than new! Why not buy the best?

Portable Chef Tables! Click Here!
---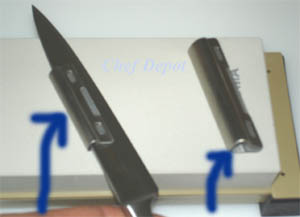 Product # CDST-G-SHARPENING-GUIDES
Retail $15.00 and up
On Sale $9.95

Our exclusive knife guides fit onto most any knife and work with any stone to give you a fast precise 15 degree sharpening angle.
Set of 2, large and small.
Chefs Note: These little clips are plastic lined stainless steel and they will help you sharpen correctly. Made in Japan!

Click here for Portable Butcher Blocks!
---
Featured Video ...
Chef is sharpening a high quality Japanese Chef knife. These knives are handmade in Japan!
Chef is using one of his favorite DMT sharpening stones on a NSF Stainless Steel Bistro Tables! Made in USA. NSF Cutting Boards are here! Made in USA. Knife clips are above!
More Japanese knives! Click Here!

---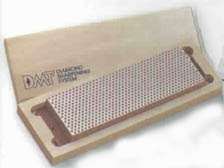 Product # CDDMTSTONEWOODCASE6INx2IN
Retail $89.00 and up
On Sale $59.75

This is a diamond sharpening stone in a beautiful solid redwood case! The 6 x 2 inch stone can be used dry or with water. This stone is excellent for knives, chisels and scissors. It has non skid rubber feet so it will not move during use. This stone will sharpen anything, quickly puts a razors edge on knives, chisels and tools! This stone is covered with a continuous monocrystalline diamond surface.
Chef Notes: It is perfectly flat and will stay that way forever.
We have used ours over two thousand times and it keeps going!
This diamond stone makes a perfect gift!

Click Here for more Diamond Sharpening Stones!
---
Receive a bottle of our 4 Star Vanilla Extract for Free with any $200.00 purchase ($200.00 or more)! Our vanilla extract is made from sun ripened hand picked Bourbon Vanilla Beans! This superior extract enhances flavors in coffee, cookies, cakes, ice cream and other foods! Up to a $20.00 value! Place your order today, limited time offer!
Click the button below to add these to your shopping cart! Another Chef Depot Exclusive!

Free Bottle of Vanilla Extract
New Kitchen Center Islands! Custom sizes are available!
---
Product # CDCAJUNSEASONINGS1LB
Retail $14.99 and up
On Sale $9.00 lb.
This is the best Cajun Seasonings that you will ever use! We blend over 20 fresh herbs & spices, no MSG and no preservatives. Perfect for blackened chicken, catfish or steak. Sprinkle a little on vegetables for the grill or spice up your burgers.
Kick it up a notch with our soon to be famous "Cajun Spices"!

Click Here for More Gourmet Items!
---
Our Madagascar Vanilla Beans are the highest quality available. They are highly prized by the Pastry Chefs who use them for their wonderful flavor and freshness. They are used extensively by Pastry Chefs and Gourmet Cooks around the world. Congratulations to Team USA, finishing 1st Place in the 2002 World Pastry Chef Championship using our vanilla beans! These Madagascar Bourbon Vanilla Beans (the best variety) are prized for their fragrant strong flavor. Our vanilla beans are very large ( 6 in. - 9 in. long), soft, plump and fresh. Please call us for large quantity discounts. Our very Large Gourmet Madagascar Vanilla Beans (click here) are 100% Completely Organic Grown and PAREVE ~ Kosher certified!

Large Stock Pots ~ Click Here !

---