Orders M - F : (630)739-5200
9:00am - 5:00pm CST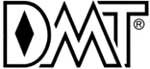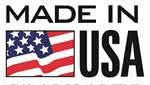 HOME| PRODUCTS| PRODUCTS II| COOKING TIPS| RECIPES| GOURMET| CUTLERY| SHARPENERS| SPORTSMANS CORNER| CONTACT US| LINKS
Diamond Sharpeners, made in the USA... On Sale! These Sharpeners are hot! Chef Depot has tested all of the diamond sharpening products on the market, including the so called "total sharpening systems" and we conclude that these and the Chefs favorite Blocks, as seen on TV, ships free! No tax sale. We save you time and money! Our pro diamond sharpeners will quickly put a razor sharp edge on any knife that has a quality steel blade. We have used the same DMT 10 inch diamond sharpening steel every day for over 14 years and it still works great! Professional Chefs, Butchers and Woodworkers love these sharpeners, you will too! These products have many uses - Sharpens and Hones - knives, chisels, router bits, ski edges, fish hooks, chainsaws, chisels, garden tools, scissors, saw blades, masonry drills, engraving tools, planers, carbide & more!
Hot Chef Designed Tables for your new kitchen!
How to Select Kitchen Knives| How to Sharpen Knives| Honing a Knife with a Steel | USA made Cutting Boards| Cutting Board Care & Maintenance
---
Chef Tables| Knife Blocks| Cleavers| Pocket Knives| Butchers Tools| Cutlery| Butcher Blocks| Chopping Blocks
---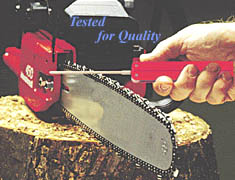 Product # CDDMTFCS5C-CHAINSAWFILE
Retail $49.95 and up
On Sale, add to the cart
This is the new DMT diamond chain saw sharpener! It has a 4 inch long 325 grit round diamond shaft. This diamond sharpener will quickly return a razor edge to any chain saw blade. Butterfly style handle folds around the diamond shaft for easy storage. Choose from 3 popular sizes below!
Chefs Note: We use ours all the time.

chain saw sharpener (5/32 in. , 4.0MM)

chain saw sharpener (6/32 in. , 4.8MM) chain saw sharpener (7/32 in. , 5.5MM) Click Here for Electric Diamond Sharpeners!

---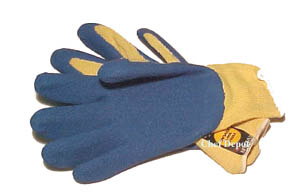 Product # CDKEVLARGLOVES
Retail Price $22.00
On Sale $12.00

This is a pair of Kevlar gloves. We use these while sharpening our chainsaws with the files above. Made from heavyweight Kevlar (bulletproof material) with a natural rubber coated palm and fingers. They resists cuts and are very hard to puncture. Preferred by professional Chefs, Fisherman, Butchers, Bikers and Landscapers everywhere. Works great for holding, trimming and cutting fruits, vegetables, large pieces of fish, poultry, meat and more. These gloves are dishwasher safe for easy cleaning. Made with thousands of pieces of tiny braided kevlar woven into the gloves. The Medium/Large size is perfect for those with average to large hands. Easily wash these in the laundry or dish machine.
Chefs Note: Great in the kitchen or the garden! We use several pairs around work and home.

Pair of Kevlar Gloves
These gloves are used by our Professional Chefs! Heavier SS chain gloves are here.
---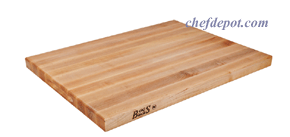 Product # CDR1812x1.75-BOOS-CUTTING-BOARD
Sale $114.95 and up - ADD TO CART
New Models! Great for Turkey, Roasts, BBQ and reversible... Free Shipping over $99.00 (cont. USA only)

New from John Boos, a thicker cutting board that is perfect for carving a roast, turkey or the backyard BBQ. This is the cutting board of choice for all the Chefs here at Chef Depot and many other famous Chefs! John Boos custom makes these cutting boards for us from first quality Solid Rock Maple, 1 3/4 inches thick Choose from 3 sizes below (11 lbs, 15 lbs, 21 lbs.). This reversible board is NSF certified and will not dull your knife! With proper care, this Maple board will last for life! Oiling it with mystery oil, will keep it looking new (available below). This board is the perfect size for smaller counter tops!
John Boos Maple Kitchen Islands are on sale - Click Here! Did you know that maple cutting boards naturally kill bacteria? Find a lower price? Call us for a free gift.
18 inches by 12 inches x 1 3/4


20 inches by 15 inches x 1 3/4 In Stock, order now, usually ships in 1-3 days !
24 inches by 18 inches x 1 3/4 In Stock, order now, usually ships in 1-3 days !
Add 3 pack of Boos Board Cream (3 pc. 5 oz. tubes)
Sale Price $38.95
New Kitchen Center Islands! Custom sizes are available!

---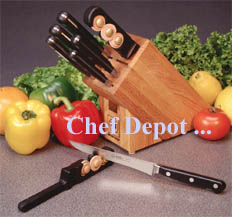 Product # CD1303MCERAMICBLACK-RTS
Add to the cart $ SAVE $
This is our new black ceramic "RTS" sharpener (RTS = replace the steel). It is perfect for anyone who wants to replace the old worn sharpening steel in the knife block with an easy to use ceramic sharpener. Easy to use, first draw your knife through the #1 rotating ceramic stones, then repeat through the #2 ceramic stones. Works with left or right hand use, fast and efficient. Lifetime Warranty included.
Chefs Note: Gift idea ! A great storage feature, this sharpener fits in any knife block. This system will put a fast razor edge on any quality blade in less then a dozen strokes. Excellent for smooth blade knives, serrated blades, broadheads, steak knives and more.

Click Here for Portable Chef Tables!
Click Here for Kitchen Tables!
---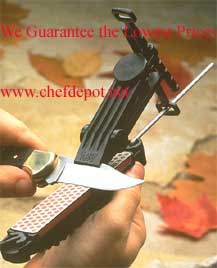 Product # CDDMTAKFCALIGNERSET
Stone set is on sale below ....
The DMT Aligner Diamond Sharpener is sold out! The replacement stones are still available. It is the best Guided Sharpening System made. The guide helps to stroke the exact edge bevel giving a consistent angle to produce the fastest, most accurate knife sharpening. Seven different angle settings, this system accepts any DMT 4 in. diamond whetstone. The kit includes the knife clamp and aligner sharpener as pictured withe two diamond stones, fine and coarse along with a heavy duty fabric storage pouch.
Chefs Note: This sharpening system recently won an award for the best new design in sharpeners!

DMT Aligner Set of 5 Stones (Ext. Coarse, Coarse, Fine, Extra Fine, Extra Extra Fine) Click Here for Butcher Blocks!

---
Product # CD1302M-CERAMIC2STAGE
SOLD OUT
Gift idea ! This is our two stage ceramic sharpener. Easy to use, first draw your knife through the 4 rotating ceramic brown stones, then turn it over and repeat through the 4 white ceramic fine stones. Works with left or right hand use, it's fast and effecient. Lifetime Warranty included.
Chefs Note: This system will put a fast razor edge on any quality blade in less then a dozen strokes. Excellent for smooth blade knives, serrated blades, steak knives and more.
Click Here for Portable Chef Tables!

---

Product # CDMUND05303SHFTPARING
Retail $12.95 and up
On Sale $5.99

This paring knife has a 3 inch long blade, it is used for cutting smaller fruits and vegetables as well as garnishing work. This paring knife has a nice thin blade that is slightly flexible, excellent for garnishing. The handle is comfortable and it has a 3 inch long German alloy steel blade. NSF certified for safety and sanitation. A 4 inch version is also available.

3 in. Sheep Foot Paring Knife

4 in. Spear Point Paring Knife $6.49 Click Here for riveted paring knives!!

---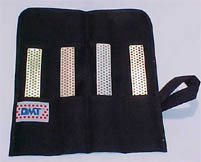 Product # CDDMTW4KSET
Retail Price $109.00 and up
On Sale $55.45

This is a 4 piece contractors set of diamond sharpening stones. The black cordura fabric tool roll holds protects the four diamond stones. The machinist grade diamond stones are 4 inches long. There is one of each stone, extra fine, fine, coarse and extra course. These stones will sharpen anything, quickly puts a razors edge on knives and tools, including carbide, glass, titanium and ceramic! These stones are covered with a continuous monocrystalline diamond surface. They are perfectly flat and will stay that way.
Chefs Note: This set is a perfect gift for a carpenter, contractor or a master of construction! A gift to last for years.

Click Here for High Heat Silicone Spatulas - makes a Perfect Gift!
---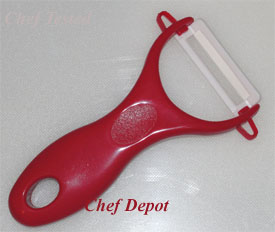 Product #CD90140-CERAMIC-PEELER
List Price $15.95 and up
On Sale $9.45

Do you have a great potato peeler?
Finally a comfortable high quality ceramic blade peeler that we like using. Made for Chef Depot from non slip high quality ergo shaped molded poly handle and a sharp ceramic blade. It is very comfortable to hold and easy to use. New style has been improved.
Chefs Note: This peeler is fast on potatoes and carrots! Makes a perfect gift for anyone who loves to cook! Click Here for More Peelers!

Click Here for Big Fat Juicy Vanilla Beans!
Click Here for Maple Tables!

---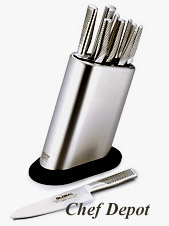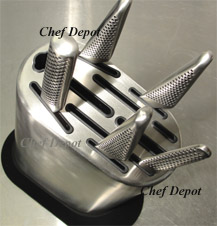 Product # CDG-83500/WSD-GLOBAL-6PC-SET
Retail $679.00 and up
Promo Sale Price
This is our exclusive 6 Piece Global Knife Set in stainless steel block. The block is solid stainless steel, no dimples. It includes a 4 in Paring Knife, 5 in. Utility Knife, 7.5 in. Chef Knife, 8.25 in. Carving Knife, 8.75 in Bread Knife, 11 slot stainless steel block. Global knives; G-4, G-3 G-9, GS-3, GS-7, G-835! See buttons below for other sets. Each handmade knife is forged from super high quality Japanese alloy steel. Each one is very sharp. Lifetime Warranty.
Chefs Note: Sweet Knife Set, cool handles, razor sharp, super thin edge, perfectly balanced and amazing CROMOVA steel blade. If you want a high quality knife set to pass through generations, you found it. Bonus: Free Offers Above & Below!
Chef Notes: We like the feel of this beauty and the extra sharp thin blade. Global knives are made from the finest high carbon stainless steel available for producing professional quality kitchen knives. Yoshikin uses its own proprietary stainless steel which it calls CROMOVA 18 Stainless Steel. This steel is hard enough for Global knives to keep their edge for a long time, but soft enough so that it is not too difficult to sharpen the knives. The CRO in CROMOVA 18 stands for chromium and the 18 is the percentage of chromium in the steel. This high percentage of chromium contributes to Global's good stain resistance. The MO and VA in CROMOVA 18 stand for molybdenum and vanadium. These two elements give a knife good edge retention. See FREE OFFERS , click link More Global knives are on sale! Click Here!

---
This time of year we are baking a lot of apple pies. Notice the nice rustic maple cuttingboard, over 6 years old, it has been oiled every month!
Famous Chefs Apple Pie Recipe and more great recipes! Click here and bookmark our website!
More Pure White Poly and Colored Cutting Boards On Sale Now! Click Here!

---
Our Blended American Walnut works well as a counter top or a unique kitchen island. A great value, and made in the USA. Our furniture quality top features a food safe clear varnique finish (or optional mineral oil). This gives you durability, ease of maintenance and beauty! These are available in 1.5 in thickness! Click here for Walnut Countertop sizes and prices! More Installed Countertops and Islands are pictured here! Click Here!
Call for sizes and prices or to order (630) 739-5200
---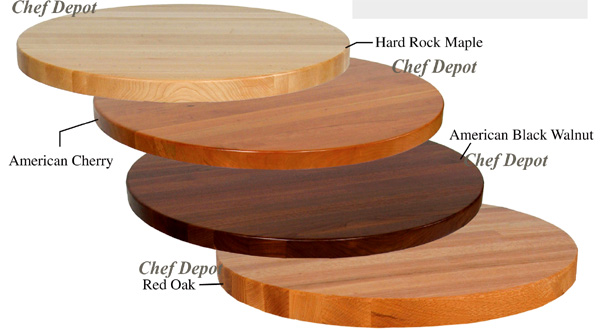 Round Butcher Block Table Tops are available in many sizes. The tops have 1 1/2 inch thick solid USA wood edge grain construction. These table tops come with a 1/4 in. radius on the top edge only and a clear durable food safe varnish finish. American Black Walnut, several sizes with pricing. American Cherry, several sizes with pricing. Hard Rock Maple, several sizes with pricing. Red Oak, click here for popular sizes/prices!
Call for prices, phone; 630-739-5200

---

Product # CDDMTCFSKFCERAMICSERRATEDSTEEL
Clearance sale $19.90


This is the DMT ceramic folding serrated knife diamond sharpener! It has a 4 inch long 1500 grit round ceramic shaft. This diamond sharpener will quickly return a fine razor edge to any serrated knife with a few strokes. Butterfly style handle folds around the diamond shaft for easy storage.
Chefs Note: This sharpener will easily sharpen any size serrated edge or guthook knife blade.


Click Here for Electric Diamond Sharpeners!


---

Product # CDDMT-FWEF-TWO-SIDED-DIAFOLD
These are now custom made to order.

If your knife block is full, click on this picture for storage ideas!
Click Here for Electric Diamond Sharpeners!


---

Product # CD09KE183-JAPANESEWHETSTONE-1500GRIT
Retail $79.00 and up
On Sale, add to the cart


Our exclusive Japanese Whetstone will produce a razor edge quickly.
This stone features a 1000 grit fine plus base.
Chefs Note: The base is very stable so it does not move around while in use. We recommend using this stone with water. The stone with base measures aprox. 8 3/4 in. x 2 in. Made in Japan. You will love this stone!






Click here for more Whetstones!

---

Product # CD09KE184-JAPANESEWHETSTONE-600GRIT
Retail $55.00 and up
On Sale $42.95


Our exclusive Japanese Whetstone will produce a razor edge quickly.
This stone features a 600 grit fine plus base.
Chefs Note: The base is very stable so it does not move around while in use. We recommend using this stone with water. The stone with base measures aprox. 8 3/4 in. x 2 in. Made in Japan. You will love this stone!






Click here for Portable Butcher Blocks!

---


Product # CD300-LEATHER-STROP-24IN
Retail $50.00 and up
On Sale $24.95

This is our new Leather Strop. Quickly puts a finish polish on your knife blades. This is a 24 inch hardwood strop that features leather on 2 sides. Side 1 is rough leather, side 2 is smooth leather. Each leather strip is perfectly flat and permanently attached to the wood. Can be clamped down or bolted down to workbench. Lanyard hole and wrist cord included. Can be carried into the field or modified. This tool will easily get your sharp knife sharper. Made in the USA!






Click here for USA made Rock Maple Cutting Boards! Used by HYATT Hotels !

More Japanese knives! Click Here!

Click Here for Butcher Blocks!

Click Here for Retro Modern Breakfast Bar Tables!


---

Product # CDCHEFS-DO-IT-WITH-SPICE-APRON
On Sale $9.95


Our premium professional Chef aprons are lots of fun! One size fits all! Chefs do it with Spice! apron is a heavy cotton poly blend for maximum comfort and durability. Made in the USA! One size fits all! A perfect gift for your lady!


Chefs do it with Spice! Apron


Great Chefs Kitchen Islands!


---

Product # CDDMT-DIASHARP-CREDIT-CARD-SHARPENER-FINE-D3F
Retail $17.95 and up
On Sale


Diasharp sharpening stones will save you time & money by quickly putting a razor edge on knives and tools. This portable, lightweight, credit card sized sharpener easily fits in a wallet or pocket for quick and effortless sharpening anywhere you go. Never a dull blade. Choose to buy the set of 3 and save a few bucks.
Chefs Note: If I was going to the moon, I would take these with me.


Set of 3 Diasharp, 325, 600, 1200 grits

Click Here for Stainless Steel Stock Pots & Double Boilers!


---

Product # CD-DMTDSS-THREE-STONE-SET
Retail $165.00 and up
On Sale $98.95


This is our exclusive DMT diamond sharpening set! It is precision manufactured to our exact specifications, right here in the USA. Each set features a Coarse 325 grit diamond stone (Blue), a Fine 600 grit diamond stone (Red) and a Extra Fine 1200 grit diamond stone (Green) each one is aprox. 6 in. x 2 in. in a hardwood box. The Monocrystalline diamonds will not break apart during use. These diamond sharpeners outlast all the competition!
Chef Notes: A perfect gift for someone who has almost everything. This diamond sharpening set will quickly produce a fine razor sharp edge on any good knife, garnishing tools and chisels with four six to six strokes. Add the clips below and get those knives ~ sharper than new! Why not buy the best?



Portable Chef Tables! Click Here!


---

Product # CDST-G-SHARPENING-GUIDES
Retail $15.00 and up
On Sale $9.95


Our exclusive knife guides fit onto most any knife and work with any stone to give you a fast precise 15 degree sharpening angle.
Set of 2, large and small.
Chefs Note: These little clips are plastic lined stainless steel and they will help you sharpen correctly. Made in Japan!






Click here for Portable Butcher Blocks!

---

Featured Video ...

A Chef shows you how to use a sharpening steel. Click Here for the featured Chef Knives!
Click Here for the featured sharpening steels! A sharp knife is required by every Chef and Gourmet cook. Chef is using one of his favorite NSF Maple Cutting Boards!
Question #1 : Should I use a Sharpening Steel or a Sharpening Stone?
Answer #1 : Use a Sharpening Steel every time you use the knife. Use the Sharpening Stones when you knife is dull or forms a burr or needs repair / reshaping. The stones are perfectly flat and give you several grits for an extra sharp edge. More Questions, call us.

---

Product # CD001481330-6IN-MEZZALINA-2-BLADES
Retail $39.95 and up
Sale Price $26.95


This is our 6 in.(15 cm) double blade mezzaluna knife! Handmade in Italy from solid stainless steel and hard beechwood! Two very sharp blades and extremely high quality! Our products are used by Chefs and Cooks around the world! This tool is made to last for years of daily use!

Click Here for Black Winter Truffles!


---

Featured Video ...

Chef is reviewing high quality sharpeners. On sale now. !
Chef is using one of his favorite DMT sharpening stones on a NSF Stainless Steel Bistro Tables! Made in USA. NSF Cutting Boards are here! Made in USA. Knife clips are above!
More Japanese knives! Click Here!


---

Product # CDDMTDSOFSTEEL10
Retail $69.95 and up
On Sale $39.95

This is the DMT 10 inch diamond sharpening steel that is the choice of most Chefs! It has a 10 inch long round steel filled with monocrystalline diamonds. Overall lenght is aprox. 16 inches. The Monocrystalline diamonds will not break apart during use. These diamond sharpeners outlast all the competition! Made in USA.
Chef Notes: This diamond steel sharpener will quickly produce an edge on any good knife with six to ten strokes. Sanitary black plastic handle is non slip and has a large ring and large hand guard.



Portable Chef Tables! Click Here!


---

Product # CDDMTDSOFSTEEL12
Retail $65.95 and up
On Sale $41.95


This is the DMT 12 inch diamond sharpening steel that is the choice of most Chefs! It has a 12 inch long round steel filled with monocrystalline diamonds! The Monocrystalline diamonds will not break apart during use. These diamond sharpeners outlast all the competition! Made in USA.
Chef Notes: This diamond steel sharpener will quickly produce an edge on any good knife with six to ten strokes. Sanitary black plastic handle is non slip and has a large ring and large hand guard. We have used ours for over 13 years and it keep on going! How to use a Sharpening Steel...




Click Here for Bamboo Cutting Boards!

---

Product # CDDMTDSOFSTEEL14
Retail $69.95 and up
On Sale $58.95

This is the DMT 14 inch diamond sharpening steel that is the choice of most Chefs! It has a 14 inch long round steel filled with monocrystalline diamonds! The Monocrystalline diamonds will not break apart during use. These diamond sharpeners outlast all the competition! Made in USA.
Chef Notes: This diamond steel sharpener will quickly produce an edge on any good knife with six to ten strokes. Call us for coarse or extra fine. Sanitary black plastic handle is non slip and has a large ring and large hand guard. We have used ours for over 13 years and it keep on going!



Click Here for Electric Diamond Sharpeners!


---

Product # CDMUND5519-6SKINNING-6IN-CLEARANCE
Retail $39.95 and up
On Sale


These are great skinning knives! We found a few boxes on the top shelf and we are clearing them out! We know a guy who has skinned out three Elk and a few Bear with this knife and a sharpening steel. This skinning knife is made by Mundial, it has a 6 in. long high carbon alloy steel blade with a non slip black handle. NSF approved. Lifetime Warranty! More Butcher Knives and Tools!


The Best Butcher Blocks Made!


---

Product # CDDMTDCS2CERAMICSTEEL12
Retail $68.95 and up
On Sale $56.95


This is the new DMT 12 inch Ulte Fine 1500 grit Ceramic sharpening steel. It is perfect for Japanese Sushi knives and honing very fine blades. It has a 12 inch long round ceramic shaft that is unbreakable! It is very light and nonpourous.
Chef Notes: This ceramic sharpener will put a razor edge on any sharp blade with ten strokes. Made in USA. Sanitary black plastic handle is non slip and has a large ring and large hand guard! How to use a Sharpening Steel...




Click Here for Pro Chefs Cutting Boards! Made in USA !

---

Product # CDKNIFEHOLSTER005BLACK
Retail $49.99 and up
On Sale $29.99


Our exclusive "Chef Knife Holster" is perfect for the busy Chef! This Chef Holster will hold a 10 in. blade Chef knife (or smaller), a 12 in. sharpening steel (or smaller), boning knife, paring and tourne knives, a thermometer, tongs and more! This holster is dishwasher safe and made from a very durable canvas to guard your sharp knives. It is also called a "knife scabbard" as used by Escoffier. Works for Righty or Lefty.
Chefs Note: This holster will help to eliminate the loss of knives and tools. It also makes kitchen prep time more effecient. This holster is black (pictured in red only to show it holding knives). The heavy duty belt is quick locking and easily adjustable, one size fits all. We recommend knife guards to protect the knife edge and the holster. Click link for Knife Edge Guards. Click link to see the knife holster video.

Click Here for Electric Diamond Sharpeners!


---

Product # CDMUND56108BCHEF
Retail $29.99 and up
Clearance Sale $23.99


This is a 8 inch Chef knife, it is used for most cutting and chopping work. The handle is comfortable and it has a 8 inch long German alloy steel blade. NSF certified for safety and sanitation. The knives feature Sanitized Antimicrobial Protection which protects the knife handle from bacterial growth. These knives meet all international safety and health standards. A very good quality knife for food preparation. Lifetime Warranty!


Click Here for Electric Diamond Sharpeners!


---

Product # CDMUND5601-3.25PARING-BLACK
Retail $10.00 and up
Promo Sale $5.79


This is the new Chefs Paring Knife! This knife has an unbreakable poly handle. These knives have 3 1/4 inch long, stamped thin, no stain high carbon alloy steel blades. Chefs Note: A great little paring knife that is great for most small cutting and peeling tasks. We like the large tapered handle. Lifetime Warranty! NSF certified. Click here for more NSF Stamped Foodservice Knives!

Click here for more sharpening steels!


---

This Round Solid Maple End Grain (checkerboard look) Cutting Board is made from select #1 grade Hard Rock Maple. Our USA made logo cuttingboard features a rounded top edge and it's oil finished. New, now available in Lyptus, Walnut and Cherry, see below. We like these round cuttingboards for serving cheese platters at holiday parties! America's Heritage custom makes these cutting boards for us from first quality solid rock maple! Choose from two sizes below! The 20 lb. round cuttingboard measures 18 inches in diameter by 3 1/2 inches thick! The 11 lb. round cuttingboard measures 15 in. x 2 in. thick. Maple cutting boards will not dull your knife! With proper care, this Click here - Our Commercial Maple boards can last for life! Oil it every month with mystery oil, to keep it looking new. Did you know that maple cutting boards naturally kill bacteria? These boards meet all NSF standards.
Free shipping to most areas of the USA.


18 in. x 3 1/2 in. Round End Grain Maple Cutting board,
These exclusive cuttingboards are on sale for a limited time!





---


This is a Brook Trout. Click on the fish to learn more about fishing. Image courtesy of the California Department of Fish and Wildlife.


---

Product # CDDMTFF70FFISHHOOKSTONE
Retail $29.00 and up
On Sale $11.49


This is a diamond fishhook sharpening stone! A few strokes on the diamond surface or in the groove will produce the sharpest hook possible! This stone is also excellent for small knives. This stone is covered with a continuous monocrystalline diamond surface. It is perfectly flat and will stay that way forever. Big enough for quick sharpen a fillet knife too.
Chefs Note: Sharp hooks catch more fish! Makes a perfect gift!



Click Here for Bamboo Cutting Boards!
Click the green arrow on the right for more Products, Email Us for more Sharpeners!




DMT Products:
Page1 |
Page2 |
Page3 |
Page4 |
Page5 |
Page6 |
Page7 |
Page8 |
Page9 |
Page10 |

---

Copyright 1999 - 2022 Chef Depot Inc.
All Rights Reserved.
Legal Notice and Copyright

Customer Service - E-mail us or phone:(630) 739-5200

Customer Feedback : Small and Large Diamond Files , diamond sharpeners for knives, chisels, ceramics, crystal repair shop #shopping