This is a new Kasumi Titanium Filet & Carving Knife, with a 7 3/4 in. blade, it's the sharpest and slickest blade made. The edge that it holds is hair splitting and remains throughout heavy use. The non slip ergo poly handle is very comfortable and virtually indestructible, perfect for every serious Chef. We could not believe how sharp these knives were until we tried each one. It simply glides through most any food. The outstanding Kasumi Titanium coated blade has been achieved by combining the best of advanced modern manufacturing. Keeps a sharper edge longer than other knives.
Chefs Note: Slicker than oil on water! Possibly our favorite knife. Cuts through sushi rolls like butter. Comfortable, lightweight and perfectly balanced. Each knife is carefully finished by the hands of skilled craftsmen. You will love this knife! Lifetime Warranty. Free Shipping in Cont. USA!

---
Product # CD5983CANDY-DEEP-FRY-THERMOMETER
Retail Price $29.00 and up
On Sale $13.85

The Taylor Classic Candy-Deep Fry Thermometer features easy-to-read to read temperature zones. Range from 100 F. to 400 F. Insulated handle with built-in pan clip. Durable stainless steel construction. 12 in. long. Dishwasher safe, reads temp range for chocolate melting, candy making stages: soft ball, thread, hard ball and hard crack ranges, as well as deep frying temperature.
Chefs Note: Many great candies are produced with the aid of this instrument. Features a bright red bar for easy temperature reading. Pastry Chef Laurie wrote: This is my very favorite candy thermomter. I just latch on the side of the pan and come back to check for the proper temp. I have two of these and give them out for gifts.

Chocolate Blocks from Switzerland!
---

Product # CD005011050WALLTHERM
Retail Price $33.00 and up
On Sale $15.95

This high quality thermometer is designed for food storage use and wine storage it is easy to read in low lighting. Heavy duty baked on enamel on solid steel. 12 inches long. We recommend this thermometer for walk in coolers, freezers, dry storage, wine storage or hanging in the barn! Temp. range is -30F. to 120F, Celsius too. This unit will last for decades, even outside.

Whole Nutmeg, Cinnamon & Dried Oregano ~ Buy Bulk and save!
---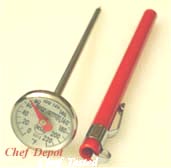 Product # CD3512-0220REDTAYLORTHERM
Retail $11.99 and up
On Sale $4.99 to $5.99

This is the new Taylor instant read bi metal thermometer! This Pocket Thermometer reads 0-220 F., adjustable, accurate within 1 degree. We give you a free 1 year Warranty on this thermometer! Order 1, by the dozen, or call us for large quantity discounts. Easily recalibrates, used by most Chefs.

How to Calibrate a Food Thermometer - Click Here!


1 Thermometer 0-220 $5.99


12 Thermometers 0-220 $4.99
Click Here for Chef Tables!

---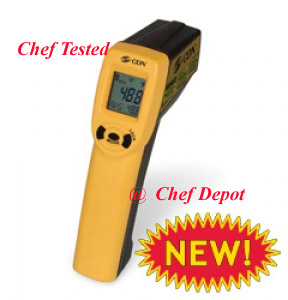 Product # CD-CDN-IN1022-LASER-THERMOMETER
Retail $99.99 and up
On Sale $75.59

Our new laser therm has 1 button operation. Reads from -76 to 1022 f. or 60 to 550 C. One second response with pinpoint accuracy, without contact of food. Backlit display measures 7/8 in. x 1 in., making it easy to see in any condition. Constructed of shatterproof ABS. Ideal for measuring surface temperatures of food and anything else. Great tool for checking temperatures of food being served or stored in refrigerator or freezer, 1 year limited warranty; 2 AAA Batteries incl. Point the Digital Infrared Laser Thermometer at item, press the trigger, and within a second the unit provides the accurate temperature reading.



Click Here for Chef Tables!
---

Product # CD9844-14-392WHITE-TAYLOR-THERM
Retail $26.99 and up
On Sale $16.95

This is the new Taylor White Digital Pocket Thermometer!
This Pocket Thermometer reads 14 to 392 F., or -10 to 100 C., On. Off Button, cell battery included, very accurate and fast.
We give you a free 1 year Warranty on this thermometer!
Chefs Note: Cool White, the choice of many Foodservice Pro's and Hospital Employees. Large quantity discounts are available.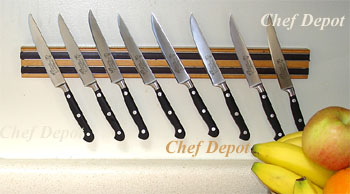 If your knife block is full, click on this picture for storage ideas!

Click Here for Chef Tables!

---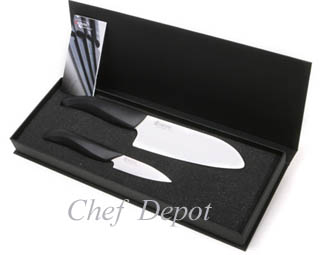 Product # CDFK-2PC-WH3-KYOCERASET-IN-GIFT-BOX
Retail $99.99 and up
Temporary Sale Price Reduction $64.95
This is the new 5 1/2 in. Kyocera Ceramic Santoku Knife and 3 in. Paring Knife Gift Set. These knives holds an edge without sharpening. This set comes in an attractive gift box. This is a great ceramic knife set, very comfortable and easy to use. The ultra sharp ceramic blades cut with precision and accuracy every time maintaining a razor-sharp edge for many years. These knives are made of an advanced, high-tech ceramic, second in hardness only to diamond, it was originally developed for industrial applications where metal components failed.
Chef Notes: Makes a perfect gift! We tested several brands of ceramic knives - Here's the results!
Kyocera was the only knife sharp enough to meet our demands, the others were too dull or the blades were too thin and brittle. Only Kyocera Knives scored very high in sharpness, quality, workmanship, material and warranty. These knives are a great choice for Chefs and Gourmet Cooks! Ceramics are perfect for slicing, dicing, chopping and mincing meats, garlic, carrots, onions, celery, fruits and more!
Click Here for Maple Chopping Blocks! Simply the best!
---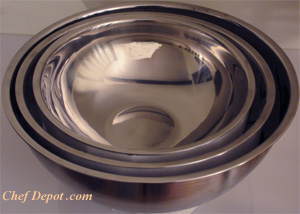 Product # CD5133-3QT-5QT-8QT-STAINLESS-STEEL-MIXING-BOWL-SET
Retail $89.95 and up
Sale Price $39.95

The Stainless Steel Mixing Bowl Set nests together for easy storage. Heavy Duty set has a 3 qt., 5 qt., 8 qt. extra thick stainless steel mixing bowls! 3 Quart bowl holds aprox. 2.8L, 5 Quart holds aprox. 4.7L, 8 Quart holds aprox. 7.6L. The bowls are very thick stainless steel. I can stand on them and they do not bend. These will last through years of use.
Chefs Note: These are the bowls used by professional Chefs! We supply restaurants and hotels with these mixing bowls. Click here for larger size SS bowls.
Click Here ~ Colored High Heat Spatulas & Spoonulas!

Click Here ~ Kyocera Ceramic Knives! Simply the best!
Office Workers rate our Mundial scissors #1!
Our scissor sharpeners are easy to use!
---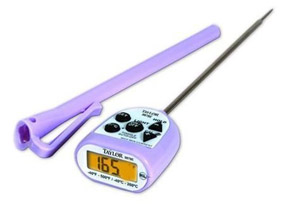 Product # CD09878EPURFDA-PURPLE-DIGITAL-THERM
Retail Price $39.95 and up
On Sale $19.95

This is the new FDA Allergen Waterproof professional model Taylor digital thermometer. It reads in a second and is accurate it's also waterproof. Temperature range -40 F to 500 F / -40 C to 260 C. 1.5mm FDA recommended smaller probe diameter tip. Hold and Minimum/Maximum temperature features. On/Off button and auto shut off to conserve battery life. Large backlight button - on or off setting. Thinner stainless steel stem probe makes a smaller puncture into the food. Anti-microbial plastic storage case inhibits growth of bacterial odor and mold. Waterproof and dishwasher safe. Recalibratable - complies with HACCP requirements. lithium battery included. NSF listed. This thermometer has an automatic off switch (can be disabled) for long battery life. We recommend this thermometer for all Pro Chefs and home kitchen use, cooking grilled & roasted foods, microwave reheating and candy making.

Click Here for Rock Maple Cutting Boards!
---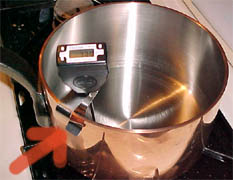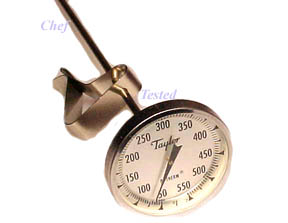 Product # CDTHERMPANCLIP122
On Sale $2.99


This is our thermometer "Pan Clip", it will holding a digital or pocket thermometer to any pot or pan. It is made from flexible stainless steel and will fit most thermometers! We like to use it for sugar and candy making with the pro series digital pocket thermometer pictured above! Click links below to view more products!

Click Here for Chef Blocks / Tables! Made in USA.
---
Product # CDJC509940-MINI-KNIFE-WITH-WOOD-SHEATH
Retail $19.95 and up
On Sale $11.95


This is a new Mini Santoku Knife, with a 4 in. blade, 7 3/4 in overall. It's a sharp knife for picnics and slicing while on the go. The traditional "D" shaped Cherry Wood Handle is comfortable.
Chefs Note: Sharp double bevel blade and a nice feel. You will like this knife! Lifetime Warranty. Spend $99.00 ~ Free Shipping in Cont. USA!


Mini Santoku Knife
Traditional Japanese Sharpening Stones!
Click here for Maple Kitchen Carts!
---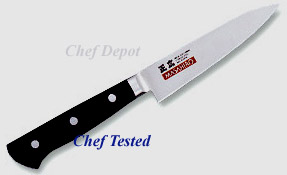 Product # CD14902-MASAHIRO-UTILITY-5IN
Retail $125.95 and up
Sale Price $96.95

This is a new MASAHIRO MV Utility knife with a 5 in. blade. The MBS-26 High Carbon steel blade is one of the sharpest and strongest blade made. Crafted by hand in Japan. The unbreakable poly handle features 3 perfect rivets. The edge that is holds is hair splitting and remains throughout heavy use.
Chefs Note: Yes, another favorite knife. We tried it out cutting, chopping and dicing vegetables, WOW, this is a perfectly balanced knife. You will love the balance and thin blade!
All MASAHIRO knives are available at low prices, please call us 630-739-5200
Click here for more MASAHIRO!

MASAHIRO 5 inch Utility Knife
Click here for more Masahiro Knives!
---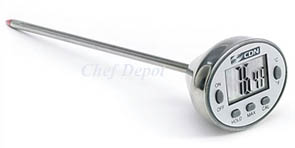 Product # CD-DTQ450-CDN-DIGITAL-STAINLESS-THERMOMETER
Retail $29.95 and up
On Sale $16.95

Our new Digital Thermometer is a great value. Features: Instrument Range: - 40 to + 450 F, - 40 to + 230 C, approved 5 in. (12.7 cm) stem. Waterproof, shatterproof, 1/2 degree accuracy. For thin cuts of meat, fish or poultry, Data hold, Big digits, Stainless steel housing, Recalibratable, On/off switch and auto off feature. Temperature guide on sheath, Sheath can be used as handle extension, Pocket clip, 1.5V Button IEC LR44 Alkaline. 5 year mfr. warranty. Press the ON/OFF button to use the Thermometer. Press the ON/OFF button to turn it off and conserve battery life. The thermometer automatically turns off after 10 minutes of inactivity. Before withdrawing the thermometer from the food, press the HOLD button, this will HOLD the reading until pressed again. Many other features.
Chefs Note: Cooks Illustrated magazine rated this as the best digital thermometer for the price.
More Kitchen Tools, click here...

Chef Tested Chef Knives! Very Sharp & Lifetime Warranty!
---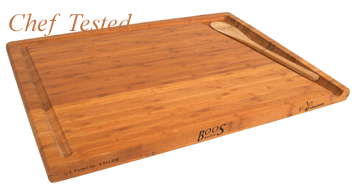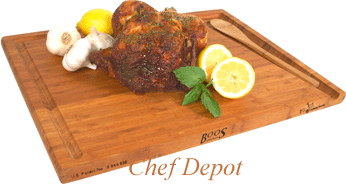 Product # CDBOOS-AUJ2015-CARVING-BOARD
List Price $149.95 On Sale $99.95
New, the Boos Maple Carving Board features the Flavor Savor Canal, a useful juice groove that collects the juice and makes it easy to pour into your serving dish. A bonus long handle bamboo spoon will be included! Made from select high quality hardwood. Measures 20 in. x 15 in. x 1.25 in. thick. Rubbing with mystery oil or board cream, every few months will keep your cuttingboards looking new. Order mystery oil or board cream by clicking here.

Click here for more big Counter Top Cutting Boards.
---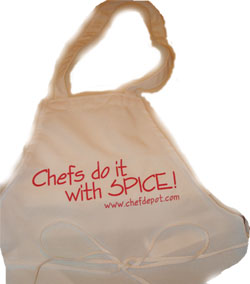 Product # CDCHEFS-DO-IT-WITH-SPICE-APRON
On Sale $9.95

Our premium professional Chef aprons are lots of fun! One size fits all! Chefs do it with Spice! apron is a heavy cotton poly blend for maximum comfort and durability. Made in the USA! One size fits all!

Chefs do it with Spice! Apron
Great Chefs Kitchen Islands!
Chef Tested Knife Sets are on sale!
Click Here for more food storage ideas!
---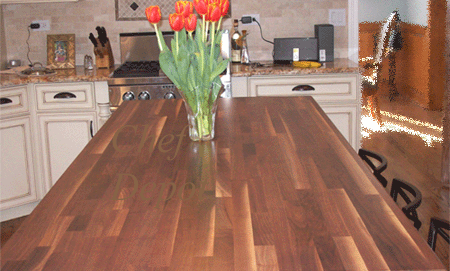 Our Blended American Walnut works well as a counter top or a unique kitchen island. A great value, and made in the USA. Our furniture quality top features a food safe clear varnique finish (or optional mineral oil). This gives you durability, ease of maintenance and beauty! These are available in 1.5 in thickness! More Installed Countertops and Islands are pictured here! Click Here!
Call for sizes and prices or to order (630) 739-5200
---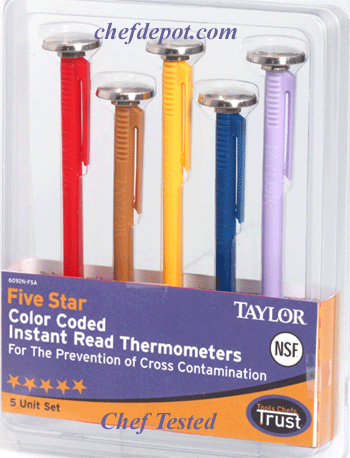 Product # CDHACCP-THERMOMETERS-6092NFSA-5PCS
Retail Price $75.95 and up
On Sale $49.95

Our exclusive HACCP Color Coded Digital Thermometer set by Taylor will make your foodservice kitchen a safer place. This set can help reduce cross contamination. Each digital thermometer features fast display reads in a second and is accurate +- 1 degree F.,. The set is ideal for foodservice operations. The digital readout varies from 0 - 220 degree's Farenheit (also Celcius). A few features are: antibacterial pocket sheath for easy storage (it kills germs on contact after each use). NSF certified, FDA approved. We recommend this thermometer set for any commercial kitchen operation. Contact one of our Foodservice Pros for other HACCP products, learn more here. Large quantity discounts.

Click here for Solid Black Walnut Cutting Boards! Made in USA!
---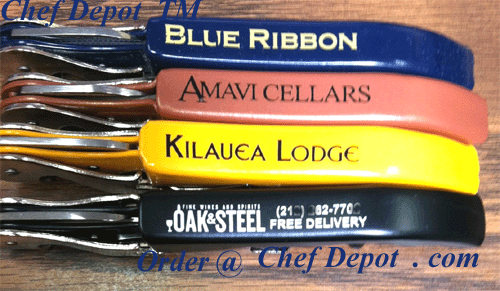 These are our Laser Engraved Wine Openers. Made in Italy! 72 or more pieces, we can engrave your company, names, winery, restaurant, wedding or website on these! Click Here = Wine Openers! Large Quantity Discounts are available! Email or Call us today: 630-739-5200

Click Here for Maple and Walnut Chef Blocks!

---


Product # CD2012-TELESCOPE-MARSHMELLOW-FORK
Retail $15.99 and up
On Sale $9.99

This expanding marshmellow fork helps get your marshmellows perfect without getting toasted! Measures 10 1/2 inches and expands up to 33 inches! Colors will vary, and these are mighty good tools. Summers coming ...Great gift idea!

Click Here for Large Mixing Spoons & Paddles!
---
Product # CDECONODIGITHERM8940000
Retail $29.00 and up
Sale Price $17.99

This Taylor digital thermometer is on sale! It has a temperature range of -58 to 302 degrees F. It comes with an extra long life battery and a pocket sleeve. The large east to read digital numbers make it easy to use. The package contains a chart for correct cooking temperatures for meats, poultry, fish and leftovers. On sale for a limited time!
We have the low prices!
Click links below to view more products!


Click the green arrow on the right for more thermometers and scales!


Taylor Products:
Page1 |
Page2 |
Page3 |
Page4 |
Page5 |
Page6 |
Page7 |
Page8 |
---

Copyright 1999 - 2015 Chef Depot Inc.
All Rights Reserved.
Legal Notice and Copyright
Customer Service - E-mail us or phone:(630) 739-5200



Customer Feedback