Chefs do it with Spice! Apron
Great Chefs Kitchen Islands!
Click Here for Electric Diamond Knife Sharpeners!
Click Here for More German Chef Cutlery!
Click Here for Chefs Cutting Boards!
---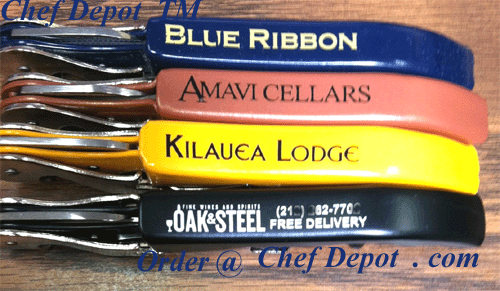 These are our Laser Engraved Wine Openers. Made in Italy! 72 or more pieces, we can engrave your company, names, winery, restaurant, wedding or website on these! Click Here = Wine Openers! Large Quantity Discounts are available! Email or Call us today: 630-739-5200

Click Here for Maple and Walnut Chef Blocks!

---
Product # CDFK25BUWHKYOCERA-BLUE
Retail $40.00 and up
Temporary Sale Price $19.95
This is the new Blue 3 in. Kyocera Ceramic Paring Knife, it holds an edge without sharpening. This is a great ceramic knife, it's very comfortable and easy to use. The ultra sharp ceramic blade cuts with precision and accuracy every time maintaining a razor-sharp edge for many years. These knives are made of an advanced, high-tech ceramic, second in hardness only to diamond, it was originally developed for industrial applications where metal components failed.
Chef Notes: The Blue color is like the ocean, very comfortable and easy to find in the block or drawer! This knife is a great choice for Chefs and Gourmet Cooks! Ceramics are perfect for slicing, dicing, chopping and peeling; garlic, carrots, onions, celery, pears, apples, oranges & fruits.
More Colors Are Here!
More Cool Colors are here!!!
---
These are black magnetic knife racks. They are made from durable high impact black polymer with two large heavy duty magnets. They are very powerful and easily hold scissors, knives, shears, melon ballers, garnishing tools, cake spatulas and more.
These very powerful magnets will help you organize drawer space and display your kitchen tools.
12 in. Magnet (On Sale $12.99)

18 in. Magnet (On Sale $14.99)24 in. Magnet (On Sale $18.99)Click Here for Maple Knife Storage Blocks!

---

Product # CD88020-KASUMICHEF-8IN
Retail $210.95 and up
On Sale $163.95
Price Match by AM $152.20

This is a new Kasumi Damascus Chef Knife with a 8 in. blade, it's the sharpest damascus blade made. The edge that it holds is hair splitting and remains throughout heavy use. The non slip ergo handle is very comfortable and virtually indestructible, perfect for every serious Chef. We could not believe how sharp these knives were until we tried each one. Kasumi knives are made from 33 layers of stainless steel in Seki Japan. Kasumi V Gold No. 10 Damascus Knives are crafted from the most advanced materials with the most advanced manufacturing techniques. Only the middle layer acts as the cutting edge, and it is made using V Gold No. 10 stainless steel. Each Kasumi knife blade is a high carbon stainless steel with cobalt, manganese, molybdenum and vanadium for added durability and ease of sharpening. The layers on both sides of the Kasumi knife V Gold No. 10 core are made by repeatedly folding together two different types of stainless steel and forge welding them by hand until you have sixteen exceedingly thin alternating layers. These sixteen layers are then forge welded to both sides of the V Gold No. 10 core. The addition of cobalt to this steel requires special tempering in order to maximize the full benefit of this steel. The technique for this special tempering is a closely guarded secret. Each Kasumi knife has a laminated pakka wood handle secured with stainless steel rivets. They also have a full tang. The handle is made from multiple layers of wood impregnated with a plastic resin. The handle is riveted to the tang.
Chefs Note: This is the sharpest knife out of the box! Possibly our favorite knife. Comfortable and perfectly balanced. Each knife is carefully finished by the hands of skilled craftsmen. You will love this knife! A beautiful knife that will provide a lifetime of use and the ultimate in performance. Lifetime Warranty. Free Shipping in Cont. USA!
More Kasumi Damascus Knives!

Kasumi Damascus Chef Knife
Click here for Chef Tables & Chop Blocks!
---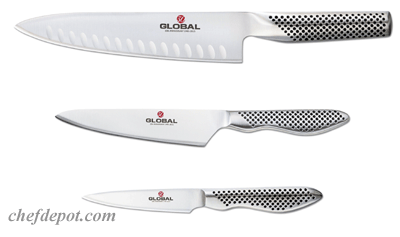 Product # CDG-773889-GLOBAL-ANNIVERSARY-3PIECE-SET
Retail $255.00 and up
$179.99 ~ sale ends soon.

The new Anniversary Edition Set is to celebrate Globals 30th year as one of the leaders in kitchen cutlery. Each blade is marked "30th Anniversary 1985-2015". Set has a 8 in. Cooks knife, 5 in. Prep Knife and 3.5 in. Paring Knife! Each handmade knife is forged from super high quality Japanese alloy steel. Used for chopping and slicing and working with fruits and vegetables. It is very sharp. Lifetime Warranty.
Chefs Note: A limited quantity made, a sweet set, cool handles, razor sharp, super thin edge, perfectly balanced and amazing CROMOVA steel blade. We like the feel of this beauty and the extra sharp thin blade. Great medium size knife for small hands too. If you want a high quality knife to pass through generations, you found it. Bonus: Free Offers Above & Below! Global knives are made from the finest high carbon stainless steel available for producing professional quality kitchen knives. Yoshikin uses its own proprietary stainless steel which it calls CROMOVA 18 Stainless Steel. This steel is hard enough for Global knives to keep their edge for a long time, but soft enough so that it is not too difficult to sharpen the knives. The CRO in CROMOVA 18 stands for chromium and the 18 is the percentage of chromium in the steel. This high percentage of chromium contributes to Globals good stain resistance. The MO and VA in CROMOVA 18 stand for molybdenum and vanadium. These two elements give a knife good edge retention. See FREE OFFERS above & below!
Great Global Chef Knife Sets ! Click Here!
---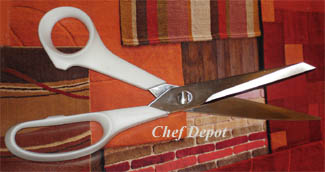 Product # CD5560MUNDIAL-BLACK-2PC-TAKE-APART-SHEARS
Retail $20.95 and up
On Sale $9.95

These are Mundial Multi Purpose 2 pc. Take Apart Shears, now with black handles! They are razor sharp, made to last and quite comfortable to use. These easily cut through most tough stuff. Two piece take apart.
These shears are 8.5 in. overall length with 5 in. blades! Lifetime Warranty. Hurry, at this price these will sell out fast!



If you like great chocolate, click strawberries!