DRIED WILD MUSHROOMS ...you have found the highest quality available, roll your mouse over the pictures, click to order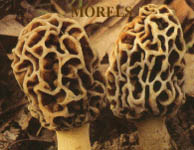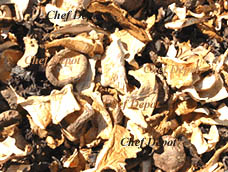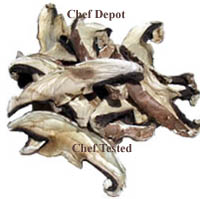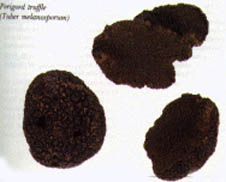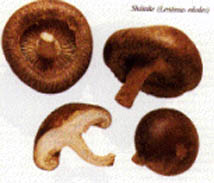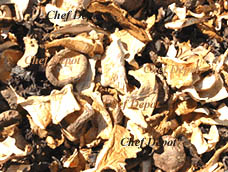 Click Here for More Wild Mushroom Pictures!
Since the beginning of time wild mushrooms have been highly prized. In ancient times it was believed that mushrooms were created by thunderbolts. This is no myth - wild mushrooms do appear after storms and they are a wonderful and healthy addition to any meal! Pictured from top are Morels, Porcini, Truffles and Shitakes.
These wild mushrooms are found in many countries around the world. They are highly prized by Chefs and gourmet cooks. They are used extensively for American, French, Spanish and Italian cooking. We guarantee our prices on these high quality dried wild mushrooms. You get to eat what you pay for! To reconstitute: Add to a stainless steel bowl and cover with hot water, soak for 15 minutes. Strain and retain the liquid for your recipe. We often chop and slice up our mushrooms on a Rock Maple or Walnut Cutting Board, ours are made in the USA.
We like wild mushrooms in soups, sauces, meat entree's or simply sauteed with olive oil, garlic and white wine.
These mushrooms all have different distinct tastes, textures and characteristics.
Morels - A wonderful taste and texture, perfect with meats and in sauces.
Porcini - A great deep flavor with a taste of nuts, excellent for any Italian dish. A favorite among Chefs! To reconstitute: Add to a stainless steel bowl and cover with hot water, soak for 15 minutes. Strain and retain the liquid for your recipe.
Truffles
- Highly prized by Chefs for their unique flavor and worldwide acclaim as the most expensive mushroom. They have a garlicy bouquet and a texture and flavor unlike any other mushroom. These mushrooms only grow on hillsides, usually under a tree, found with the assistance of a pig! More Truffle Information is below!
Shitake
- A light and delicate mushroom with a wide cap and a smooth and mild flavor.
Chantrelles
- are light tender and delicate with a sweet and nutty flavor. Beautiful in color and shape makes them highly desired in gourmet foods.
Forest Blend
- A blend of all of the mushrooms listed above. Simply perfect for pasta dishes, gourmet pizzas, terrines and wild mushroom sauces.
Wood Ear
- Ours are the best, perfectly julienne into long strips, these nutty mushrooms have a nice chewy texture, perfect for soups and sauces as well as stir fry dishes. Extensively used in Chinese cooking and fusion cooking styles.
Oyster Mushrooms
- Ours are the best, perfect soft texture, used in variety of dishes that have seafood or chicken often with a side of noodles or rice. To reconstitute: Add to a
stainless steel bowl
and cover with hot water, soak for 15 minutes. Strain and retain the liquid for your recipe.
<![if !supportEmptyParas]> <![endif]>
QUALITY & VALUE
<![if !supportEmptyParas]> <![endif]>
These dry mushrooms are about one tenth of their fresh weight. They are easy to use and shelf stable for many months, if frozen for several years. Place a small amount of mushrooms in a glass and cover with hot liquid (water, wine, stock)and plastic wrap, let sit for a few minutes. Then you can use the mushrooms for any recipe, chop, slice or dice and use.
We guarantee the lowest prices on these high quality dried wild mushrooms.
At Chef Depot we promise you the best!
MUSHROOM FACTS
<![if !supportEmptyParas]> <![endif]>
Mushrooms are a valuable health food, low in calories, high in vegetable proteins, iron, zinc, chitin, chiton, fiber, vitamins & minerals. What is a mushroom? It is the fruit (like a pear) of the mushroom "plant" and contains mushroom "seeds" called spores. The body of the mushroom in called mycelium and its individual parts are microscopic. Since the body of the mushroom is usually dispersed over a relatively large area it is rarely noticed. In nature some species of mushrooms may have a body that spreads over hundreds of square miles! Mushrooms are fungi, and are usually placed in a Kingdom of their own apart from plants and animals. Mushrooms contain no chlorophyll and most are considered saprophytes. That is, they obtain their nutrition from metabolizing, non-living organic matter. This means they break down and "eat" dead plants, like a compost pile does. The body of the mushroom stores nutrients and other essential compounds, and when enough material is stored and the conditions are right they start to fruit - produce mushrooms. Do mushrooms grow up over night? Yes. There are two main reasons that mushrooms grow so quickly: 1) Since they store up compounds between fruiting and most mushrooms fruit once a year, they have a lot of reserve available to support the mushrooms. 2) Mushrooms develop differently than plants or animals do. Plants and animals grow through cell division - to get bigger they have to produce more cells. Cell division is relatively slow and requires a lot of energy. The mushroom body also grows by cell division. However, the mushroom fruit does not grow by cell division. Just about as soon as it starts to develop, a mushroom has almost the same number of cells that the mature mushroom will have. The mushroom increases in size through cell enlargement! This means that the cells can balloon up very rapidly. Very little energy is required for mushroom growth; basically the cells just enlarge with water. So a mushroom can increase in size as fast as water can be pumped into its cells. Almost overnight a mushroom can go from a pin sized to a large mushroom.
TRUFFLE INFORMATION
<![if !supportEmptyParas]> <![endif]>
Truffles appear to grow almost magically underground, they have an exquisite flavor and they have attracted a collection of facts and legends during the last 2,500 years. For example, they were described as callosities of earth, or lumps of earthy substance balled together. There is also the controversy whether truffle pigs or truffle hounds are better at finding these prized delicacies. Pigs are better at scenting the truffles, but they are inclined to root up the prized truffle and eat it themselves, whereas hounds restrain. There are even strange stories of the night hunts that take place in the darkness with maps secretly handed down through families. The tales would not complete if we did not mention the swarms of yellowish flies that supposedly dance in the scented sunlight above a ripe truffle and the cracks in the ground exuding a wonderful odor as they open with the swelling below. As far as preparing truffles in a fashionable way is concerned, the French prefer, when using a small amount of black truffle, to combine it with egg. One method is to leave a cleaned, fresh truffle overnight in the middle of a basket of eggs: by the next day, the eggs will have taken on the flavor of the truffle. Another method is to combine the truffle with first-class quality butter from Normandy, freshly ground black pepper and, if possible, fresh cream from a farm producer rather than cream from a large factory-dairy. Served with lovely, white Burgundy, this meal becomes almost heavenly. In Northern Italy, white truffles are prepared in a wonderful way. They are first cleaned with a soft brush, followed by a damp cloth. Next they are sliced thinly and heated through. These slices are then layered with thin slices of Parmesan cheese, seasoned and brushed with olive oil. Heat through in an oven at 325 degrees and garnish with lemon quarters. Although white truffles are different from black truffles, they share a similar affinity for eggs. A dish of scrambled eggs becomes an unforgettable feast when accompanied by thinly sliced shavings of white truffle. When preparing an omelet, use a sufficient amount of sliced truffle, saute with whole butter and add to the center of your omelet, fold and serve. These few preparation techniques just mentioned are certainly excellent ways to eloquently enhance the composition of dishes with truffle. However, the very simple technique of preparing, cooking and then, of course, consuming this amazing delicacy in its own stock, with little or no fuss, and with no accompaniments, will emphasize that the truffle, truly is, both unique and, in fact, almost indescribable. It is said, the true truffle, the black truffle, is the most revered of all truffles. It grows in an area called Perigord. People will pay its own weight in gold for this prized black truffle of Perigord. It is served with foie gras, mixed with poultry, chopped and added to delicate brown sauces, combined with fresh vegetables and even laced with mayonnaise. However, once again, it is better to love this wonderful truffle for itself. It is better to enjoy the black truffle as it is, hot and without masking, chopping or hiding it. At most, perhaps, bathed in a very good, dry white wine and cooked in a covered stew-pan for approximately 20 to 25 minutes. Herbs and spices are not necessary. The aroma and taste when breaking open one of these beauties in its own stock, is said to be one of the great pleasures in life. Recently commercial cultivation has been tried with varying success. It is often hard to duplicate Mother Nature!
---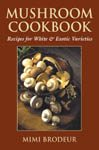 Product # CDMUSHROOMCOOKBOOK
On Sale $19.95

If you like mushrooms and preparing your own gourmet meals this book is for you! Recipes for appetizers, soups, sandwiches, side dishes, and entrees How to select, clean, store, and prepare Mediterranean Mushroom Bruschetta, Mushroom Vegetable Soup, Chicken Mushroom Fajitas, Penne Mushroom Vegetable Pasta. More than 60 great recipes with mushrooms as the main ingredient. Information on history, varieties, and nutritional value is included. 114 pages.
The author, Mimi Brodeur is a graduate of the prestigious Ecole de Cuisine La Varenne in France and has worked as a caterer, consultant, instructor, food stylist, recipe editor, and contributor to Food & Wine magazine and other publications.

New Cutlery! Chef Tested! Click Here!
---
Copyrighted by Chef Depot 1999 - 2017
Chef Depot and Chefs Depot is a Registered Trademark
<![if !supportEmptyParas]> <![endif]>