Orders M - F : (630)739-5200
9:00am - 5:00pm CST

These "Kitchen Calculators" will save you time in the kitchen! We tested these kitchen calculators and found that they really do save time and money in the kitchen. No more guessing the correct quantities or portions of your favorite recipes! We guarantee the lowest prices!
---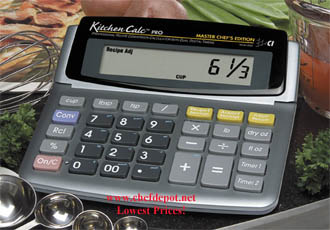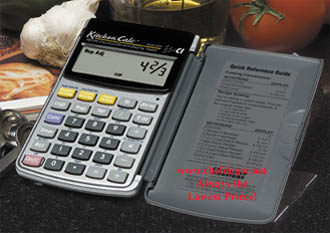 Product # CDKITCHENCALCPRO
Retail $50.00 and up
On Sale $32.45
Product # CDKITCHENCALCPOCKET
Retail $39.99
On Sale $21.69

These "Kitchen Calculators" will save you time in the kitchen.
Now you can get professional results just like your favorite Chefs in your own kitchen. You can easily and accurately adjust recipe ingredients up or down and convert items to achieve the portions and serving sizes you desire. The Pro calculator is 6 1/2 in. wide x 6 in. deep with a 1 in. x 4 in. LCD tilting display. The Pocket calculator is 3 in. wide x 5 in deep with a 1 in. x 2 1/2 in LCD display. These kitchen calculators will easily convert all food measurements (US & Metric Measures - Liquid, Dry Ingredients, Cups, Teaspoons, Tablespoons, Weight, Volume, Decimals, Fractions, Metric, Fahrenheit, Celsius, Fractions and Decimals)!
These calculators have large easy to read LCD displays. They also work with fractions or decimals. Built in digital timer with beeping alarm works even while using other functions. Built in recipe and portion size memory to store your preferred recipe and portion sizes to ensure you will get the desired quantity you want. Includes a plastic cover to protect from food spills. Also includes a long life lithium battery, users guide and one year warranty. There are two sizes, the larger model has larger buttons and easily fits on the counter during use (CDKITCHENCALCPRO). The smaller model fits in your pocket (CDKITCHENCALCPOCKET).
On Sale For a Limited Time!
CDKITCHENCALCPRO (Larger Countertop Model)


CDKITCHENCALCPOCKET (Smaller Pocket Model) $21.69Click Here for Maple Counter Tops!

---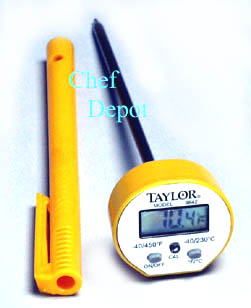 Product # CDPRODIGITHERM
Retail Price $39.00 and up
On Sale $29.99

This is the new professional model Taylor digital thermometer. It reads in a second and is accurate +- 1 degree F., it's also waterproof. The digital readout is easy to see, it instantly reads from - 40 degree's Fahrenheit to 450 degree's Fahrenheit (also Celsius). It comes with an antibacterial pocket sheath for easy storage (it kills germs on contact after each use). This thermometer has an automatic off switch for long battery life. We recommend this thermometer for all Pro Chefs and home kitchen use, cooking grilled & roasted foods, microwave reheating and candy making.

Click Here for Rock Maple Cutting Boards!
---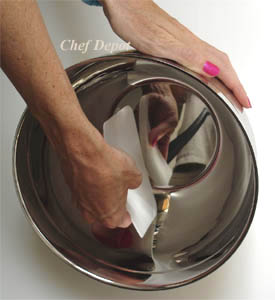 Product # CD2006WHITEBOWLSCRAPER
Retail $5.00 and up
On Sale $1.00

Our flexible plastic mixing bowl scraper is perfect for getting it all out! Used by bakers around the world, this tool is perfect for working with dough and scraping off your work table too. Measures 5 1/2 in. x 3 1/2 in. with a beveled edge on 1 side.
Some cooks like to use it for scooping up minced garlic and chopped tomatoes.
Click Here for more Mixing Bowls!
Click Here for the best Vanilla Extract you can buy!
---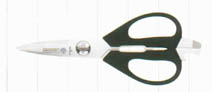 Product # CDMUNDELEGANCE6166SHEARS
Retail $35.99 and up
On Salee $19.50

These Elegance Kitchen Shears make cutting and trimming a snap. They come apart into two pieces, very easily to allow for easy cleaning! These shears are excellent to keep in the kitchen for cutting fish, chicken, pastry, paper, carpeting and cardboard. Lifetime Warranty. These shears are amazing!
Click here for Chocolate, Saffron, Peppercorns, Vanilla Beans and Gourmet gifts! The highest quality at low prices!
Click Here for Butcher Block Carts!
---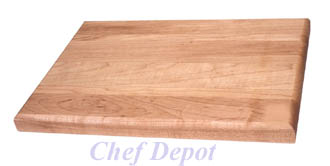 List Price $89.99 and up
On Sale $58.95
Product # CD20x15CUTTINGBOARDW/LOGO

This Solid Maple Cutting Board is made from select #1 grade Rock Maple. Our exclusive logo cuttingboard is the finest maple cuttingboard you can buy at the lowest price!
We guarantee these cuttingboards will provide you with years of cutting and chopping pleasure!
America's Heritage custom makes these cutting boards for us from first quality Solid Rock Maple! This cuttingboard measures 20 inches by 15 inches and over 1 3/4 inches thick. Maple cutting boards will not dull your knife! Oil it every month with mystery oil, to keep it looking new. With proper care, this Maple board can last for life! This board is the ideal size for most counter tops (it will not slide while cutting).
Did you know that maple cutting boards naturally kill bacteria?
These cutttingboards can not be shipped outside the USA. These boards meet all NSF standards.
Free shipping to most areas of the USA.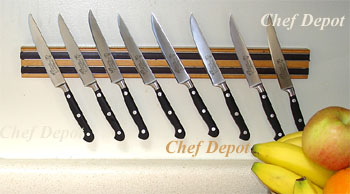 If your knife block is full, click on this picture for storage ideas!

More Sizes, on sale for a limited time!

---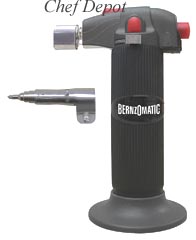 Product # CDCHEFTORCHBERNZOMATIC
Retail $48.95 and up
On Sale $36.95
One of the best "Chef Torches" made! Precision flame for detailed application or use. Adjustable flame control knob for ease in switching between different applications. Instant on trigger start for easy lighting. Lock button keeps torch lit for finger free use!
Chef Notes: This torch is very comfortable to hold and easy to use. This torch is perfect for Creme Brulee (recipe is above), Baked Alaska, Meringue Pies, Melting Cheese and browning many foods. We use it on Triple Vanilla Creme Brulee, sprinkle on top, then sugar, brown with your torch! Click Here for the best Vanilla!
It also has many other uses, crafts, electronics, soldering, plumbers, etc. Operating temperature up to 2800 degrees F.
Uses a standard butane canister (one can included).
The butane cartridge will last for many refills.
Replacement torch butane fuel cartridges are available for $5.95 each! Our butane burns hotter than any other made.
Mini Torch Butane Refills are $5.95

Bernzomatic Chef Torch
Chef Torch Butane Refills (ships to Cont. USA only)

Click the green arrow on the right for Digital Thermometers and Scales!


---
John Boos:
Page1 |
Page2 |
Page3 |
Page4 |
Page5 |
Page6 |
Page7 |
Page8 |
Page9 |
Page10 |
Page11 |
Page12 |
Page13 |
Page14 |
Page15 |
Page16 |
---

Copyright 1999 - 2016 Chef Depot Inc.
All Rights Reserved.
Legal Notice and Copyright
Customer Service - E-mail us or phone:(630) 739-5200



Customer Feedback