Click Here For Butcher Block Carts!
---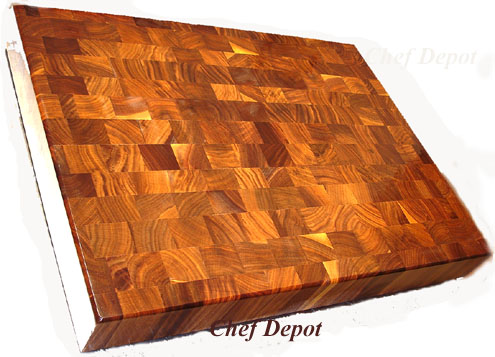 Product # CD-WGQ99999-24x18x3END-GRAIN-WALNUT-BLOCK
List Price $459.99 and up
On Sale $279.95

Our Exclusive 24 in. x 18 in. x 3 in. End Grain Walnut Cutting Board features a 3/8 inch radius on the top edges and corners! It can be used for chopping, dicing, Slicing and serving! These cutting boards feature a mineral oil finish, made in USA. Weight 35 lbs. This hand made piece will be enjoyed by your family and guests! Use the Elixer Oil to keep it rich and preserved. These boards meet all NSF standards.
Free shipping to most areas of the USA.

Chefs Favorite Butcher Block Tables!
---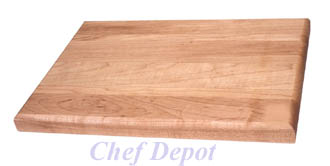 List Price $69.99 and up
On Sale $48.95
Product # CD20x15CUTTINGBOARDW/LOGO


This Solid Maple Cutting Board is made from select #1 grade Rock Maple. Our exclusive logo cutting board is made from select maple! These cutting-boards will provide you with years of cutting and chopping pleasure! America's Heritage custom makes these cutting boards for us from first quality Solid Rock Maple! This cutting board measures 20 inches by 15 inches and over 1 3/4 inches thick. Maple cutting boards will not dull your knife! Oil it every month with mystery oil, to keep it looking new. With proper care, this Maple board can last for life! This board is the ideal size for most counter tops (it will not slide while cutting). Did you know that maple cutting boards naturally kill bacteria? These cutting boards can not be shipped outside the USA. These boards meet all NSF standards. Free shipping over $99.00 to most areas of the USA.

These exclusive cuttingboards are on sale for a limited time. More sizes are here.
---

Product # CDMUND056076002BONINGONSALE
Retail Price $21.50 and up
Clearance Sale $7.25 to $7.95

We currently have an overstock of Mundial "Boning/Fillet Knives" so we are having a "Clearance Sale"! The knife has a comfortable non-slip handle with a 6 inch German alloy steel blade. This knife will hold an edge for a long time and easily resharpens. We like it for filleting fish and boning out pieces of pork, beef and lamb. NSF approved for safety. Lifetime Warranty! We guarantee you will like this boning knife! Choose from Black or White below!

Black Handle Boning/Fillet Knife $7.50


SIX Black Handle Boning/Fillet Knives $7.40 ea.
TWELVE Black Handle Boning/Fillet Knives $7.25 ea.
White Handle Boning/Fillet Knife $7.95
Click Here for 400 lb. Butcher Blocks!

---
Product # CDG-835/WS-GLOBAL-6PC-SET
Retail $619.00 and up
Sale Price $494.95
This is the new 6 Piece Global Knife Set in stainless steel block. It includes a 4 in Paring Knife, 5 in. Utility Knife, 7.5 in. Chef Knife, 8.25 in. Carving Knife, 8.75 in Bread Knife, 11 slot block. Global knives; G-4, G-3 G-9, GS-3, G-7! Each handmade knife is forged from super high quality Japanese alloy steel. Each one is very sharp. Lifetime Warranty.
Chefs Note: Sweet Knife Set, cool handles, razor sharp, super thin edge, perfectly balanced and amazing CROMOVA steel blade. If you want a high quality knife set to pass through generations, you found it. Bonus: Free Offers, Click on More Global Knives Below!
Chef Notes: We like the feel of this beauty and the extra sharp thin blade. Global knives are made from the finest high carbon stainless steel available for producing professional quality kitchen knives. Yoshikin uses its own proprietary stainless steel which it calls CROMOVA 18 Stainless Steel. This steel is hard enough for Global knives to keep their edge for a long time, but soft enough so that it is not too difficult to sharpen the knives. The CRO in CROMOVA 18 stands for chromium and the 18 is the percentage of chromium in the steel. This high percentage of chromium contributes to Global's good stain resistance. The MO and VA in CROMOVA 18 stand for molybdenum and vanadium. These two elements give a knife good edge retention. See FREE OFFERS above & below!
Global 6 pc. Block Set

Global Block Only (G835/KB) $149.95 More Global Knives! Click Here!

---
Product # CDFK140WH-RD-KYOCERA-EXCLUSIVE-REVOLUTION-RED
Retail $79.95 and up
Sale Price $44.95
This is the new 5.5 in. Kyocera Revolution Ceramic Santoku Knife, with Red Handle, it holds an edge without sharpening. The Revolution series feature an extra hefty black handle and a perfect balance. This is a great ceramic knife, it's very comfortable and easy to use.
The weight is about half of steel knives making it comfortable for extended use.
The ultra sharp ceramic blade cuts with precision and accuracy every time maintaining a razor-sharp edge for many years.
These knives are made of an advanced, high-tech ceramic, second in hardness only to diamond,
it was originally developed for industrial applications where metal components failed.
Chef Notes: These knives are a great choice for Chefs and Gourmet Cooks! Ming Tsai loves these knives. A rainbow of colored handles are now available, exclusively at Chef Depot. Limited Time Offer! What are you waiting for? Click Here, More Colors!
Each one of our Revolution knives comes in a beautiful presentation box.
We tested several brands of ceramic knives - Here's the results!
Kyocera was the only knife sharp enough to meet our demands, the others were too dull or the blades were too thin and brittle. Only Kyocera scored very high in sharpness, quality, workmanship, material and warranty. These knives are a great choice for Chefs and Gourmet Cooks! Ceramics are perfect for slicing, dicing, chopping and mincing meats, garlic, carrots, onions, celery, fruits and more
Click Here for More Colors!
Click Here for John Boos Maple Cutting Boards! Simply the best!
---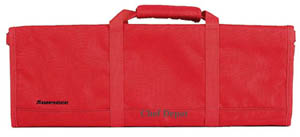 Product # CD10668R-MESSER-RED-CASE
Retail $44.00 and up
Sale Price $31.95
The new Red Messermeister Knife Case is made to hold 8 to 12 + pieces of cutlery and garnishing tools. This case is very attractive with double sewn reinforced edges and handle, extra strong elastic knife supports. It measures 21 in. x 8 in. closed and 18 in. x 20 in. opened. The 12 pc. holds even more!
Chefs Note: This great case has a hot red look and it's made to last! Red Handle Chef Knives! Click Here!
12 pc. Red Case $39.99 Hot Chef Knife Storage Cases! Click Here!

Learn about Vanilla!
HACCP Safety Information - Click Here!