Tenderizer / Cuber Order it now. This sale price will be gone soon!

Tenderizer / Cuber $148.95 Works Great!



Stainless Steel Jerky Slicer BLADES (cuts meat into perfect strips) $65.95 Ready to ship, We love Jerky...
Electric Motor Option (fits on machine, pictured below) $69.95 Saves time!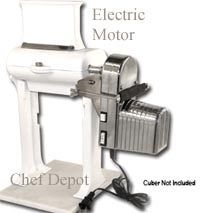 Butcher Blocks are on sale! Click Here!
Spices & Herbs (as pictured) Fennel Seed, Oregano, Rosemary, Thyme, Black Pepper, Basil, Click Here!
---
Product # CD073801W-RED-MANUAL-JERKY-SLICER
List Price $219.95 and up
Sale Price $140.95

Tenderize and prepare jerky or stir fry meat from wild game or domestic meat with the simple turn of a crank handle. This heavy duty machine will make tasty jerky out of the toughest meat! Flattens, tenderizes and cuts meat into strips. Cast aluminum construction with durable red food-grade coating for super-fast cleaning. Disassembles for easy clean up. Easily mounts on a counter, workbench or tabletop. Throat opening is aprox 5-1/4 in. long by 1-3/8 in. wide, Dimensions aprox: 13-3/4 in. x 13.5 in. x 6-3/4 in. This machine allows you to make jerky in the oven, dehydrator or smoker (marinated is best). Our Marinated Jerky is pictured here! Nothing better on a hunting or camping trip! Free Game Recipes and Marinates are here!
Ship Wt. aprox. 25 lbs. Detail operating instructions and diagrams included.
Our Tenderizers & Cubers & Jerky Slicers are all new, factory sealed units! Free Shipping in Cont. USA!
Red Manual Jerky Slicer (cuts meat into jerky strips) In Stock, We love Jerky...

Butcher Blocks will make your processing easier! On sale, click here!
Quality Flexible & Stiff Blade Butcher knivers are on sale! Click Here!
---



Product # CDHALFSPATULASCRAPER-WOODEN-HANDLE
List price $12.00
On Sale $6.50

Our heat resistant half rubber spatula is the best. Each is over 10 inches long and it's heat resistant to 800 degree's Farenheit! Currently green, colors may vary.
Chefs Note: The solid hard maple handle makes this spatula very comfortable to use. We have used a set several hundred times and they still look new. These are perfect for scraping all the foods out of cans, mayonaise jars and scraping small mixing bowls! Made in the USA.
More Chef Spatulas! Made in the USA!

Heat Resistant Half Spatula
Chef Prep Tables! Made in the USA!
Click Here for Handmade Japanese Chef Knives!
---

Product # CDCRF-12-MESSER-CERAMIC-SHARPENER
Retail $37.00 and up
Sale Price $24.95
This is the new Messer 12 in. Ceramic Sharpener! It is extra fine, aprox. 1500 grit and will help hone your knives very sharp.
Chef Notes: While a standard round metal steel is the most common, this 12 in. super fine ceramic will take your knife from sharp to very sharp. 17 in. long overall, the end features a hole for hanging it up. How to use a Sharpening Steel...
Butcher Block Cutting Boards! Click Here!
---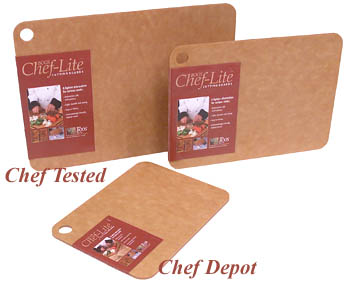 Product # CDBOOS1209E25-CHEFLITEBOARD12X9
On Sale $30.95
Our new John Boos Chef Lite Cutting Boards are lightweight and dishwasher safe. Each cutting board is made from an environmentally friendly natural wood composite laminate. For more than 40 years this has been a surface preferred by chefs in restaurants and commercial kitchens worldwide. With functional designs and exclusive surface properties, these boards are perfect for cutting and elegant enough for serving. Choose from 5 popular sizes below. Features: 1/4 in. thick, will not dull knives, dishwasher safe, nonporous surface prohibits bacteria, temperature resistant up to 350 degrees F. No oiling required.
Chefs Note: Mom has been using one for many years, she puts it in the dishwasher and floats it in the sink! It remains flat and does not crack or split! She loves the light and small size. Restaurants use our bread boards (more here).

12 in. x 9 in. x 1/4 Chef Lite Board - On Sale $30.95

15 in. x 11 in. x 1/4 Chef Lite Board - On Sale $37.95 18 in. x 13 in. x 1/4 Chef Lite Board - On Sale $52.95 17 in. x 10 in. x 1/4 Chef Lite Board - On Sale $37.95 22 in. x 10 in. x 1/4 Chef Lite Board - On Sale $45.95 16 in. x 8 in. x 1/4 Chef Lite Bread Board with handle - On Sale $31.95
Click here for Electric Knife Sharpeners!

---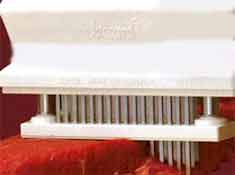 Product # CDJACCARDTENDERIZER48BLADE
Retail $50.00 and up
On Sale $26.95

This meat tenderizer is easy to use and made to last. We supply these to butchers who use them for years! This Triple Action Tenderizer is available with 48 stainless steel saber blades set in 3 parallel rows of 16 or a single row of 16 blades (Rockwell Hardness of 50). The Jaccard Meat Tenderizer makes any boneless cut of venison, pork, veal, fish, lamb, chicken, steak and other meats very tender and easy to eat! Our models feature a safety storage case! Two sizes are available below! We use our Jaccard on the cutting board pictured below!
48 Blade Jaccard Tenderizer


Product # CDJACCARDTENDERIZER16BLADE
Retail $40.00 and up
On Sale $14.50
16 Blade Jaccard Tenderizer
Click Here for Rock Maple Cutting Boards! We use ours everyday!
Click Here for Venison Recipes!
---
Product # CDFK140WH-RD-KYOCERA-EXCLUSIVE-REVOLUTION-RED
Retail $79.95 and up
Sale Price $53.95
This is the new 5.5 in. Kyocera Revolution Ceramic Santoku Knife, with Red Handle, it holds an edge without sharpening. The Revolution series feature an extra hefty black handle and a perfect balance. This is a great ceramic knife, it's very comfortable and easy to use.
The weight is about half of steel knives making it comfortable for extended use.
The ultra sharp ceramic blade cuts with precision and accuracy every time maintaining a razor-sharp edge for many years.
These knives are made of an advanced, high-tech ceramic, second in hardness only to diamond,
it was originally developed for industrial applications where metal components failed.
Chef Notes: These knives are a great choice for Chefs and Gourmet Cooks! Ming Tsai loves these knives. A rainbow of colored handles are now available, exclusively at Chef Depot. Limited Time Offer! What are you waiting for? Click Here, More Colors!
Each one of our Revolution knives comes in a beautiful presentation box.
We tested several brands of ceramic knives - Here's the results!
Kyocera was the only knife sharp enough to meet our demands, the others were too dull or the blades were too thin and brittle. Only Kyocera scored very high in sharpness, quality, workmanship, material and warranty. These knives are a great choice for Chefs and Gourmet Cooks! Ceramics are perfect for slicing, dicing, chopping and mincing meats, garlic, carrots, onions, celery, fruits and more
Click Here for More Colors!
Click Here for John Boos Maple Cutting Boards! Simply the best!
---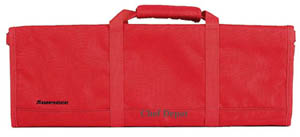 Product # CD10668R-MESSER-RED-CASE
Retail $44.00 and up
Sale Price $28.95
The new Red Messermeister Knife Case is made to hold 8 to 12 + pieces of cutlery and garnishing tools. This case is very attractive with double sewn reinforced edges and handle, extra strong elastic knife supports. It measures 21 in. x 8 in. closed and 18 in. x 20 in. opened. The 12 pc. holds even more!
Chefs Note: This great case has a hot red look and it's made to last! Red Handle Chef Knives! Click Here!
12 pc. Red Case $37.90 Hot Chef Tables! Click Here!

Hot Chef Knife Storage Cases! Click Here!

Learn about Vanilla!
HACCP Safety Information - Click Here!