Chocolate Covered Ants
(or other crunchy protein critters)
<![if !supportEmptyParas]> <![endif]>
<![if !supportEmptyParas]> <![endif]>
Recipe By
- Chef Jacques Martine'
<![if !supportEmptyParas]> <![endif]>
Yield ; 12 + Chocolates
<![if !supportEmptyParas]> <![endif]>
<![if !supportEmptyParas]> <![endif]>
Ingredients ;
100 Black Ants (avoid red ants, too spicy)
1 vanilla bean split and seeds scraped out
2 Egg Yolks
1 Tbsp. Sugar
1 tsp. Butter, melted
12 oz. Bittersweet Chocolate

Procedures -
Using a medium size pot as a double boiler, heat two cups of water and place a bowl over it. Add chocolate and turn heat to low, heat until chocolate is melted. Remove chocolate from heat and stir. In another mixing bowl, add vanilla seeds and egg yolks, beat until smooth, add sugar and wisk over medium heat until mixture reaches 160 f., remove from heat and fold in butter, let cool, then Fold in ants carefully. Take care not to smash them. They stay more flavorful and retain extra moisture if intact.
Note: The chocolate should never be heated over 100 degree's F.
Use a digital thermometer to check the chocolate. Carefully fold the egg mixture into the chocolate. Use a teaspoon to scoop and immediately place a half teaspoon of the mixture onto wax paper or place in chocolate molds. Refrigerate to harden. These tasy shapes can not be redipped and coated with nuts, powdered sugar or drizzled with white chocolate.
The chocolate covered ants can be refrigerated for up to three weeks. The chocolate helps to preserve their freshness.
<![if !supportEmptyParas]> <![endif]>
Chefs Note: The Best Vanilla Beans from Madagascar are available
in our Gourmet Section, Click Here!
<![if !supportEmptyParas]> <![endif]>
These make great dessert garnishes as well as excellent conversation after dinner!
<![if !supportEmptyParas]> <![endif]>
<![if !supportEmptyParas]> <![endif]>
<![if !supportEmptyParas]> <![endif]>
Almond Extract, Coffee Extract, Lemon Extract, Orange Extract, Mint Extracts & More! Click Here!
Check out the Chefs Butcher Block Table (click on it)...

Parmigiano Reggiano Cheese from Italy! Cheese shakers and cheese knives!


Amazing Chocolate from Switzerland & France - Lowest Prices!
Here are some helpful
Chocolate Tips!
Our Spices, Herbs & Seasonings
are the freshest available!

The Best German Knives Made! Click Here!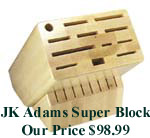 Copyright 1999 - 2014 Chef Depot Inc.
All Rights Reserved.
Legal Notice and Copyright
Customer Service - E-mail us or phone:(630) 739-5200



Customer Feedback