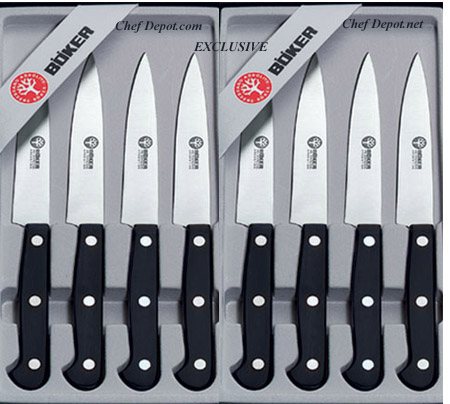 Product # CD03BA5704-4-X2-BOKER-STEAK-KNIFE-SET
Retail $199.00 and up
On Sale , click link below ! More Great steak knives, Click Here!

---

Sold Out
Product # CD20-3630BAMBOO-KITCHEN-CART-ON-WHEELS

Do you need new Chef Knives?

---
Product # CDFK110WH+CP09-KYOCERA-SET
Retail $69.95 and up
Temporary Sale Price Reduction $28.95

This is the new 4.5 in. Kyocera Revolution Ceramic Utility Knife & Ceramic Peeler Gift Set. These hold an edge for years, without sharpening. The Revolution series feature an extra hefty black handle and a perfect balance. This is a great ceramic knife, it's very comfortable and easy to use. The weight is about half of steel knives making it comfortable for extended use. The ultra sharp ceramic blade cuts with precision and accuracy every time maintaining a razor-sharp edge for many years. These knives are made of an advanced, high-tech ceramic, second in hardness only to diamond, it was originally developed for industrial applications where metal components failed.
Chef Notes: What a great gift idea! Limited time offer, then they are gone! Each one of our Revolution knives comes in a beautiful presentation box. We tested several brands of ceramic knives - Here's the results! Kyocera was the only knife sharp enough to meet our demands, the others were too dull or the blades were too thin and brittle. Only Kyocera ~ Click Here for more... scored very high in sharpness, quality, workmanship, material and warranty. These knives are a great choice for Chefs and Gourmet Cooks! Ceramics are perfect for slicing, dicing, chopping and mincing meats, garlic, carrots, onions, celery, fruits and more
Click Here for Breakfast Bar Island Tables!
---

Product # CD20-151000-TOTALLYBAMBOO-LONGATONGA-BOARD12x15x1.5
Sold Out

Our new Chefs Block like the Bees Wax treatment, to keep looking new. Chef cutting boards make an attractive serving and chopping surface. Another great gift idea!

Chefs Chop Blocks are rated # 1 !

---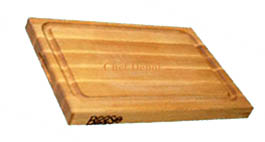 Product # CD18x12BOOSAUJUSMINI
List Price $96.00 and up
On Sale $72.95

Our new mini Aujus Cuttingboard is perfect for the backyard BBQ or carving a small roast. Flip it over and prep your vegetables, fruits, use it as a cheese board too. This is the cutting board of choice for all the Chefs here at Chef Depot and many other famous Chefs! John Boos custom makes these exclusive cutting boards for us from first quality Solid Rock Maple, 18 inches by 12 inches and over 1 1/2 inches thick. This reversible board is NSF certified and will not dull your knife! With proper care, this Maple board can last for life! Oiling it with mystery oil, will keep it looking new. This board is the perfect size for smaller counter tops. Many more hardwoods, sizes and thickness are available here! All in stock. Did you know that maple cutting boards naturally kill bacteria?
New Kitchen Center Islands! Custom sizes are available!
---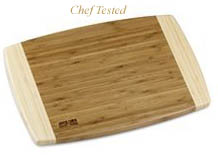 Product # CDJC34-0006-BAMBOO-BOARD14x21IN
Retail $65.00 and up
On Sale $45.95

Our new 14 in. x 21 in. bamboo cutting board is burnished to a beautiful golden brown finish. Handcrafted from laminated premium bamboo using food-safe materials and techniques, this cutting board is easy on your knives. Hand clean with warm water and mild detergent; dishwasher cleaning not recommended. Bamboo is a totally sustainable natural resource and very high quality.
Click Here for Chef Knives!


Prep Tables for your new kitchen! Click Here!
---
Product # CDMUNDSC0548-3PACK-PARING-KNIVES
Retail $20.00 and up
On Sale $9.99

This is the Mundial Paring Knife with a 3 in. German alloy steel blade! It is also called a clip point style paring knife.
Perfect for small fruits and vegetables. This knife is also great for cooks and culinary students.

Click here for Butcher Supplies!
Click Here for Sushi Knives!
---
Product # CD030401-OLIVE-MAGNETIC-BLOCK
Retail $249.00 and up
On Sale $114.95 Free Shipping in Cont. USA !

Our new solid Olive Wood Magnetic Knife Block Holder is sleek and cool. The very powerful magnets are built into the inside of the block. It is totally sealed and when you get within an inch, the powerful magnets pull the knife firmly to the block. Holds up to 7 large knives. It weighs 4 lbs. and measures 11.75 in. tall x 10 in. wide x 6 in. deep. The complete Damascus Knife Set on the right is also available below.
Chefs Note: The annoying guessing and fishing for the right knife will never happen again. Made in Europe to our exact specifications. Gift boxed. It is pictured with some of our favorite Handmade German knives!
FREE SHIPPING on ORDERS OVER $99.00!

7 Damascus Knives + Olive Wood Knife Holder (as pictured on right) $1025.00

Click here for more magnetic holders!
Click Here for Butcher Block Tables!

---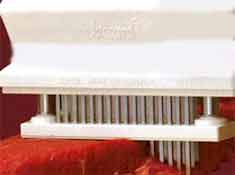 Product # CDJACCARDTENDERIZER48BLADE
Retail $50.00 and up
On Sale $26.95

This meat tenderizer is easy to use and made to last. We supply these to butchers who use them for years! This Triple Action Tenderizer is available with 48 stainless steel saber blades set in 3 parallel rows of 16 or a single row of 16 blades (Rockwell Hardness of 50). The Jaccard Meat Tenderizer makes any boneless cut of venison, pork, veal, fish, lamb, chicken, steak and other meats very tender and easy to eat!
Our models feature a safety storage case! Two sizes are available below!
We use our Jaccard on the cuttingboard pictured below!
48 Blade Jaccard Tenderizer

Product # CDJACCARDTENDERIZER16BLADE
Retail $40.00 and up
On Sale $14.50