Our exclusive "Chef Knife Holster" is perfect for the busy Chef! This Chef Holster will hold a 10 in. blade Chef knife (or smaller), a 12 in. sharpening steel (or smaller), boning knife, paring and tourne knives, a thermometer, tongs and more! This holster is dishwasher safe and made from a very durable canvas to guard your sharp knives. It is also called a "knife scabbard" as used by Escoffier. Works for Righty or Lefty.
Chefs Note: This holster will help to eliminate the loss of knives and tools. It also makes kitchen prep time more effecient. This holster is black (pictured in red only to show it holding knives). The heavy duty belt is quick locking and easily adjustable, one size fits all. We recommend knife guards to protect the knife edge and the holster. Click link for Knife Edge Guards. Click link to see the knife holster video. Click link for a fast Razor Edge with our Diamond Sharpening Steels.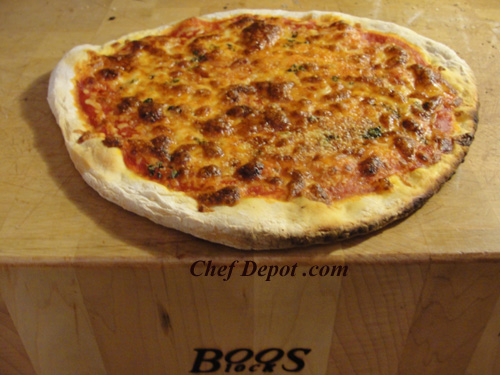 Click on the picture to check out our new butcher blocks
---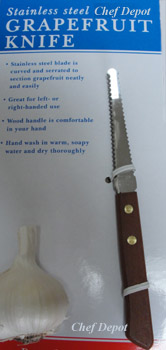 Product # CD-534C-GRAPEFRUIT-KNIFE-WOOD-HANDLE
Retail $15.00 and up
Sale Price $7.95

This is our new stainless steel Grapefruit Knife. It features a 3.5 in. blade with a slight curve. Wooden handle has rivetes and is very comfortable. Easily section your grapefruits!
Click Here for stainless steel mixing bowls!
---

On Sale $94.95
Product #CD18x12CUTTINGBOARDW/LOGO *** Bonus Free Oil Treatment ***

This Solid Maple Cutting Board is made from select #1 grade Rock Maple. Our exclusive cutting board is made from select maple! These cuttingboards will provide you with years of cutting and chopping pleasure! This cutting board measures 18 inches by 12 inches and over 1 3/4 inches thick. Maple cutting boards will not dull your knife! Oil it every month with mystery oil, to keep it looking new. With proper care, this Maple board can last for life! This board is the ideal size for small counter tops (easily stores in a cabinet or under the sink). Did you know that maple cutting boards naturally kill bacteria? NSF certified. Free shipping over $99.00 to most areas of the USA.

Maple Cutting Board 18 x 12 x 1 3/4


Maple Cutting Board 20 x 15 x 1 3/4 $114.95

Maple Cutting Board 24 x 18 x 1 3/4 $136.95

---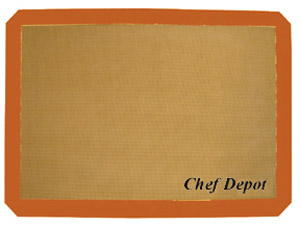 Product # CDSFBM50-HALFSHEET-SILICONE-MAT
List Price $24.00 and up
On Sale $10.95
Product # CDSFBM100-FULLSHEET-SILICONE-MAT
List Price $39.00 and up
On Sale $22.95

Our exclusive professional "Silicone Baking Mats" are used by many Goumets & Pastry Chefs!
The rubber like non stick baking mat can go from the freezer to the oven (-40 degree's F to 480 F / 250 C. ). This mat can be rolled for easy storage. Also, great to keep under a cutting board. These will help you save time with clean up!
Chefs Note: These sheets are the perfect choice for lining cookie sheets and cake pans, baking cake rolls, delicate sponge cakes, tuiles, chocolate work, sugar, candies and more! Just like the famous brand liners. Two Sizes are available, half sheet pan size (11 5/8 in. x 16 1/2 in. for standard ovens) and full sheet pan size (18 in. x 26 in. for commercial ovens). Use & Care of Silicone Baking Mats.

Half Sheet Silicone Baking Mat (11 5/8 in. x 16 1/2 in.)

Full Sheet Silicone Baking Mat (16.5 in. x 24.5 in.) Chef Prep Tables! Made in the USA!

New Kitchen Center Islands! Custom sizes are available!

---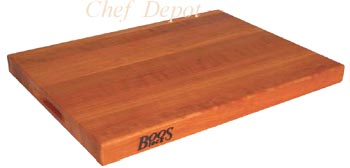 Product # CDCHYR01-CHERRYCUTTINGBOARD-12X18X1.5IN
List Price $139.95 and up
On Sale , add to the cart

Our John Boos Commercial Cherry Cutting Boards are made to last. The edge grain butcher block construction is amazing! Cherry Wood has a beautiful rich color. Perfect for daily meal preparation and serving cheese & holiday appetizers! A full 1 1/2 in. thick, these will last for years of daily use. Oiling it with the special blend of oil below, will keep it looking new for many years! Available in 3 sizes below! These boards are in stock, ready to ship.

18 in. x 12 x 1.5 in. Cherry Cutting Board $91.95


20 in. x 15 x 1.5 in. Cherry Cutting Board
24 in. x 18 x 1.5 in. Cherry Cutting Board ***Bonus Wood Treatment***
Add 3 pack of Boos Board Cream (3 pc. 5 oz. tubes)
Sale Price $29.95

Click here for 400 lb. Butcher Blocks!

---

Product # CDJ05-CHROMAJAPANCHEF-CARVING
Retail $52.95 and up
On Sale $35.95

This is the 8.75 in. Carving knife (21.6 cm) by Chroma. The knife has a nice thin semi stiff blade. These knives have a great shape, balance and weight for a lifetime of use. These forged knives are beautiful, functional and easy to clean. We guarantee it will fit your hand perfectly and you will love the balance of this award winning knife. Each one is hand sharpened and finished by the hands of a master knife maker. We gift box each piece of this fine cutlery. Lifetime Warranty!
Chefs Note: A great buy on a forged Chef/Carving knife. Ice Hardened Molybdenum Vandium Japanese Steel with the 15 degree V edge.
More Chroma knives!