Orders M - F : (630)739-5200
9:00am - 5:00pm CST

Chef Supplies are on sale!
---
Product # CD398388TOMATOCORER
Retail $9.95 and up
On Sale $1.99
This is our Tomato / Strawberry Corer. It is used to easily and quickly take the stems off of strawberries and the ends off your tomatoes!
This corer is manufactured for us out of high quality stainless steel and it removes cores easily!
Tomato / Strawberry Corer
Portable Chef Tables made in the USA!
---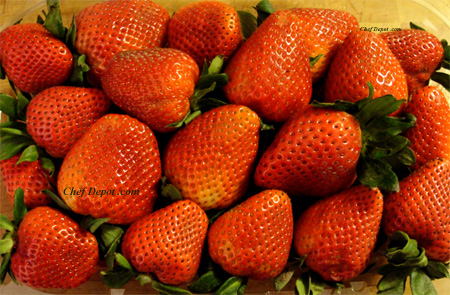 The freshest strawberry desserts star with perfect berries and our solid stainless steel corer. NSF certified!
---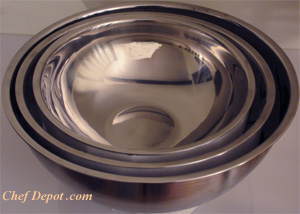 Product # CD5133-3QT-5QT-8QT-STAINLESS-STEEL-MIXING-BOWL-SET
Retail $89.95 and up
Sale Price $39.95
The Stainless Steel Mixing Bowl Set nests together for easy storage. Heavy Duty set has a 3 qt., 5 qt., 8 qt. extra thick stainless steel mixing bowls! 3 Quart bowl holds aprox. 2.8L, 5 Quart holds aprox. 4.7L, 8 Quart holds aprox. 7.6L. The bowls are very thick stainless steel. I can stand on them and they do not bend. These will last through years of use.
Chefs Note: These are the bowls used by professional Chefs! We supply restaurants and hotels with these mixing bowls.
Click Here for Colored High Heat Spoonulas! Email us for larger sizes and large quantity discounts.


Click Here for Saffron, Vanilla & Porcini Mushrooms!
---
Featured Video ...
Chef reviews high quality stainless steel bowls. Click Here for Professional Chef Knives!
Get your knives razor sharp with our sharpening stones! Get a fast edge and maintain your sharp knives with our sharpening steels! Chef is using one of his Favorite NSF Stainless Steel Tables.
---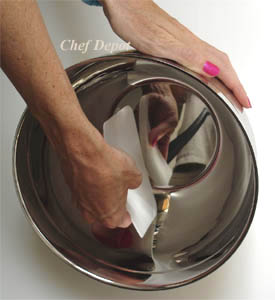 Product # CD2006WHITEBOWLSCRAPER
Retail $5.00 and up
On Sale $1.00
Our flexible plastic mixing bowl scraper is perfect for getting it all out! Used by bakers around the world, this tool is perfect for working with dough and scraping off your work table too. Measures 5 1/2 in. x 3 1/2 in. with a beveled edge on 1 side.
Some cooks like to use it for scooping up minced garlic and chopped tomatoes.
Click Here for more Mixing Bowls!
Click Here for the best Vanilla Extract you can buy!
---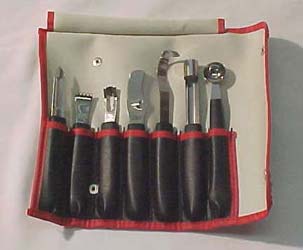 Product # CDGARNISHSET8PC
Retail $99.50 and up
On Sale $69.50

This is a professional "Garde Manger" garnishing kit.
The kit contains a peeler, zester, channel knife, citrus knife, butter curler, corer and a double melon baller. All of the pieces are stored in a black canvas vinyl carry case to protect them.
The tools are excellent for carving and sculpting fruit, vegetables, chocolate, sugar and pasteries.
This set is used by several Teams competing in the World Pastry Chef Championships!
Chefs Note: The tools are all made in Solingen, Germany and are the highest quality available. They are sharp and there are heavy welds so these will not break. We use ours for watermelon baskets, buffet centerpieces, sculptures and food competitions.

German Garnishing Set
Click Here for Titanium Cutlery!
---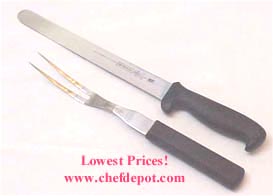 Product # CDMUNDTWOPIECECARVINGSET
Retail $46.00 and up
On Sale $19.95

This two piece carving set is perfect for carving a turkey, slicing Prime Rib or any roast meat. It also works great to slice salmon and many other items very thin. The carving knife has a 10 in. blade and it is slightly flexible. The carving fork is 12 in. overall and it is perfect for turning roasts, grilling and holding roasts while carving. NSF approved with a lifetime warranty.

Click here for Spices, Wild Mushrooms, Saffron, Peppercorns, Truffles, Vanilla Beans and Gourmet gifts!
---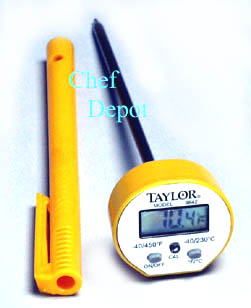 Product # CDPRODIGITHERM
Retail Price $39.99 and up
On Sale $29.99

This is the new professional model Taylor digital thermometer. It reads in a second and is accurate +- 1 degree F., it's also waterproof. The digital readout is easy to see, it instantly reads from - 40 degree's Farenheit
to 450 degree's Farenheit (also Celcius).
It comes with an antibacterial pocket sheath for easy storage (it kills germs on contact after each use).
This thermometer has an automatic off switch for long battery life.
We recommend this thermometer for all Pro Chefs and home kitchen use, cooking grilled & roasted foods, microwave reheating and candy making.

Click Here for Rock Maple Cutting Boards!
---

Product # CDMUND056076002BONINGONSALE
Retail Price $21.50 and up
Clearance Sale $9.50
We currently have an overstock of Mundial "Boning/Fillet Knives" so we are having a "Clearance Sale"! The knife has a comfortable non-slip handle with a semi flexible 6 inch German alloy steel blade. This knife will hold an edge for a long time and easily resharpens. We like it for filleting fish and boning out pieces of pork, beef and lamb. NSF approved for safety.
Lifetime Warranty!
We guarantee you will like this boning knife!

Click Here for Butcher Supplies!
---


Product # CDKYOCERAKNIFESET-REV-2PC-ORANGE
Retail $100.95 and up
Temporary Sale Price Reduction $69.95
This is our Exclusive 2 piece Kyocera Revolution Knife Set, it includes a 5.5 in. Kyocera Revolution Ceramic Santoku Knife, and a 4.5 in. Kyocera Revolution Ceramic Utility Knife, with Orange Handle, it holds an edge without sharpening. The Revolution series feature a colorful handle and a perfect balance. This is a great ceramic knife, it's very comfortable and easy to use.
The weight is about half of steel knives making it comfortable for extended use.
The ultra sharp ceramic blade cuts with precision and accuracy every time maintaining a razor-sharp edge for many years.
These knives are made of an advanced, high-tech ceramic, second in hardness only to diamond,
it was originally developed for industrial applications where metal components failed.
Chef Notes: These knives are a great choice for Chefs and Gourmet Cooks! A rainbow of colored handles are now available, exclusively at Chef Depot. Limited Time Offer! What are you waiting for?
Each one of our Revolution knives comes in a beautiful presentation box.
We tested several brands of ceramic knives - Here's the results!
Kyocera was the only knife sharp enough to meet our demands, the others were too dull or the blades were too thin and brittle. Only Kyocera scored very high in sharpness, quality, workmanship, material and warranty. These knives are a great choice for Chefs and Gourmet Cooks! Ceramics are perfect for slicing, dicing, chopping and mincing meats, garlic, carrots, onions, celery, fruits and more
Click Here for more colored sets!
---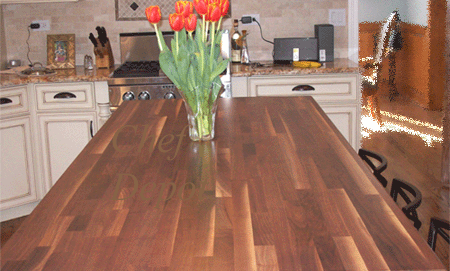 Our Blended American Walnut works well as a counter top or a unique kitchen island. A great value, and made in the USA. Our furniture quality top features a food safe clear varnique finish (or optional mineral oil). This gives you durability, ease of maintenance and beauty! These are available in 1.5 in thickness! More Installed Countertops and Islands are pictured here! Click Here!
Call for sizes and prices or to order (630) 739-5200
---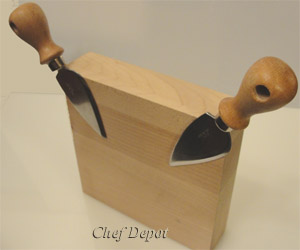 Product # CD2012-MINI-MAGNETIC-BLOCK-MAPLE
Retail $55.00 and up
On Sale $29.95
Our new mini magnetic knife block makes a great gift. Original design will compliment your holiday entertaining. True butcher block maple cutting board measures 6 in. X 6 in. X 1 1/2 in. thick. Super powerful magnets permanently pressed into the wood will easily hold most smaller knives and cheese tools. It displays 2 cheese knives at any angle. The other side is perfect for slicing and serving cheese! Exclusively manufactured for us! Made in USA. Choose with or without cheese knives below.

Maple mini magnetic knife block $29.95


Maple mini magnetic knife block with 2 Cheeese Knives $39.95
Click Here for more knife storage ideas!
Click here, Fat Juicy Vanilla Beans, Extracts & Paste! Holiday Baking is around the corner!

---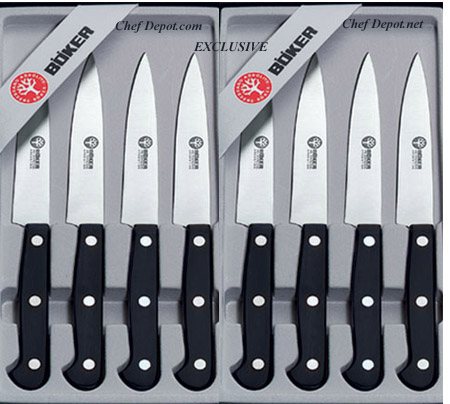 Product # CD03BA5704-4-X2-BOKER-STEAK-KNIFE-SET
Retail $199.00 and up
On Sale , click link below ! More Great steak knives, Click Here!

---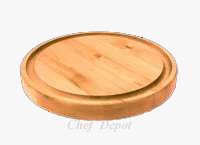 List Price $45.00 and up
On Sale $23.95
Product # CD12-IN-ROUND-CUTTING-BOARD-W-GROOVE

This reversible 12 inch round Rock Maple cutting board is ideal for serving BBQ, Steak or cheeseboards! Can be used for weddings, catering, parties, carving and presentations. Use the smooth side for chopping, slicing, dicing & mincing. The reverse side for carving meats or serving steaks, it features a grooved perimeter that collects the juices from meats. Take this board from the grill to the table. Hand washing and treating with Board Cream (avail. below) from time to time will keep them in top condition. 12 in. x 1 1/4 in., each has a 3/16 in. top edge radius and a squared bottom edge. Made in the USA. Minimum order is 4 pcs. Another Chef Depot exclusive! Call us for Large quantity discounts.
Set of 4 Round Rock Maple Cutting Boards
Click here for Maple & Walnut Cutting Boards & Butcher Tables!
---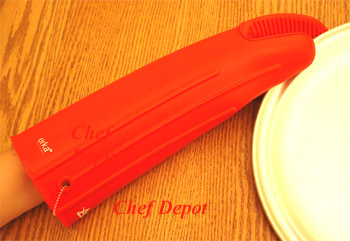 Product # CDA82210-ORKA-BBQ-MITT-17IN
Retail Price $35.99 and up
On Sale $21.49

Do you Bake? Do you BBQ? Do you like things that really last? Made of thick silicone, ORKA BBQ oven mitts protect from intense heat, up to 700 F. Non-slip, waterproof and non-porous, they provide safety and perfect food hygiene. 100 percent high tensile strength silicone, the 17 in. long glove goes up the arm and provides more protection. Vapor and moisture will not penetrate this glove. Machine washable. "The pizza pan was 450 degrees F. and my hand is not even warm through the glove"!
Chefs Note: Love the color! With proper care this oven mitt will last for many years. Used by many restaurants that demand quality. This glove has many other applications.

Red Orka BBQ Mitt
Student Chef Knife Sets.
---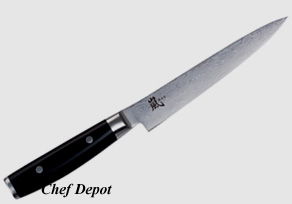 Product # CD67002-9-YAXELL-UTILITY-5IN

This is a handmade Japanese Utility Knife, with 5 in. blade, Handmade in Seki City Japan. The VG10 High Carbon 69 layered steel Damascus blade is one of the sharpest and strongest blade made. Crafted by hand in Japan. The unbreakable poly linen micarta handle features 2 perfect rivets. The edge that is holds is hair splitting and remains throughout heavy use. Ideal 60 - 63 Rockwell hardness.
Chefs Note: Yes, another favorite knife. We tried it out cutting, chopping and dicing vegetables, WOW, this is a perfectly balanced knife. You will love the balance and thin blade!
All knives are available at low prices, please click link for more info. Click here for these!
Click the green arrow on the right for more cutlery!




DMT Products:
Page1 |
Page2 |
Page3 |
Page4 |
Page5 |

---

Copyright 1999 - 2019 Chef Depot Inc.
All Rights Reserved.
Legal Notice and Copyright
Customer Service - E-mail us or phone:(630) 739-5200



Customer Feedback