Our John Boos Commercial Walnut Cutting Boards are made to last. The edge grain butcher block construction is amazing! American Walnut Wood has a beautiful rich color. Perfect for daily meal preparation and serving cheese & holiday appetizers! A full 1 1/2 in. thick, these will last for years of daily use. Oiling it with the special blend of oil below, will keep it looking new for many years! Available in 3 sizes below! In Stock for fast shipping. Click Here to buy the walnut blocks!
Click Here for more Lazy Susans!
FAQ: Cutting Board Care & Maintenance

---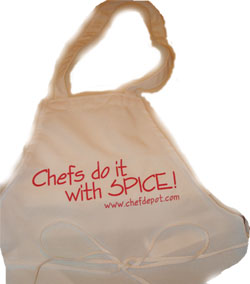 Product # CDCHEFS-DO-IT-WITH-SPICE-APRON
On Sale $9.95

Our premium professional Chef aprons are lots of fun! One size fits all! Chefs do it with Spice! apron is a heavy cotton poly blend for maximum comfort and durability. Made in the USA! One size fits all!

Chefs do it with Spice! Apron
Great Chefs Kitchen Islands!
---
Product # CDFK110WH+CP09-KYOCERA-SET
Retail $69.95 and up
Temporary Sale Price $28.95
This is the new 4.5 in. Kyocera Revolution Ceramic Utility Knife & Ceramic Peeler Gift Set. These hold an edge for years, without sharpening. The Revolution series feature an extra hefty black handle and a perfect balance. This is a great ceramic knife, it's very comfortable and easy to use. The weight is about half of steel knives making it comfortable for extended use. The ultra sharp ceramic blade cuts with precision and accuracy every time maintaining a razor-sharp edge for many years. These knives are made of an advanced, high-tech ceramic, second in hardness only to diamond, it was originally developed for industrial applications where metal components failed. Chef Notes: What a great gift idea! Limited time offer, then they are gone! Each one of our Revolution knives comes in a beautiful presentation box.
We tested several brands of ceramic knives - Here's the results! Kyocera was the only knife sharp enough to meet our demands, the others were too dull or the blades were too thin and brittle. Only Kyocera scored very high in sharpness, quality, workmanship, material and warranty. These knives are a great choice for Chefs and Gourmet Cooks! Ceramics are perfect for slicing, dicing, chopping and mincing meats, garlic, carrots, onions, celery, fruits and more
Click Here for Breakfast Bar Island Tables!
Click Here for More Peelers...
---
Product # CD3516DIGITALTHERM-SALE
Retail $29.99 and up
Sale Price $17.50

This Taylor digital thermometer is on sale! It has a temperature range of -40 to 302 degrees F. It comes with 2 extra long life batteries and a pocket sleeve. The large easy to read digital numbers make it easy to use. On sale for a limited time!
Features a 1 year warranty!

A New Look - Maple Butcher Block Carts - Click Here!
---
Product # CD1902PLCERAMICSHARPENERWHITE
Retail Price $99.99 and up
On Sale $59.95

This is our new Diamond Ceramic electric knife sharpener. It has a very powerful motor that spins the ceramic and diamond sharpening stones to quickly produce a factory new edge on any knife. It is easy to use, fast, safe, sleek and compact. It weighs only 2 lbs, has large rubber non slip feet and is very quiet. UL Approved, Meets NSF Standards, 120V, MADE IN USA! 1 Year Warranty included.
Chefs Note: When I first tested this sharpener, I used 6 very dull knives (several brands) and every knife was easily sharpened in less than 15 seconds. Each blade was razor sharp, capable of cutting paper into thin ribbons. Hundreds of knives later, it works like new - an amazing sharpening machine!

White Electric Diamond Ceramic Sharpener


Black Electric Diamond Ceramic Sharpener Click Here for Porcini Mushrooms & Wild Morels!

---
Product # CDNP6021-10SSFRENCHFRYCUTTER
Retail Price $89.99 and up
On Sale $49.95

This is our new Stainless Steel French Fry Cutter! Place a potato under the blade and push down to quickly make thick or thin french fry potatoes. Switch the blades to easily cut up potatoes in one motion. Two different high quality stainless steel blades are included in this set (36 holes and 64 holes produce thick or thin cut fries)! Features a comfort grip handle. Suction Cup base and nice rubber feet helps secure to your counter top or cutting board. Aprox. Weight 2 1/2 lbs.
Larger Fry Cutters and scoops!


French Fry Recipe is here!
Chefs Notes: Tony: "the nicest small fry cutter made. We only sell high quality products!"
Chefs Knives & Cutting Boards! Click Here!

Chef Tested Cutlery Sets!
---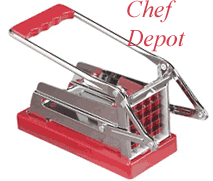 Product # CDNP6020-456-FRENCH-FRY-CUTTER-RED
Retail Price $39.99 and up
On Sale $24.49

This stainless steel and red poly French Fry Cutter is a great value! Solid Metal Frame features a mounting hole in the bottom. It can be clamped down or you can add a screw to hold it down on your cutting board. Easily cuts up a few potatoes into French fry pieces in under a minute. Others look similar but ours is built thicker and stronger.
French Fry Recipe is here!
Chefs Notes: Linda: "nice little gadget, that gets the job done quickly. I have used it a lot, and it has held up well."
Chefs Knives & Cutting Boards! Click Here!

Chef Tested Cutlery Sets!
---
These French fry cut potato pieces can be cut using any of our french fry cutters in only a few seconds.
Chefs Notes: We supply the wall mounted fry cutter to many busy restaurants and home cooks. The smaller machines work good too. Call with questions!
French Fry Recipe is here!
Chefs Prep Tables! Made in USA...Click Here!

Chef Tested Cutlery Sets!

---


Product # CDHI-4449-CARROT-CURLER
Retail $9.99 and up
On Sale $5.79


This quality Carrot Curler works on carots, parsnips, daikon radish, zucchini and more. Peel carrot, place in curler, rotate clockwise, twist ribbons into flowers. Add a little flash to your next gourmet vegetable platter or salad! Dishwasher safe.

Our Stainless Steel food chopper features sanitary stainless steel. Made from 18/10 stainless steel, this chopper allows the mechanism to automatically rotate the blades to easily chop food into small pieces! Made to our exact specifications this is the best one made!
Chefs Note: Perfect for chopping nuts, garlic, onions, celery, tomatoes, hard boiled eggs, herbs and more!