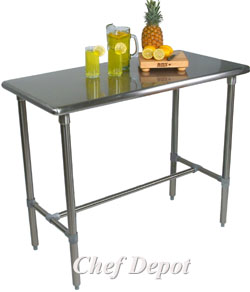 Click Here for USA made SS Bar Tables!

---

Product # CDMUND4690BW-FISH-SPATULA
Retail $22.95 and up
Clearance Sale $11.79 to $12.79
Our high quality stainless steel Offset Fish Spatula Turner is a must for every serious cook. This turner features a solid medium flexible stainless steel blade with black hardwood handle. Use this 18/10 stainless steel spatula to simplify lifting and turning fragile fish fillets. Its flexible, offset and angled head slides neatly beneath delicate fish to prevent breakage, the perforated design allows liquid or juices and cooking oil to drain back into the saute pan. The handle provides a comfortable grip and helps keep your hands away from the heat. Measures 11 in. long. Lifetime warranty against manufacturing defects!
Chefs Note: Our new Offset Fish Spatula Turner is a real helper for all saute foods!Makes a perfect gift, buy 2 or more and save $.

1 Spatula $12.79


2 Spatulas for $11.79 ea. Chef Prep Tables! Made in the USA!
Chefs Butcher Blocks for your new kitchen!

---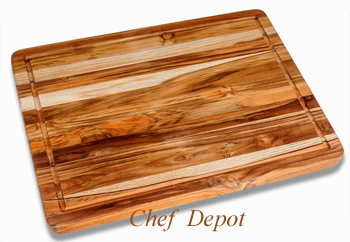 List Price $199.99 and up
On Sale $129.95
Product # CD10800-TEAK-CUTTING-BOARD-24x18-W-JUICE-GROOVE


Introducing our new Teak Butcher Block Cutting Board. The hardwood is organically grown and farm raised. There are over 3 million Teak Trees planted to continue ongoing harvest and replantings. Features solid Teak Hardwood with Feet and a Juice Canal 24 x 18 x 1.5 thick.
Free shipping to most areas of the USA.

Teak Butcher Block Cutting Board (as pictured)
Click Here for Portable Maple Islands!
---

Product # CDGS-89-GLOBAL-ANNIVERSARY-COOKS-KNIFE-5IN
Retail $155.00 and up
Sale Price $120.00
This is the new Global Anniversary Cooks Knife. It has a 5 in. blade! Each handmade knife is forged from super high quality Japanese alloy steel. Used for chopping and slicing and working with fruits and vegetables. It is very sharp. Lifetime Warranty.
Chefs Note: A limited quantity made, a sweet knife, cool handles, razor sharp, super thin edge, perfectly balanced and amazing CROMOVA steel blade. We like the feel of this beauty and the extra sharp thin blade. Great medium size knife for small hands too. If you want a high quality knife to pass through generations, you found it. Global knives are made from the finest high carbon stainless steel available for producing professional quality kitchen knives. Yoshikin uses its own proprietary stainless steel which it calls CROMOVA 18 Stainless Steel. This steel is hard enough for Global knives to keep their edge for a long time, but soft enough so that it is not too difficult to sharpen the knives. The CRO in CROMOVA 18 stands for chromium and the 18 is the percentage of chromium in the steel. This high percentage of chromium contributes to Globals good stain resistance. The MO and VA in CROMOVA 18 stand for molybdenum and vanadium. These two elements give a knife good edge retention. See FREE OFFERS add to cart, then click link below!
More GLOBAL knives! Click Here!
---

Product # CD2088-8PP -MESSER-PINK-PAISLEY-CASE
Retail $55.99 and up
Sale Price $34.95

The new Pink Paisley Knife Case is made to hold 8 to 12 + pieces of cutlery and garnishing tools. This new polka dot design is way cool. The case is very attractive with double sewn reinforced edges and handle, extra strong elastic knife supports. It measures 21 in. x 8 in. closed and 18 in. x 20 in. opened. Cool garnishing cases and knife rolls! Click here!
Chefs Note: This great case has a pink paisley pattern and it's made to last!
Pink Ceramic Knives are hot! Click Here!
Pink Wine Openers!
Lyptus Redwood Cutting Boards! Lowest Prices!
---

Product # CD700-4-HIGH-HEAT-PANCAKESPATULA
Retail $12.00 and up
On Sale $3.95

This pancake spatula will make turning your pancakes a snap. Feature an ergonomic design with the perfect angle. The spatula heads are high heat to 500 degrees F. and slightly flexible. These will save your non stick pans and griddles (no more scratches)! Works great for flipping saute fish or chicken too!
The result is perfect size pancakes, large or small!
Measures 12 in. long. Dishwasher safe!
Chefs Note: Silver Dollars or flapjacks, we love them all! Perfect for flipping with non stick cookware.
If you can find better quality, we will buy them from you!
Pure Maple Syrup is available here! Our Buttermilk Pancake Recipe is wonderful!
New Center Kitchen Islands!
Click Here for Pure Madagascar Bourbon Vanilla Beans & Extract!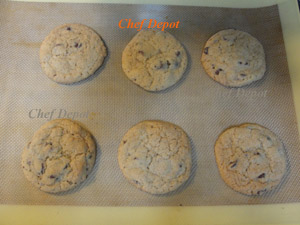 Non Stick Silicone Baking Liners are great for cookies, click here.
Scoops are here!
---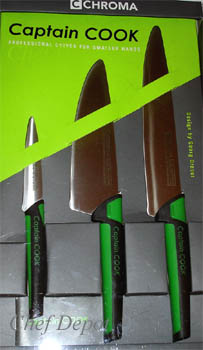 Product # CD-CHROMA-CAPTAIN-COOK-PARING-KNIFE
$18.95 and up
Let the Kids Cook! Captain Cook Knives were designed in Germany with the assistance of kids. These Profesional Knives have nice small handles, a blunt tip, great shape, balance and weight for years of use! Overall size and ergonomics are specially designed for small hands. The soft handle provides a non slip grip. The Slicing Knife or Paring Knife are still left, but will be gone soon. These knives are not toys and can be dangerous if used improperly. These knives are therefore only suitable for kids age 5 and up who are supervised by their parents when cutting.
Chefs Note: A great little knife to help teach kids how to cook. Great for anyone with small hands. The kids really like the look, the feel and using these to help prepare meals.
Captain Cook Carving/Slicing Knife (pictured on right) $36.95
Best Knife Storage Cases!
---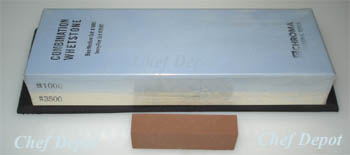 Product # CDST1/6-JAPANESEWHETSTONE-1000-6500-GRIT
Retail $119.00 and up
On Sale $84.95

Our 1000 / 6500 grit Combi Japanese Whetstone will produce a razor edge quickly.
This stone features two grits extra fine & ultra fine a non slip rubber base and cleaning stone.
The stone with base measures aprox. 8 L. x 2.5 W. x 1.5 tall.
Chefs Note: Very fine honing will produce a razor like edge. The stone is thick and heavy, the base is very stable so it does not move around while in use. We recommend using this stone with water. Made in Japan. You will love this stone!

Click here for new Chef Knives! We only sell the highest quality.
---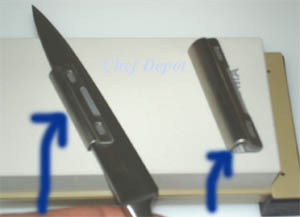 Product # CDST-G-SHARPENING-GUIDES
Retail $15.00 and up
On Sale $9.95

Our exclusive knife guides fit onto most any knife and work with any stone to give you a fast precise 15 degree sharpening angle.
Set of 2, large and small.
Chefs Note: These little clips are plastic lined stainless steel and they will help you sharpen. Made in Japan!

Click here for Portable Butcher Blocks!
---



Product # CDSPATULASCRAPERPINK-WOODEN-HANDLE
List price $13.00
On Sale $5.75

Our heat resistant pink rubber spatula is the best. Each is 12 inches long and it's heat resistant to 800 degree's Farenheit! For every pink spatula purchase made we will make a donation to a charity.
Chefs Note: The solid hard maple handle makes this spatula very comfortable to use. We have used a set several hundred times and they still look new. These are perfect for scraping the bowl while mixing & baking, chocolates, saute' and pan fried foods, cooking omelettes and more! Made in the USA.


Heat Resistant Pink Spatula
More High Quality Spatulas in many Colors! Made in the USA!
---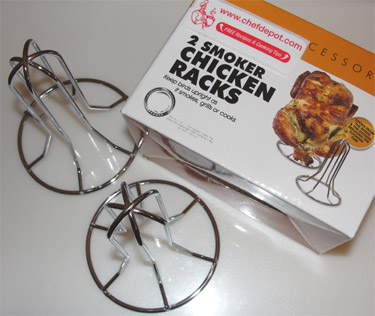 List Price $40.00 and up
On Sale $19.89
Product # CD-007000-CHICKEN-RACK
These are our new redesigned chicken rack. Easily keeps birds upright for roasting, smoking or slow cooking on the bbq grill, in the oven or in your smoker. This rack is high quality. Works well, nonstick drip pan included and made to last. Gift Boxed, measures aprox. 4.5 in. base x 7 in. tall. Makes a great holiday gift.
Chefs Note: The Colonel buys from us for good reasons. Watch the video below. We use these in the stainless steel pan below lined with parchment paper for herb roasted chickens. Why not toss out the old scratched up aluminum pan and get the best you can buy?

Click Here for THE BEST Herb Blends that you can buy!
Click here for more Quality Grilling Tools!
---

Product # CDZ04-ZEN-KNIFE7.75IN
Retail $282.95 and up
On Sale $225.95
Temporary Sale Price $198.95
Our new Zen Chef Knives are very cool. This Chef knife has a 7.75 in. blade. Each knife is serialized and comes with a comfortable max wedge ergo rubber handle. Made with 32 layers and a pure VG14 steel blade. Cuts paper into little slivers with ease. Double gift boxed and it comes in a zippered storage bag!
Chefs Note: Well balanced, nice fit & feel. These Damascus blades are way cool and very sharp!

Click here for Bar Blenders!
---
Product # CDZ01-ZEN-KNIFE4.25IN
Sold Out

Click here for Chef Tables...

---

Product # CDZ02-ZEN-KNIFE5.5IN
Sold Out


Our new Zen Chef Knives are very cool. This Cook knife has a 5 1/2 in. blade. Each knife is serialized and comes with a comfortable max wedge ergo rubber handle. Made with 32 layers and a pure VG14 steel blade. Cuts paper into little slivers with ease. Double gift boxed and it comes in a zippered storage bag!
Chefs Note: Well balanced, nice fit & feel. These Damascus blades are way cool and very sharp!

Click here for Solid Cherry Bar Tops!

---

Product # CDZ03-ZEN-KNIFE7.25IN
Sold Out

Click here for solid walnut cutting boards!

---

Product # CDZ05-ZEN-KNIFE9.5IN
Sold Out

Click here for Truffles & Dried Morels!

---

Product # CDWAL-HMST36245-WALNUT-HOMESTEADBLOCK

Free Shipping & Great Customer Service!

This is the new Walnut Homestead Block by John Boos, it measures 36" x 24" x 5" and stands 34" overall. The top is edge grain walnut butcher block. This block has a FDA approved food safe natural finish. The butcher block top requires rubbing with Mystery Oil or Wood Cream, every few months to keep it looking new. It features a large storage drawer and will last for generations!
36" x 24" x 5" Solid American Walnut Top, Lower Slatted Shelf, Weight is 270 lbs. Please pick your color selection and call us .
We can ship your new Block in aprox. 3 - 4 weeks! Call us for sale prices.
Free Shipping is available - continental USA only.
Call for Sale Prices!
More USA made Butcher Blocks are HERE!


---

Receive a bottle of our 4 Star Vanilla Extract for Free with any $200.00 purchase ($200.00 or more)! Our vanilla extract is made from sun ripened hand picked Bourbon Vanilla Beans! This superior extract enhances flavors in cookies, cakes, ice cream and other foods! Up to a $20.00 value! Place your order today, limited time offer!
Click the button below to add these to your shopping cart! Another Chef Depot Exclusive!


Free Bottle of Vanilla Extract

New Kitchen Center Islands! Custom sizes are available!


---

Product # CDCHROMA-SHEARS
Retail $75.00 and up
Sale Price $49.95


The new Chroma Shears are finally here! Great for cutting poultry, fish, carpeting ar anything in between! From the finest thread to the thickest cloths, for grooming, sewing or food preparation. The perfect shears for every task.
Chef Notes: Easy to use. Tests show these easily cut a penny in half. Great Quality Offset Shears! Lifetime Warranty!


Click here for Large Cutting Boards!


---

Product # CD-C109W+C112W-WALNUT-BOWL-SET-USA-9IN+12IN
Retail $199.95 and up
On Sale $124.95
In Stock for Fast Delivery


Our traditional solid American Walnut Bowl set is hand turned and finished. Quality and hand rubbed beeswax finish is excellent, made for you, here in the USA. The bowls are 9 in. and 12 in. with with a nice smooth cutout. The bowls will nest inside each other and the grains match beautifully. Call us for other sizes and large sets. Our single Blade Mezzaluna Knife is hand crafted for us in the Northwoods of the USA. Made out of the finest rock maple and alloy stainless steel with solid brass rivets. More Hardwood Bowls are here!
Chefs Note: Our bowls are only made from hand selected, renewable / sustainable hardwoods.


American Walnut Bowl Set


American Walnut Bowl Set + Mezzaluna knife $135.95
More Hardwood Bowls are here!


---


Product # CDUPCBR1520-RUBBERCUTTINGBOARD
List Price $75.00 and up
On Sale $49.95

This reversible 15 in. x 20 in. x 1/2 in. thick Rubber Cutting Board weighs over 12 lbs! This cutting board is preferred by many Chefs! Non porous, non absorbent synthetic rubber cutting boards. NSF Listed, FDA Approved. It is used in professional kitchens across the USA! We use these boards for meats, poultry and fish, they reduce odor transfer. Grab it and go, dishwasher safe! It will not crack, chip, splinter, swell, absorb liquids, retain odors or harbor bacteria.
Chefs Note: The heavy weight and rubber material grabs most countertops and will not easily slide during use. In addition, you can resurface the rubber cutting board by simply sanding it down.

Apple Cutters & Corers, grapefruit knives, peelers & more - on sale now
Rock Maple Cutting Boards - Our Logo Cuttingboards are on sale now!


---

Product # CDSSKNIFEHOLDER14IN
Retail $49.00 and up
On Sale $27.99


Our stainless steel magnetic knife rack is a great magnetic holder! It is made in Germany from solid stainless steel. The powerful magnets grip the blade firmly for safe and convenient visible storage! This holder helps to free up precious drawer and counter space. The magnet bar easily attaches to any wall or cabinet for safe knife storage. We use several magnet bars in our kitchens! Measures 14 in. x 2 1/2 in., mounting screws included.




Click for a test drive! Type 301 Cutlery
F.A. Porsche!

---



Product # CDBOOS-RAFR2418-2.25BOARD
On Sale $137.95


John Boos newest hard maple Carving Board, featuring a juice groove on one side, 24 in. x 18 in. and is 2 1/4 inches thick with stainless steel handles. 1 side is flat, the other side has the groove for carving roasts and turkey! Perfect for daily meal preparation and serving cheese & holiday appetizers! Oiling it with mystery oil, will keep it looking new for many years of use! Receive our exclusive John Boos Mystery Oil for Free with any John Boos Cuttingboard purchase (see free offer below). In stock, ships fast!


Add 3 pack of Boos Board Cream (3 pc. 5 oz. tubes)
Sale Price $27.95
Add 12 pack of Boos Board Cream (12 pc. 5 oz. tubes)
Sale Price $95.95

Click here ~ MORE CUTTING BOARDS!

---

Product # CD-DTQ450-CDN-DIGITAL-STAINLESS-THERMOMETER
Retail $29.95 and up
On Sale $15.95


Our new Digital Thermometer is a great value. Features: Instrument Range: - 40 to + 450 F, - 40 to + 230 C, approved 5 in. (12.7 cm) stem. Waterproof, shatterproof, 1/2 degree accuracy. For thin cuts of meat, fish or poultry, Data hold, Big digits, Stainless steel housing, Recalibratable, On/off switch and auto off feature. Temperature guide on sheath, Sheath can be used as handle extension, Pocket clip, 1.5V Button IEC LR44 Alkaline. 5 year mfr. warranty. Press the ON/OFF button to use the Thermometer. Press the ON/OFF button to turn it off and conserve battery life. The thermometer automatically turns off after 10 minutes of inactivity. Before withdrawing the thermometer from the food, press the HOLD button, this will HOLD the reading until pressed again. Many other features.
Chefs Note: Cooks Illustrated magazine rated this as the best digital thermometer for the price.
More Kitchen Tools, click here...


Chef Tested Chef Knives! Very Sharp & Lifetime Warranty!


---



Product # CDWALR01-WALNUTCUTTINGBOARD-12X18X1.5IN
List Price $129.95 and up
On Sale $94.95


Our John Boos Commercial Walnut Cutting Boards are made to last. The edge grain butcher block construction is amazing! American Walnut Wood has a beautiful rich color. Perfect for daily meal preparation and serving cheese & holiday appetizers! A full 1 1/2 in. thick, these will last for years of daily use. Oiling it with the special blend of oil below, will keep it looking new for many years! Available in 3 sizes below! In Stock for fast shipping.


18 in. x 12 x 1.5 in. Walnut Cutting Board $83.95

20 in. x 15 x 1.5 in. Walnut Cutting Board $119.95 24 in. x 18 x 1.5 in. Walnut Cutting Board $164.95
Click Here for more Lazy Susans!
FAQ: Cutting Board Care & Maintenance


---

Product # CDCHEFS-DO-IT-WITH-SPICE-APRON
On Sale $9.95


Our premium professional Chef aprons are lots of fun! One size fits all! Chefs do it with Spice! apron is a heavy cotton poly blend for maximum comfort and durability. Made in the USA! One size fits all!


Chefs do it with Spice! Apron


Great Chefs Kitchen Islands!


---

Product # CDFK110WH+CP09-KYOCERA-SET
Retail $69.95 and up
Temporary Sale Price $28.95

This is the new 4.5 in. Kyocera Revolution Ceramic Utility Knife & Ceramic Peeler Gift Set. These hold an edge for years, without sharpening. The Revolution series feature an extra hefty black handle and a perfect balance. This is a great ceramic knife, it's very comfortable and easy to use. The weight is about half of steel knives making it comfortable for extended use. The ultra sharp ceramic blade cuts with precision and accuracy every time maintaining a razor-sharp edge for many years. These knives are made of an advanced, high-tech ceramic, second in hardness only to diamond, it was originally developed for industrial applications where metal components failed. Chef Notes: What a great gift idea! Limited time offer, then they are gone! Each one of our Revolution knives comes in a beautiful presentation box.
We tested several brands of ceramic knives - Here's the results! Kyocera was the only knife sharp enough to meet our demands, the others were too dull or the blades were too thin and brittle. Only Kyocera scored very high in sharpness, quality, workmanship, material and warranty. These knives are a great choice for Chefs and Gourmet Cooks! Ceramics are perfect for slicing, dicing, chopping and mincing meats, garlic, carrots, onions, celery, fruits and more

Click Here for Breakfast Bar Island Tables!
Click Here for More Peelers...

---

Product # CD3516DIGITALTHERM-SALE
Retail $29.99 and up
Sale Price $17.50


This Taylor digital thermometer is on sale! It has a temperature range of -40 to 302 degrees F. It comes with 2 extra long life batteries and a pocket sleeve. The large easy to read digital numbers make it easy to use. On sale for a limited time!
Features a 1 year warranty!


A New Look - Maple Butcher Block Carts - Click Here!

---

Product # CD1902PLCERAMICSHARPENERWHITE
Retail Price $99.99 and up
On Sale $59.95


This is our new Diamond Ceramic electric knife sharpener. It has a very powerful motor that spins the ceramic and diamond sharpening stones to quickly produce a factory new edge on any knife. It is easy to use, fast, safe, sleek and compact. It weighs only 2 lbs, has large rubber non slip feet and is very quiet. UL Approved, Meets NSF Standards, 120V, MADE IN USA! 1 Year Warranty included.
Chefs Note: When I first tested this sharpener, I used 6 very dull knives (several brands) and every knife was easily sharpened in less than 15 seconds. Each blade was razor sharp, capable of cutting paper into thin ribbons. Hundreds of knives later, it works like new - an amazing sharpening machine!


White Electric Diamond Ceramic Sharpener


Black Electric Diamond Ceramic Sharpener Click Here for Porcini Mushrooms & Wild Morels!


---

Product # CDNP6021-10SSFRENCHFRYCUTTER
Retail Price $89.99 and up
On Sale $49.95


This is our new Stainless Steel French Fry Cutter! Place a potato under the blade and push down to quickly make thick or thin french fry potatoes. Switch the blades to easily cut up potatoes in one motion. Two different high quality stainless steel blades are included in this set (36 holes and 64 holes produce thick or thin cut fries)! Features a comfort grip handle. Suction Cup base and nice rubber feet helps secure to your counter top or cutting board. Aprox. Weight 2 1/2 lbs.
Larger Fry Cutters and scoops!


French Fry Recipe is here!
Chefs Notes: Tony: "the nicest small fry cutter made. We only sell high quality products!"
Chefs Knives & Cutting Boards! Click Here!



Chef Tested Cutlery Sets!


---

Product # CDNP6020-456-FRENCH-FRY-CUTTER-RED
Retail Price $39.99 and up
On Sale $24.49


This stainless steel and red poly French Fry Cutter is a great value! Solid Metal Frame features a mounting hole in the bottom. It can be clamped down or you can add a screw to hold it down on your cutting board. Easily cuts up a few potatoes into French fry pieces in under a minute. Others look similar but ours is built thicker and stronger.
French Fry Recipe is here!
Chefs Notes: Linda: "nice little gadget, that gets the job done quickly. I have used it a lot, and it has held up well."
Chefs Knives & Cutting Boards! Click Here!



Chef Tested Cutlery Sets!


---

These French fry cut potato pieces can be cut using any of our french fry cutters in only a few seconds.
Chefs Notes: We supply the wall mounted fry cutter to many busy restaurants and home cooks. The smaller machines work good too. Call with questions!
French Fry Recipe is here!
Chefs Prep Tables! Made in USA...Click Here!

Chef Tested Cutlery Sets!


---



Product # CDHI-4449-CARROT-CURLER
Retail $9.99 and up
On Sale $5.79




This quality Carrot Curler works on carots, parsnips, daikon radish, zucchini and more. Peel carrot, place in curler, rotate clockwise, twist ribbons into flowers. Add a little flash to your next gourmet vegetable platter or salad! Dishwasher safe.


Butcher Blocks used by Chefs & Butchers! Made in USA !

---



Product # CD2009-5108-APPLE-CUTTER
Retail $12.99 and up
Promo Sale $4.99


This is a high quality Apple Cutter. The sharp stainless steel blades will easily cut and core most any size apples or pears! Easy and safer to use. Durable and comfortable design. Now made in white with raised ergo comfort rubber handles. Measures 4 in. Diameter and 7 in. across the handles. Chefs Note: Works great on apples and crisp pears.


Butcher Blocks used by Chefs & Butchers! Made in USA!

Cooks Garnishing Tools!

Click Here for USA made Diamond Sharpeners!


Click Here for Butcher Block Tables!

Whole Nutmeg, Ground Cinnamon & Thyme, all the best, On Sale!

Click Here for more Kitchen Knives!

USA made Solid Hardwood Counter Tops! Low prices, FREE Shipping!

---

Product # CDNP84200SSFOODCHOPPER
Retail $35.00 and up
On Sale $18.95

Our Stainless Steel food chopper features sanitary stainless steel. Made from 18/10 stainless steel, this chopper allows the mechanism to automatically rotate the blades to easily chop food into small pieces! Made to our exact specifications this is the best one made!
Chefs Note: Perfect for chopping nuts, garlic, onions, celery, tomatoes, hard boiled eggs, herbs and more!


Chef Knife Sets are on sale!

Click Here for more food storage ideas!


---

Our Medium Heat Resistant Rubber Spatulas are the best. They are 12 inches long and are heat resistant to 800 degree's Farenheit! The set contains a yellow, red, blue and green spatula. You can also order them individually below!
Chefs Note: The solid hard maple handle makes this spatula very comfortable to use. We have used a set several hundred times and they still look new. These are perfect for scraping the bowl while mixing & baking, chocolates, saute' and pan fried foods, cooking omelettes and more!
This set will last forever with proper care. Made in the USA.

Product # CDSPATULASCRAPERSET-WOODEN-HANDLES
Retail $52.00 and up
On Sale $27.75


Heat Resistant Spatula Set

Heat Resistant Yellow Spatula $6.95

Heat Resistant Red Spatula $6.95

Heat Resistant Blue Spatula $6.95

Heat Resistant Green Spatula $6.95


Click the green arrow on the right for more Chroma Cutlery!




Type 301 Porsche Cutlery:
Page1 |
Page2 |
Page3 |
Page4 |
Page5 |

---

Copyright 1999 - 2017 Chef Depot Inc.
All Rights Reserved.
Legal Notice and Copyright

Customer Service - E-mail us or phone:(630) 739-5200

Customer Feedback