This meat tenderizer is easy to use and made to last. We supply these to butchers who use them for years! This Triple Action Tenderizer is available with 45 stainless steel saber blades set in 3 parallel rows (Rockwell Hardness of 50). The Jaccard Meat Tenderizer makes any boneless cut of venison, pork, veal, fish, lamb, chicken, steak and other meats very tender and easy to eat!
This model has a removable blade cartridge! NSF certified.
We use our Jaccard on the cuttingboard pictured below!
---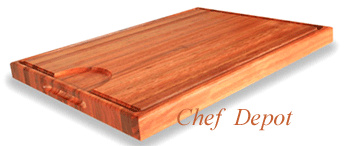 Product # CDLYPTUS-CUTTINGBOARD-12X18X1.5IN-W/GROOVE
List Price $99.95 and up
On Sale $64.95


Our Commercial Lyptus Cutting Boards are made to last. The edge grain butcher block Lyptus is farm raised and looks like Cherry Wood or Mahogany. Lyptus is as hard and heavy as Maple wood. Perfect for daily meal preparation and serving cheese & holiday appetizers! The ring and well captures food juices when used as a carving board. The reverse flat side is ideal for prep or as an attractive serving surface. Versatile, functional, environmental, a fast growing plantation managed material that is sustainable as it is beautiful. A full 1 1/2 in. thick, these will last for years of daily use. Oiling it with the special blend of oil below, will keep it looking new for many years! Available in 3 sizes below! We love the eco friendly heavy dark red wood! Free Shipping over $99.00 in cont. USA.

18 in. x 12 x 1.5 in. Lyptus Cutting Board with Juice Groove $64.95

20 in. x 15 x 1.5 in. Lyptus Cutting Board with Juice Groove $89.95 24 in. x 18 x 1.5 in. Lyptus Cutting Board with Juice Groove $124.95
Click here for NSF Commercial Stainless Steel Tables!

---
Product # CDG-88/91ST-GLOBAL-9PC-SET
Retail $794.00 and up
Sale Price $650.95
This is the new 9 Piece Global Knife Set in stainless steel block. It includes a 3 in. Paring, 4 in. Paring Knife, 5 in. Chef Utility Knife, 5.5 in. Vegetable Knife, 6 in. Serrated Utility Knife, 7.5 in. Asian Chef Knife, 8.25 in. Carving Knife, 8.75 in Bread Knife, 11 slot block. Global knives; G-3, G-4, G-9, GS-3, G-7, G-5, G-14, G-15! Each handmade knife is forged from super high quality Japanese alloy steel. Each one is very sharp. Lifetime Warranty.
Chefs Note: Sweet Knife Set, cool handles, razor sharp, super thin edge, perfectly balanced and amazing CROMOVA steel blade. If you want a high quality knife set to pass through generations, you found it. Bonus: Free gift Offers, add to cart, then click on the link below!
Chef Notes: We like the feel of this beauty and the extra sharp thin blade. Global knives are made from the finest high carbon stainless steel available for producing professional quality kitchen knives. Yoshikin uses its own proprietary stainless steel which it calls CROMOVA 18 Stainless Steel. This steel is hard enough for Global knives to keep their edge for a long time, but soft enough so that it is not too difficult to sharpen the knives. The CRO in CROMOVA 18 stands for chromium and the 18 is the percentage of chromium in the steel. This high percentage of chromium contributes to Global's good stain resistance. The MO and VA in CROMOVA 18 stand for molybdenum and vanadium. These two elements give a knife good edge retention. See FREE OFFERS above & below!
9 Piece Global Knife Set

10 Piece Global Knife Set $661.95 (adds 12 in. Ceramic Steel) 11 Piece Global Knife Set $711.95 (adds GS-9 Tomato Knife + 12 in. Ceramic Steel) More GLOBAL knives! Click Here!

---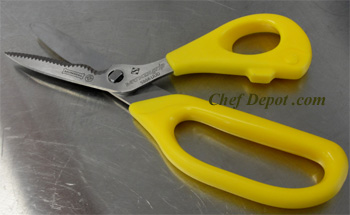 Product # CDMUND5866-YELLOW-KITCHENSHEARS
Retail $35.99 and up
On Sale $12.95

These Yellow Kitchen Shears make cutting and trimming a snap. They come apart into two pieces, very easily to allow for easy cleaning! Special sanitized mundigrip ergo handles are a nice fit. Chefs Note: Very sharp double serated blades. These shears are excellent to keep in the kitchen for cutting fish, chicken, pastry, paper, carpeting and cardboard. Lifetime Warranty. These are Lou's favorites!

Click Here for more quality scissors and shears!
---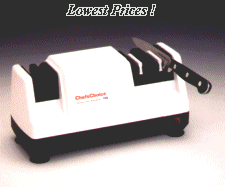 Product # CDCC110BLACKCHEFSCHOICE
Retail $99.95 and up
Sale Price $74.95
Chef's Choice Diamond Hone Knife Sharpener. This electric knife sharpener incorporates 100% diamond abrasive disks in stage 1 and 2 revolutionary flexible polymer stropping disks in stage 3 to sharpen and polish straight edge and serrated kitchen knives to hair-splitting sharpness in seconds. It is safe for all alloys and never detempers. The user friendly knife sharpening system features a powerful motor, patented 3-stage sharpening, precision angle guides and a built-in abrasive cleaning mechanism.
Choose from White, Black or Chrome below. Made in U.S.A., 120 volts. 2 year limited Warranty.
Chef Notes: The black sharpener is on sale for $74.95 for a limited time. Perfect for every household kitchen.
A great choice for kitchen cutlery and pocket knives.
White Diamond Sharpener

Black Diamond Sharpener Chrome Diamond Sharpener
Our Chef knives are on sale now!



Messermeister:
Page1 |
Page2 |
Page3 |
Page4 |
Page5 |
Page6 |
Page7 |
Page8 |
---

Copyright 1999 - 2015 Chef Depot Inc.
All Rights Reserved.
Legal Notice and Copyright
Customer Service - E-mail us or phone:(630) 739-5200



Customer Feedback