---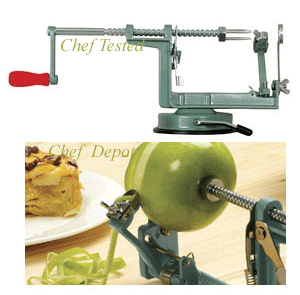 Product # CDA2117-APPLE-PEELER-MACHINE
Retail $70.00 and up
Sale Price $28.50

This is the newest design of the fastest Apple Peeler. This is a great peeler! It's very easy to use. The peeler works right or left handed for fast peeling! Features a durable suction base. No clamp is needed, however, you can use one if you like. Features a stainles steel shaft and steel base with green/red enamel coating. Also ideal for Potatoes and pears. Peels, it can also slice and core. 2 Year Mfr. Warranty.
Chef Notes: Homemade Apple Pie! This peeler will quickly peel apples! A great choice for bakers and canning.
Click Here for USA made Knife Sharpeners!
Click Here for more Peelers!
---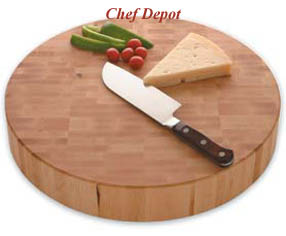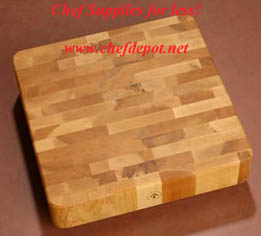 End Grain Chunk Boards are highly prized for their durability and handsome wood patterns. Ours are 2 1/2 inches thick and ready to work for a lifetime. This board was designed to be left on the counter so a chopping surface is continuously ready. Hard rock sugar maple. These cutting boards add a little more beauty to your kitchen and your food! There are three sizes listed below!
Round End Grain Block (18" x 3") $199.95


End Grain Block (12" x 12" x 2 1/2") $109.95

End Grain Block (16" x 16" X 2 1/2") $138.95
---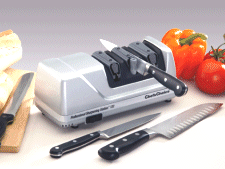 Product # CDCC130-WHITE-CHEFSCHOICE
Retail $169.95 and up
Sale Price $149.95

Chef's Choice newest breakthrough in sharpening technology, the Model 130, presents all your sharpening options in one compact appliance. It professionally sharpens, steels or strops all brands and types of knives; straight edge or serrated, kitchen, Asian style, sports and pocket knives in seconds. Three stages make it possible to obtain a "better than factory" edge quickly and effortlessly. Stage 1, using 100 percent diamond abrasives, sharpens the edge. Stage 2 is a super-hardened miniature steel that develops a shaving sharp edge with ultra-sharp microscopic teeth, providing a superior edge "bite". In stage 3, a revolutionary flexible stropping disk polishes the edge to hair-splitting sharpness. Using these stages in different combinations produces custom edges, suited to a particular cutting task. Built-in, high precision, user friendly elastomeric angle guides guarantee fool-proof sharpening. Assembled in the U.S.A. Limited 3 year warranty. UL approved.
Chef Notes: Perfect for kitchen, household or commercial knives. Santoku knives are easily resharpened with this machine.
This sharpener has a very easy to use sharpening steel built into it for perfect finishing hone (providing extra sharpness). Choose from White or Platinum below! Cooks Illustrated rates this as a great unit! With proper care it will last a lifetime, 120 volts.
Order this sharpener and receive FREE SHIPPING and a free fillet knife with a lifetime warranty!
Model 130 White

Model 130 Platinum $159.95 Give your kitchen a Fresh New Look! Click Here!

---
These are solid Maple BBQ and carving Boards.
We use these boards for the BBQ as well as carving roasts and turkey, you will too! They are made from 1 inch thick select hard maple. One side of each board has a deep moat that catches the natural juices, the other side is smooth. Excellent next to the BBQ grill, oven or stove.

Product # CDJKBBQ-2014 (20 x 14)
Retail $89.99 and up
On Sale $95.95


20 x 14 inch BBQ Board


24 x 16 inch BBQ Board $119.95
16 x 12 inch BBQ Board $87.95
Maple Butcher Blocks are preferred by more Chefs!
Click Here for the best Chrome & Maple Kitchen Swivel Bar Stools!

---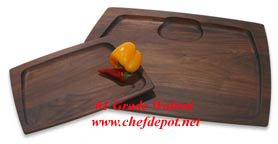 SOLD OUT
Colonial Trenchers - A piece of history, these serving boards were popular when Ethan Allen and his Green Mountain Boys protected the New England hills. Made from the highest quality black walnut, just as they were in colonial times, accurately reproduced an heirlooms with the weight, feel and balance of the originals. The subtle contours of the magnum trencher include a sloped cutting surface with a deep juice well and perfectly sized handgrips inset on each side. The small trencher is a perfect dinner platter or small carver. Add a touch of history to your next holiday!

Click Here for the best Chrome & Maple Kitchen Swivel Bar Stools!
---
Product # CDMUND5604-07GESANTOKU-BLACK
Retail $29.00 and up
On Sale $21.95

This is the new 7 inch Santoku knife, it is used for most cutting and chopping work. The handle features a built-in microbial defense and is comfortable, alloy steel blade. NSF certified for safety and sanitation. A very good quality knife for food preparation. Choose from black or white below! NSF certified! Lifetime Warranty!

Santoku Knife, Black Handle

Santoku Knife, White Handle Click Here for More Black Handle Chef Knives!

---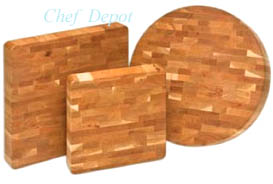 List Price $99.99 and up
On Sale $79.95 and up
Product # CDCNK1212-CH-CHUNKBOARDS-CHERRY


Our new End grain boards are highly prized for their durability and handsome wood patterns. These boards are usually left out on the counter for daily use. They will work for a lifetime. Treat end grain boards often with oil. Solid cherry.
Chefs Note: We like to use our Cherry Chunk boards for parties and special events. These cutting boards simply wipe off. Oil it every month with mystery oil, to keep it looking new. Bamboo cutting boards make an attractive serving and chopping surface. Another great gift idea!
12 x 12 x 2.5 in.

16 x 16 x 2.5 in. $124.95 18 x 3 in. $190.95
Colored Non Stick Tongs! Save your Non Stick Pans!

---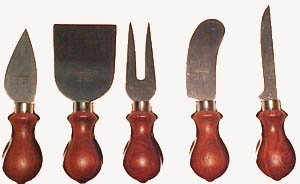 Product # CDCHR5125CHEEESESET-5PC
Retail $60.00 and up
On Sale $19.95

This cheese knife set makes the perfect accent for your holiday entertaining.
Each piece is handmade from the high quality stainless steel and solid Cherry wood.
Each piece is made in the traditional shape and each one has a distinct use.
The set contains a wide blade cheese knife, a bell shape, a serving fork, spreader and a slicer.
This knife set is excellent for cutting and serving chunks or wheels of cheese on a cheese tray or bamboo cuttingboard.
A great conversation piece!
This imported set is made to last!
Exclusively manufactured for us!
Add a Bamboo Cheeseboard (click for picture)!


Cheese Knife Set

Cheese Knife Set (with a 11 x 11 in. bamboo cheeseboard) $54.00
Click Here for Magnetic Knife Holders!

Click here for Cutlery Sets!

---
Receive a bottle of our 4 Star Vanilla Extract for Free with any $200.00 purchase ($200.00 or more)! Our vanilla extract is made from sun ripened hand picked Bourbon Vanilla Beans! This superior extract enhances flavors in cookies, cakes, ice cream and other foods! Up to a $20.00 value! Place your order today, limited time offer!
Click the button below to add these to your shopping cart! Another Chef Depot Exclusive!

Free Bottle of Vanilla Extract
---

Product # CDFK180BK-KYOCERAREVOLUTION
Retail $109.95 and up

Sale Price $79.95
Temporary Sale Price Reduction $69.95 with FREE bonus Cutting Board
This is the new 7 in. Kyocera Revolution Ceramic Professional Chef Knife, it holds an edge without sharpening. The Revolution series feature an extra hefty black handle and a perfect balance. This is a great ceramic knife, it's very comfortable and easy to use. The weight is about half of steel knives making it comfortable for extended use. The ultra sharp ceramic blade cuts with precision and accuracy every time maintaining a razor-sharp edge for many years. These knives are made of an advanced, high-tech ceramic, second in hardness only to diamond, it was originally developed for industrial applications where metal components failed.
Chef Notes: These knives are a great choice for Chefs and Gourmet Cooks! We will choose for you a free cutting board. Colors will vary, while supplies last.
Each one of our Revolution knives comes in a beautiful presentation box. We tested several brands of ceramic knives - Here's the results! Kyocera was the only knife sharp enough to meet our demands, the others were too dull or the blades were too thin and brittle. Only Kyocera scored very high in sharpness, quality, workmanship, material and warranty. These knives are a great choice for Chefs and Gourmet Cooks! Ceramics are perfect for slicing, dicing, chopping and mincing meats, garlic, carrots, onions, celery, fruits and more
CERAMIC KNIVES on sale, click here!
---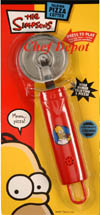 Product # CD05TALKINGPIZZACUTTER
Retail $14.95 and up
Sale Price $2.99

The Simpsons - Talking Pizza Cutter! Having a pizza never sounded so good! When it touches the pizza - Homer says "The most beautiful word in the English language "Pizzaaaa" - "Pizza, if it tastes good, it must be good for you!" - "Pizza meets the requirements of the 4 food groups, it even counts as a pie" - "Music,.........When the moon hits your eye like a big pizza pie, thats Amore"
Durable hard plastic and metal construction, batteries are not included. More pizza making supplies are linked below! Our free pizza dough recipe is the best.
Order 12 or more and receive free shipping! To get your Coke Wall Mounted Bottle Openers, click here! Your boss will love one of these!

More Pizza Supplies! Click Here!
Click Here for Portable Butcher Blocks!
---


Product #CD90140-CERAMIC-PEELER
List Price $12.95 and up
On Sale $5.99

Do you have a great potato peeler?
Finally a comfortable high quality ceramic blade peeler that we like using. Made for Chef Depot from non slip high quality ergo shaped molded poly handle and a sharp ceramic blade. It is very comfortable to hold and easy to use.
Chefs Note: This peeler is fast on potatoes and carrots! Makes a perfect gift for anyone who loves to cook!
Click Here for Fat Vanilla Beans!
---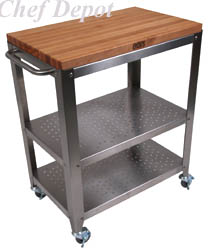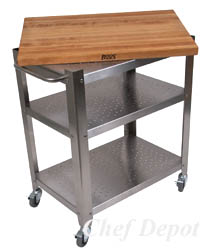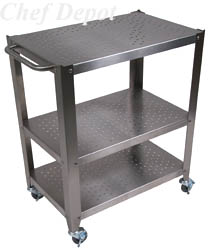 Product # CDCU-CULART30-06KITCHENCART
Retail Price $899.00 and up
On Sale $609.00
Free Shipping & Mystery Oil & Great Customer Service!

Our new Cucina Culinary Cart measures 30 in. x 20 in. and features 1 1/2 in. Thick Hard Maple Top (Edge Grain) with a natural oil finish. The tops is removable and reversible! There are 3 ways to use this cart! Use it as a kitchen cart for cutting and chopping meals. Use it as a serving tray to present what you prepare and easily move the top to a counter or table for dining! Use it as on the patio for BBQ and it's ideal for bar service! Measures 35" high overall.
This table has a Food service grade stainless base and shelves and it is equipped with four locking 3" commercial-grade caster wheels. There is a towel bar and a bar to hang utensils.
This table combines style with function, it is simply amazing!
We can ship your new table in aprox. 2 - 3 weeks!

Free Shipping is available in most areas of the continental USA only.

Click here for Chef Knives!
---
The Gourmet Block Cart features a 4 in. thick solid rock maple top that's 24 in. x 24 in. allowing for easy food preparation. The rock maple is end grain, a nice checkerboard look (and the most durable). It Stands 36 in. High with a slatted lower storage shelf. Heavy Duty Casters are available below. Mineral oil finish. This table has a FDA approved food safe natural finish. The butcher block top requires rubbing with Mystery Oil or Wood Cream, every few months to keep it looking new. Exclusive Colors are now available, select from above, then email us your color choice in the COMMENTS SECTION at checkout. More versions of this block are available, Click here or on the Barn Red Cart picture above!