50,000 other Products!
Customer Service, M - F : (630)739-5200
9:00am - 5:00pm CST

HOME| PRODUCTS| PRODUCTS II| EDUCATION| RECIPES| GOURMET| CUTLERY| SHARPENERS| SPORTSMANS CORNER| CONTACT US| LINKS
Cake Pans & Molds are On Sale!
These cake pans ane molds are high quality aluminum with a lot of detail. Imported for us and made to our exact standards, each cake mold will produce a cake that is easy to decorate!
Pastry Tools, Bags & Fondant| How to Select Kitchen Knives| How to Sharpen Knives| USA made Cutting Boards| Cutting Board Care & Maintenance
---
Cutlery Cases| Knife Blocks| Cleavers| Sharpening Steels| Electric Sharpeners| Cutlery| Butcher Blocks| Chopping Blocks
---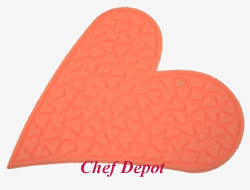 Product # CDA83607-HEART-POT-HOLDER-TRIVET-PINK
Retail Price $13.99 and up
On Sale $5.99 to $6.29

Made of silicone, our new pot holder / trivet will protect from intense heat, up to 700 F. Non slip, waterproof and non porous, they provide safety and perfect food hygiene. Machine washable. Simply the best! Measures 9.5 in. x 8 in.
Chefs Note: Love the color! Features one tiny heart shaped hole to allow hanging on the wall when not in use. Makes a nice Valentines Day gift. With proper care these trivets will last for many years. Buy 2 and save.
Do you like Poached Eggs? Our new Silicone Egg Poachers are the bomb! click here!
1 Pink Heart Trivet $6.29


2 Pink Heart Trivets $5.99 each Chef Tested, High Quality Knife Sets!




If you like great chocolate, click strawberries!
---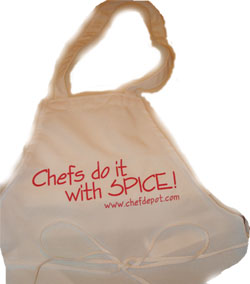 Product # CDCHEFS-DO-IT-WITH-SPICE-APRON
On Sale $9.95

Our premium professional Chef aprons are lots of fun! One size fits all! Chefs do it with Spice! apron is a heavy cotton poly blend for maximum comfort and durability. Made in the USA! One size fits all!

Chefs do it with Spice! Apron
Great Chefs Kitchen Islands!
---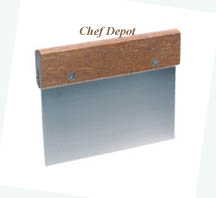 Product # CDDGHS6DOUGHBENCHSCRAPER
Retail Price $12.00 and up
Clearance Sale $6.75
Our Wood Dough Bench Scraper is perfect for working with pastry, bread and pizza doughs! Every baker needs a good scraper! This scraper features a 6 in x 3 in. stainless steel blade and a riveted solid wood handle for years of performance!
Chefs Note: I like to use mine for cutting portions of pizza dough and scraping down the flour on my butcher block.

Stainless Steel Scoops and bakeware - Click Here!
---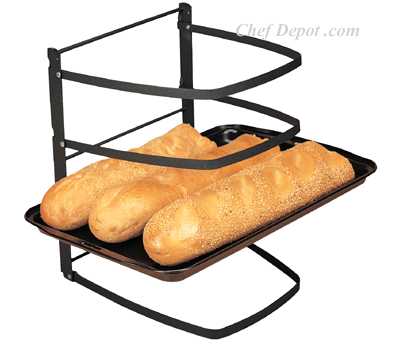 Product # CDHI-030-FOUR-TIER-COOLING-RACK
Retail $60.00 and up
Temporary Sale Price Reduction $34.95
This is the new 4 tier cooling rack! Easily cool or rack raw foods or baked goods on pans or trays. Half Pan and bread not included! A great choice for Bakers and Gourmet Cooks! Perfect for muffins, cookies, focaccia or cooling off sheet cakes and more.
Do you have a nice Kitchen Island? Check it out
---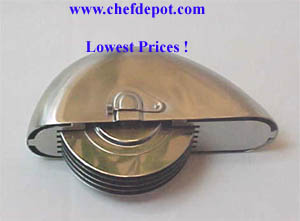 Product # CD93262SSHERBCUTTER
Retail $39.95 and up
On Sale $23.95
Our Stainless Steel Herb Cutter makes chopping up fresh herbs a comfortable, safe and easy task!
The ergonomically designed stainless steel handle is comfortable and made to last (18/10 high grade stainless steel). The blades are sharpened stainless steel and are easily rinsed as one unit for cleaning. Dishwasher safe. With proper care this tool will last for life!

Our products are used by Chefs all over the world.
---
Product # CDN5120HERBSNIPPERS
Retail $9.50 and up
On Sale $4.95
Our Stainless Steel Herb Snippers are perfect for trimming the crops! These high quality snippers are made in Japan to our exact specifications! Perfect for quilters, sewing, harvesting herbs and vegetables in the garden and more!

The perfect gift for your man!
---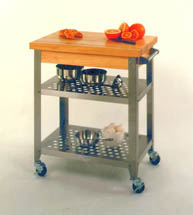 Product # CDCUCINAROSATOTABLE
Retail Price $576.00 and up
On Sale $479.00

Free Shipping & Mystery Oil & Great Customer Service!
This table is 30" x 20" x 1 3/4" and stands 35" overall. The top is edge grain butcher block maple witha FDA approved food safe clear varnish. This table has a food service grade stainless base and shelves and it is equipped with the four optional locking 3" commercial-grade caster wheels.
Also there is a towel bar for utensils and towels.
Free Shipping & Mystery Oil & Great Customer Service!
Click links below to view more products!
We can ship your new cart in aprox. 3 - 4 weeks!
Free Shipping is available in most areas of the continental USA only.
This table is awesome!

More Chef Tables!
---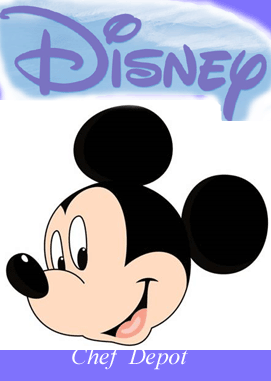 List Price $25.99 and up
On Sale $14.95
Product # CDMICKEY-MOUSE-CAKEPAN

This is our Mickey Mouse Cake Pan! It has a lot of detail and it is easy to decorate with colored icing. Made from durable aluminum. It holds 1 or 2 standard box of instant cake mix, or make your own! Decorating instructions are included.
Click Here for pure Vanilla Extract & Vanilla Paste!


Click Here for ground Cinnamon & Nutmeg!
---

Product # CDMUNDFTR41108GS8CHEF
Retail $70.00 and up
On Sale $25.75

This is the 8 inch Mundial Future Chef knife. It is perfectly balanced and a great choice for most cutting and chopping preparation.

Click the green arrow on the right for more Cake Molds


Cake Molds:
Page1 |
Page2 |
Page3 |
Page4 |
Page5 |
Page6 |
Page7 |
Page8 |
Page9 |
Page10 |
Page11 |
Page12 |
Page13 |
Page14 |
Page15 |
Page16
---

Copyright 1999 - 2015 Chef Depot Inc.
All Rights Reserved.
Legal Notice and Copyright
Customer Service - E-mail us
Customer Feedback